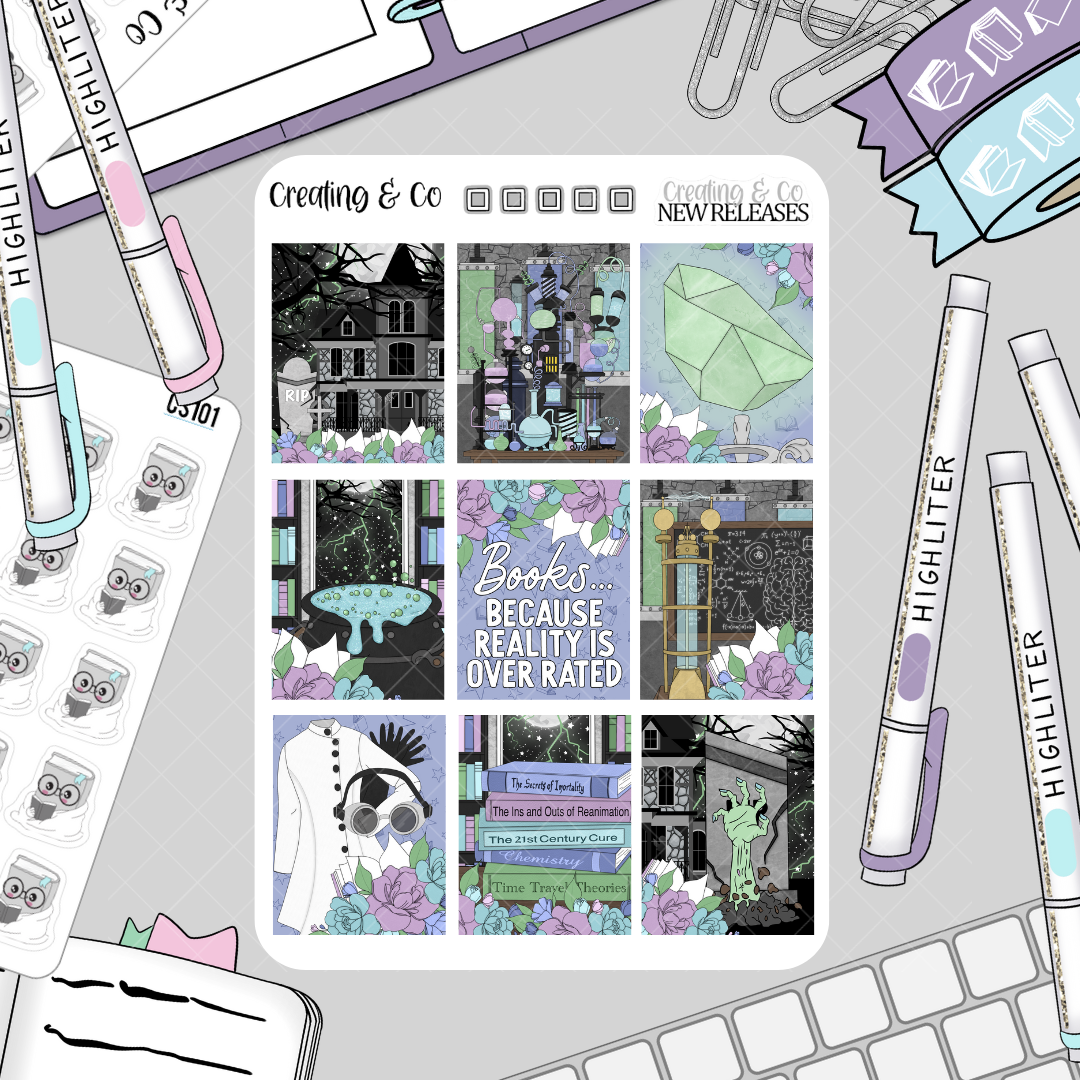 Mad About Books October Readathon
It's time for another Bookverse side quest! This year, we're going to get a bit...dark for our October readathon.
Are you ready to take over the world? Maybe?
We'll be creating a potion that will help us do just that but in order to get all of the ingredients and complete the potion, we have to read some books!
This readathon is going to be another month long one -- I'm finding the month long ones to be a bit more laid back and that fits my lifestyle better these days. And it also agrees with you guys because having it last a month won the poll I put up recently!
It's going to be structured more like a challenge so you can move at your own pace, but I will still open the Creating & Co Readathon Event Group so you can chat about what you're reading and we'll be able to share our planners and whatnot all month long
Everything will be in the shop on Friday August 12th at 12pmCST! The event will start October 1st and it'll be here before you know it so make sure to pick it up this weekend!
We will be having a group read for this one and we'll start voting in the Creating & Co Readathon Event Group starting in September once our Wonder & Wisdom readathon is over. 
Like I said, we'll be completing the potion shown above for this one and here are the prompts for each ingredient:
GROUP READ: book next to the cauldron
BIG SWITCH (a plot twist): unicorn hair 
TURN ON THE POWER (discovering new powers): purple beaker
QUESTIONABLE CHOICES (morally dubious characters): light blue beaker
TECHNOLOGY (new technology or focused on technology): dark blue beaker
NEW FRONTIER (exploring new areas): dittany plant
PHILOSOPHY  (plot deals with philosophy in some way): philosopher's stone
ANTIDOTE (fix it): green antidote bottle
As always, you can interpret these prompts however you want. You can also ask for recommendations or suggestions in the facebook group! For this readathon, even though it is inspired by sci-fi tropes and themes, you do not have to read sci fi. I encourage you to read whatever you want and have fun with the theme in your planner!
Of course, if you want the extra challenge, you can read only sci-fi or even a sci-fi sub genre. I'll share recommendations on our instagram over the next few weeks so make sure to stay tuned. 
We're also mixing it up a bit this time because we'll be releasing a brainstorming tool for your planner as well -- our "media menus" are a popular new item in the shop and I thought it would be fun to have one for the readathons so you can jot down media as you see it for when the event happens
In the past, I've mentioned having some extra fun and watching movies or tv that fit along the theme as well but I never had anything for tracking that media so I thought we would change that with this dashboard for tracking movies and tv shows!
(In this pic, I used the dashboard with our Watching TV Booksy Stickers to mark what I've watched)
As always, we're releasing a weekly kit, a line of functional items, and the readathon tracking stickers. We try to have as many options as possible so you'll be able to find stickers that work best for your planning style!
You'll be able to choose from multiple weekly kit options. Our most popular lately have definitely been our creative journaling kit and our vertical format, but we'll have our vertical, horizontal, half, and anti-kits available as well!
Each of our 2022 reading events will have a badge sticker that you can use with our Reading Challenge Tracker to keep track of all the events you participate in this year!
As always, we'll also be stocking a selection of our functional stickers, die cuts, and journal cards so you can get creative with this event! We changed up a few of these sheets -- as you can see, we're also trying out a new design of our started and finished reading labels!
If you guys like these, I'll switch them over in the shop in all of our iterations so you can pick up full size sheets of them and they'll be part of the kit add ons. 
Stay tuned to our social media like our Instagram and Youtube Channel because we'll be posting some more videos about this event in the next few weeks!