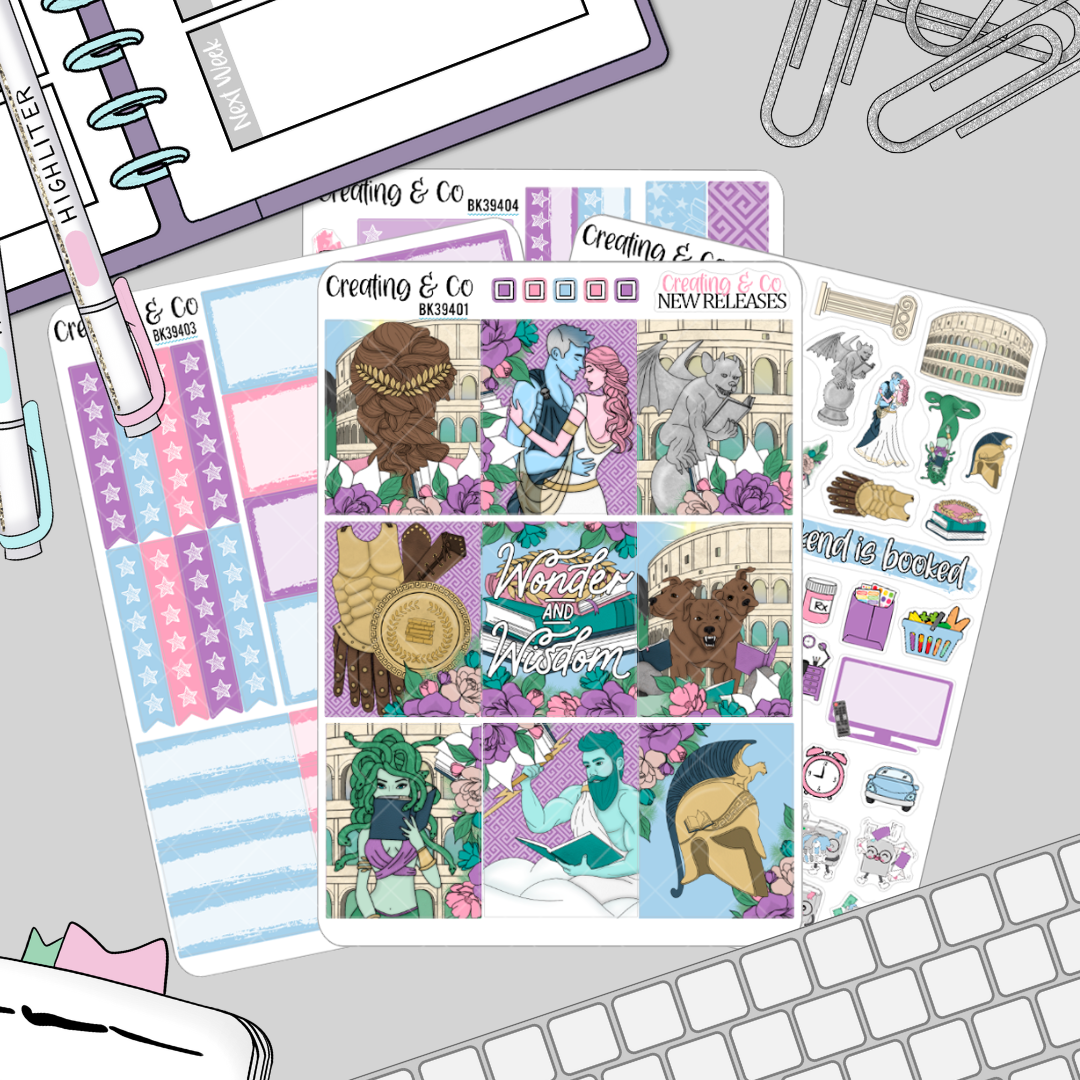 Wonder and Wisdom August Readathon
Ready for another Bookverse event?! This time, we're heading to Ancient Greece to read some books inspired by some Gods and Goddesses!
This is one I've been planning for over a year because I've been wanting to read the Percy Jackson series and Lore by Alexandra Bracken and since I knew this theme was coming, I kept putting those books off.
Originally, this was going to take place in June, but I when we had to delay it, I decided to make this a bit different and it will take place the entire month of August. 
It's going to be structured more like a challenge so you can move at your own pace, but I will still open the Creating & Co Readathon Event Group so you can chat about what you're reading and participate in sprints that are scheduled throughout the month. 
Everything will be in the shop on Tuesday, June 21st at 6pmCST so you can build your carts BUT the Ultimate Planner Sale will be taking place 6/24 - 6/26 and the entire shop will be 25% off so I highly encourage you to wait for the sale to start before you purchase!
We're not going to have a group read for this one, though we may have a few people working through the same book or series so we can have threads in the group to chat about any book that you're reading!
Instead, I decided to make this challenge in a way so that you can fill your own pantheon with Gods and Goddesses and you can read books inspired by each of them! 
That said, here's a list of the Gods included in the sticker set:
Aphrodite: Goddess of Love
Ares: God of War
Athena: Goddess of Strategy
Hercules: symbolizes strength or power 
Medusa: Meant to repel evil
Persephone: Goddess of the Underworld
Poseidon: God of the Sea
Zeus: God of the Sky
Okay, admittedly, a couple of these are not actual Greek Gods and Goddesses but when I was picking who was in our pantheon, I wanted Greek mythology figures that we use as inspiration for stories today and so I picked the ones I've most commonly seen. I figured it's okay to fudge the theme just a little for the sake of good books. 
The idea is that you'll find a book that is either inspired by that figure or upholds the values they symbolize. So for Aphrodite, you may read a modern adaptation of her story or you may just read a love story. You'd do the same for all of the other Greek figures/Gods and Goddesses until you complete the challenge!
As always, you can interpret these prompts however you want. You can also ask for recommendations or suggestions in the facebook group!
Once you finish a prompt, you'll simply place the same figure in your pantheon until you have a full one!
As always, we're releasing a weekly kit, a line of functional items, and the readathon tracking stickers. We try to have as many options as possible so you'll be able to find stickers that work best for your planning style!
You'll be able to choose from multiple weekly kit options. Our most popular lately have definitely been our creative journaling kit and our vertical format, but we'll have our vertical, horizontal, half, and anti-kits available as well!
Each of our 2022 reading events will have a badge sticker that you can use with our Reading Challenge Tracker to keep track of all the events you participate in this year!
For this one, it features one of us arriving to our Bookverse Ancient Greece and seeing Hades and Persephone and Medusa reading their books outside the colosseum.
As always, we'll also be stocking a selection of our functional stickers, die cuts, and journal cards so you can get creative with this event! We changed up a few of these sheets -- as you can see, we're also trying out a new design of our started and finished reading labels!
If you guys like these, I'll switch them over in the shop in all of our iterations so you can pick up full size sheets of them and they'll be part of the kit add ons. 
Stay tuned to our social media like our Instagram and Youtube Channel because we'll be posting some more videos about this event in the next few weeks!