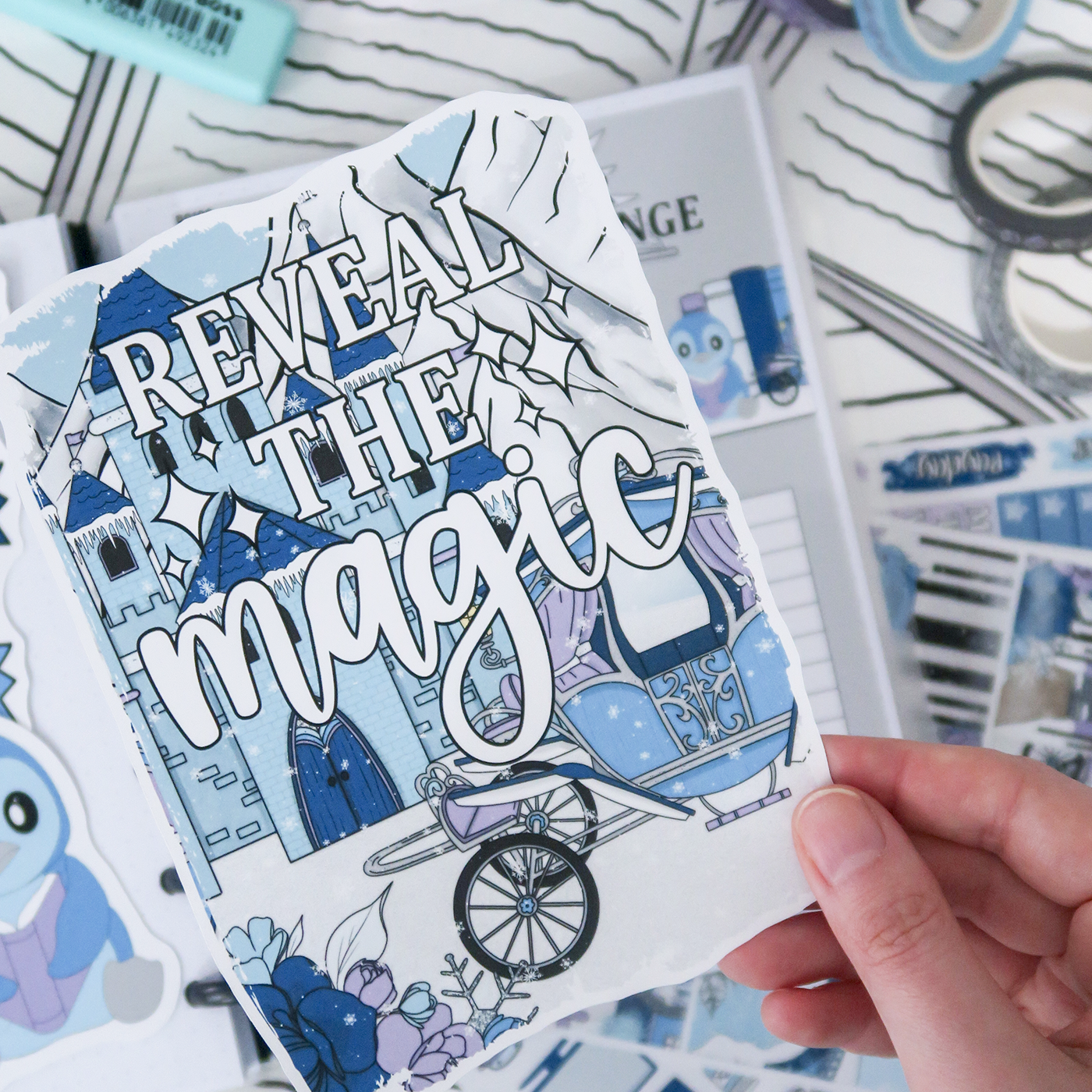 Reveal the Magic 2021 Winter Reading Challenge Info
I swear I blinked and suddenly it was time to release our winter reading challenges!
I would say that winter is definitely the best reading season of the year -- it's cold outside so you get to stay cozy inside and you may have time off work or school so you may have more time to read.
Last year we did a slightly - maybe magical theme for our winter reading challenges but it was mostly a really cozy at home type of kit so this year I wanted to do a winter fantasy kit and I love how it turned out!
If you DO want a nice winter, cozy at home kit, we do have our Bundle Up Books readathon in December too!
I have lots to show you -- weekly kit, actual challenges, washi tape, an enamel pin, so let's get into it!
Everything in this blog post will be coming to the shop on Friday Nov 11th at 12pmCST!
Our seasonal reading challenges are a self start challenge which means you can start when you're ready but "officially" the challenge is from December to February.
As always, our weekly kits come in a few formats -- vertical, horizontal, half kits (2 pages), an "anti" kit for bullet journals, and a creative journaling kit! No matter your planning style, you're sure to find one that works for you!
Back to the challenge itself, we will have a group read for it! We will start voting on the group read in the Creating & Co Book Club starting on Friday Nov 12th. Make sure you are in there so you can cast your vote!
 In case this is your first challenge with us, here's how it works:
Each prompt on the challenge has a number that corresponds to it. Let's say for the first book you read, you pick the first prompt of a book with "leaves on cover". 
You can write in the title of the book you read in the challenge table
And then pick a book sticker that looks like the one that has the 1 on it in the empty shelf. Place that book sticker over the greyed out book labeled 1 on the shelf!
Repeat until you fill up your shelf!
Our most common size is our 4.75" x 6.75" dashboard + book stickers -- this is the one shown above! It fits perfectly in our build your own book journal too!
We will also have a few other sizes:
A 7" x 9" version that you can use in most common planners--Erin Condren, Happy Planner, Yellow Paper House, Paper House Productions, etc.
A 3.25" x 6.5" size that is perfect for hobo weeks or personal size planners 
A "separated" version that gives you all of the elements of the dashboard on its own so you can design your own page in your planner or bullet journal. 
You may be able to see the prompts above, but just in case, we do have this table you can download if you'd like and it gives you a better view of all the challenge prompts. 
We WILL have a planning party for our seasonal reading challenges but the dates are TBA. This is a week where we all use the stickers from the theme or the colors from the kit in the book club group! 
However, I'm thinking we will do the planning party in February and that month has some other things that I can't reveal quite yet so just make sure you're in the Creating & Co Book Club to stay up to date!
We also have some other functional items that are handy to have throughout the season -- this way you can build your own pack of sticker sheets that will fit your planning style perfectly!
There are almost 20 options, so I can't show them all here. I did pick four of my favorites to show you! I use these every season.
Each of our seasonal challenges will also have an enamel pin that matches and this is the LAST one!! Luckily, it's one of my favorites -- we have the little penguin that we see in the weekly kit!
Finally, we're releasing another set of our book pages washi tape! This is our most neutral yet with a pretty grey and silver sparkly foil. It's impossible to catch on camera, but this foil has some silver stars in it and I love it!
I plan to put this washi in my planner bag and use it all year next year!
Quick Note: both our washi and our enamel pins are LIMITED STOCK so make sure you grab them early!
Make sure you're in the Creating & Co Book Club to share some recommendations for each of these prompts and we'll see you here on the website tomorrow when its time for everything to go live!
I also wanted to share that we do have another kit coming to the shop tomorrow -- Merry Bookmas! I realized we didn't really have a bookmas kit and I had to fix that. I'm really happy with how it turned out!