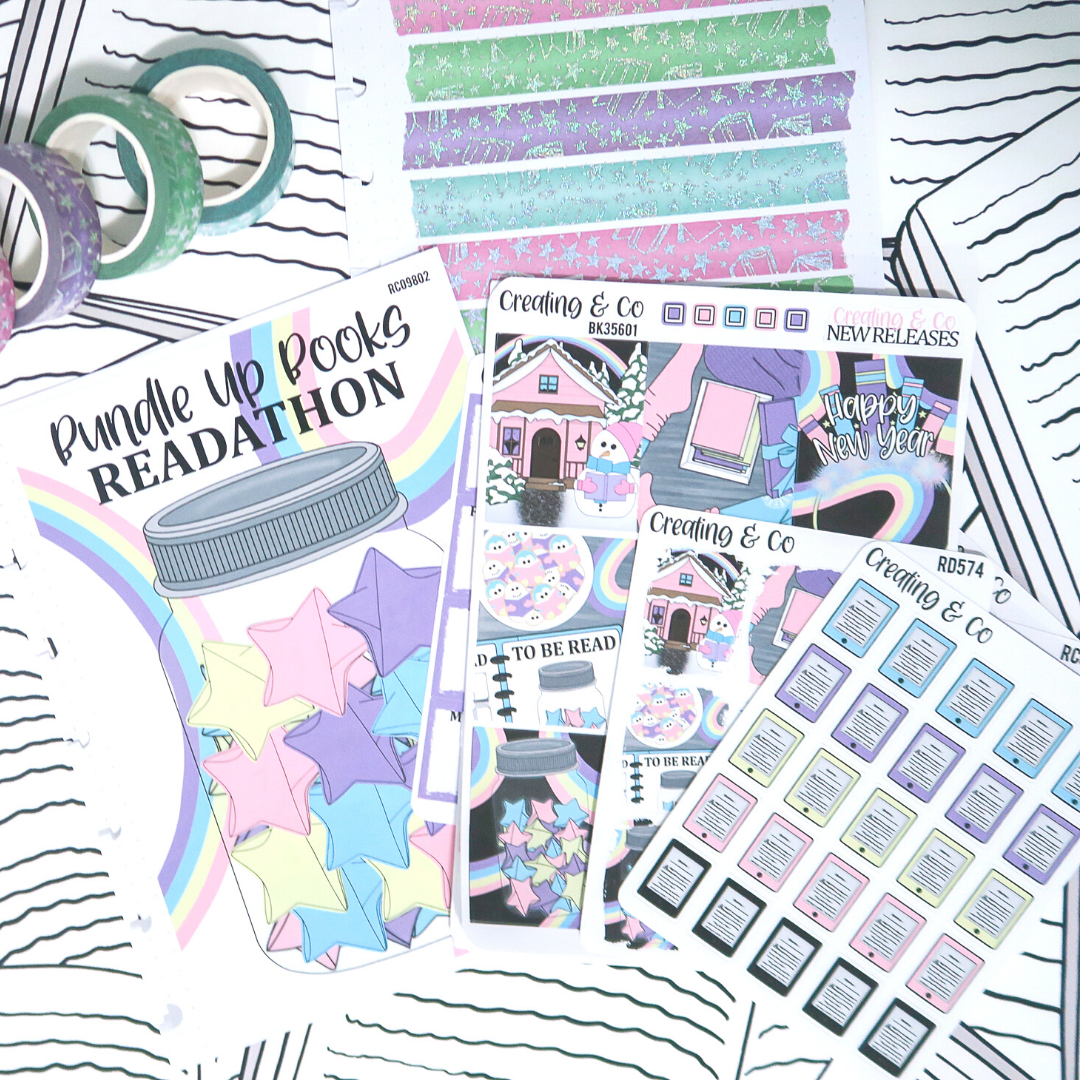 December Readathon: Bundle Up Books Overview
It's time to start thinking about the end of the year! Usually, it feels like years go by slowly but this year...it flew by didn't it?
One of the things that has kept my sanity over 2020 and 2021 is our readathons and so I'm excited to have our last one of the year!
We're doing it the last week of the year because we've moved our December readathon around the last few years and it always seems like when it's too early, it's usually during finals week for college students. If we do it late, people are too busy with holiday prep but that week between Christmas and New Year's seems to have the most amount of people available to participate.
I know I always spend that week reading and relaxing at home and I'm usually trying to read the last few books that I want to make sure to include that year.
So, we're doing it December 27 - January 2 and celebrating the new year together!
I did post an overview on youtube, but I wanted to make sure to write a blog post to have the details readily available so let's get into it!
The readathon will primarily take place in the Readathon Event Group, where most of the conversations and goal tracking will take place but you aren't required to join it...I know some introverts would just want to do the challenge themselves and that's totally fine!
Our readathon may be taking place over one week, but I purposely made it so that it would be easy to do this one over a month so there are 12 prompts.
So to do this readathon, you're going to need to pick a random number between 1 and 12. There's a few ways you can do this: asking a friend or family member, doing whatever number first comes to mind, rolling dice, or using a random number generator.
Based on the prompt number, you'll read a book that applies and then once you've completed it, covered the white numbered star with one of the ones that is colored in if you've picked up the readathon sticker set.
I did want to mention that all of the stars are the same size, so you can do the colors in whatever order you want.
Before we get much further, I did want to include a list of all 12 prompts
Group Read
Nonhuman Characters
Tick Tock
Part of a Series
Over 25 Chapters
Favorite Trope
Fresh Start
Bought this Year
Found on Social Media
Multiple POVs
Metamorphosis
Bestseller
I did go over each prompt in the video and explain where my thought process was for each one, but as always, I want you to pick a book that most fits the prompt to you. There's different ways to interpret each prompt so that "perfect" book for each one will be different for everyone. 
Once you've completed one prompt, you repeat the same process until you've completed the amount of prompts you want to complete.
We will be picking a group read starting the first week of November in the Readathon Event Group.
As always, we're releasing a weekly kit, a line of functional items, and the readathon tracking stickers. We try to have as many options as possible so you'll be able to find stickers that work best for your planning style!
This is also going to be the LAST enamel pin for our 2021 line and it's this adorable snowman reading! Since we did a ghost reading earlier this year, I thought the snowman would be the perfect winter equivalent
You can find the past ones that are still available in our enamel pins section. 
These don't necessarily match the kit (though some will) but I also wanted to mention that we will have four new rolls of washi in our pastel C&C colors. I meant to mention it the other day when we went over the 2022 Book Journal line and I totally forgot. 
Make sure you check out that post as well so you get all the details about our book journal! Even if you already have a weekly planner picked out for next year, this would be perfect for a journal!
Stay tuned to our social media like our Instagram and Youtube Channel because we'll be posting some more videos about this event in the next few weeks!