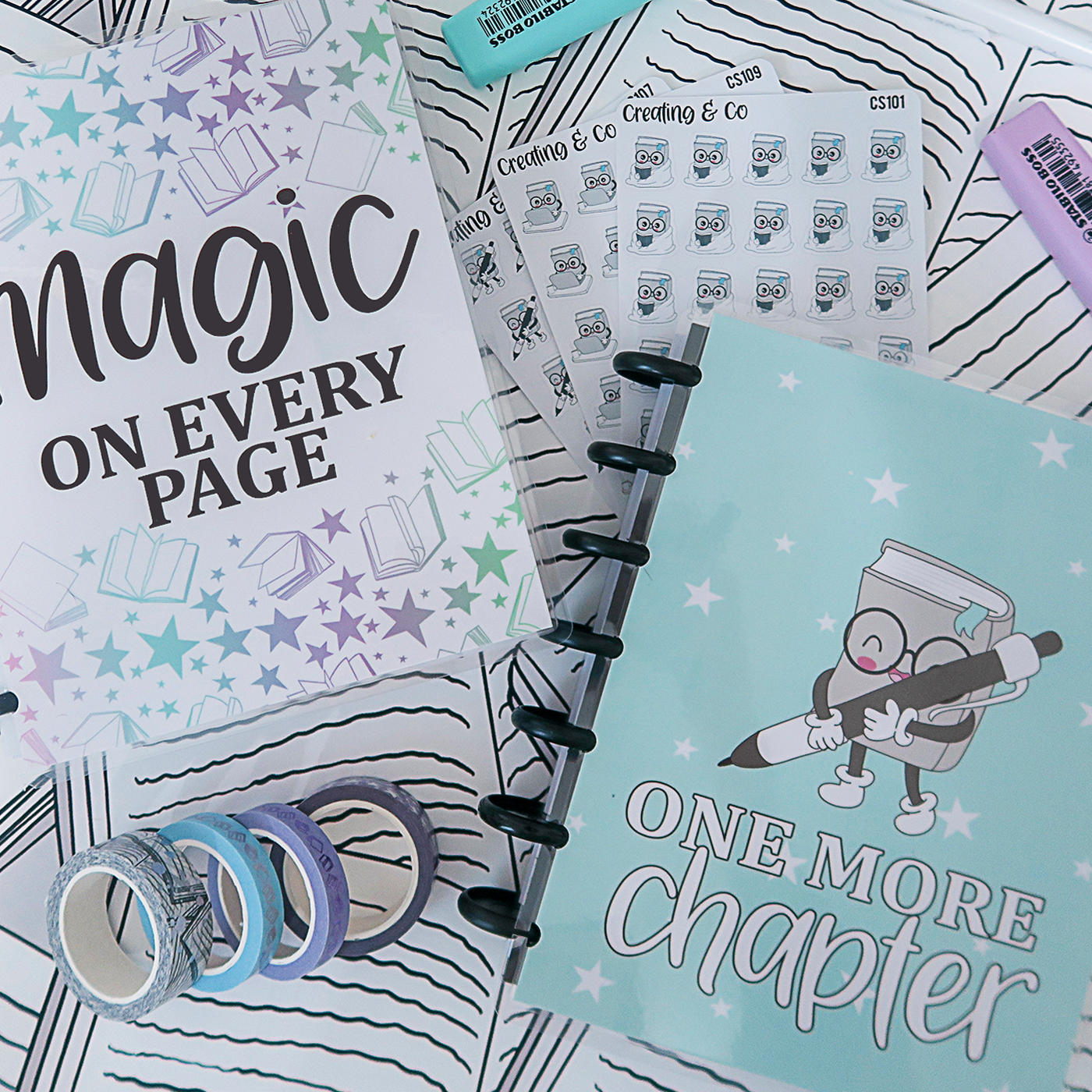 2022 Build Your Own Book Journal Overview
I've been looking forward to this release for months now and it's finally here! We released our build your own book journal line last year and this year, there's even more options to customize!
We posted a video yesterday to show an overview, but you can come back to this blog post to find any info you need quickly!
Everything for our 2022 journal line will be in the shop on Friday 10/29/21 at 12pm CST but you can stay up to date in our facebook group or on instagram!  
Now, I don't want this blog post to be really long and confusing so I wanted to do it mostly in list form so here's some quick facts about our planners:
Our planners are 5.3" wide and 7.0" tall. This is known as a "b6 rings" size.
You can make quite a few customizations to build your perfect planner or journal -- choose a cover, some "filler paper" and pick from many bookish lifestyle layouts
You can order the inserts punched for unpunched. Punched does have a $0.50 charge due to extra production time required. 
If you order them unpunched, you can punch them yourself and fit them in any planner binder that fits b6 rings
If you choose punched, they will be punched to be compatible with other discbound systems including happy planner and tul. They will not be compatible with the 2021 book journal line.
We are releasing two cover options this weekend as you can see above. The cover is 5.7" wide x 7.4" tall including the laminated border surrounding it. We made them wider so that you'll be able to use dividers or anything else that may stick out from the pages of the journal. 
Speaking of dividers, we are not releasing a set of dividers at this time, but we will be releasing a digital download of dividers that are sized for this planner. You'll be able to use them on a silhouette or cricut machine or just trace and cut them out with scissors/paper trimmer.
Next, you can pick up 4 options of "filler paper" These are essentially pages that you may want to use all year in your planner, though of course, you'll be able to pick up any combination of these.
Vertical Weekly Inserts: Shown in the top left, these are 12 weeks (or a full quarter) of inserts. You can use these for your weekly layouts or anything else you'd like! I wanted these to be as versatile as possible.
Month on 2 Pages Inserts: these are designed to be 12 months worth of inserts. Like the vertical, you can use these for anything you can think of!
Dot Grid: these are 25 sheets (50 pages) of 5mm dot grid. The best part about these is that the sky is the limit!
Lined Paper: 25 sheets (50 pages) of lined paper. These are great if you're wanting to journal or take notes!
Here's one of the layouts I've done in the vertical weekly inserts so you can get an idea for how they look. Each rectangle is 1.5" wide and 3.3" tall.
We will also have a variety of lifestyle inserts. These are the reason this planner was born!
I started using a style similar to bullet journaling a few years ago, but I'm not very great at drawing layouts BUT I am good at designing them on the computer. For a year or two, I would design the inserts I would want on the computer and print them as big stickers to put in my planner. Eventually, I started making my own printable inserts and using the b6 rings size and that led to the build your own book journal. 
So it goes without saying, these are my favorite. We have quite a few options to start, but I am hoping to release more throughout the years! For this release, there are 14 options!
Our first lifestyle insert is our "2022 Overview" insert. This is mostly to include some layouts that you may want in your planner but you don't necessarily need more than 1 sheet for the year. It comes with a few of these layouts and a few coloring pages to add some color to your planner!
Another one that I really think you'll love is our Reading Wrap Up inserts! These are a great way to track your books read each month and keep track of statistics as you read towards your yearly reading goals! Each insert will have 6 pages (12 sheets). 
The other twelve options will all have 6 sheets (12 pages)
Audio Inserts: These are great for audiobooks OR podcasts OR songs/music!
Book Inserts: These are pages of blank books that you can use to track the books you've read for the year or an inventory of books or any other type of list you can think of!
Blank Shelves: Like above, this one is great for keeping track of an inventory or the books you read or other types of lists
Book Releases: keep track of all the book releases you can't wait to read or even the books you plan to release yourself!
Books Bought: Keep that book budget under control by always keeping an eye on the books you've bought!
Ebooks Read: These are similar to the audio and books, but for e-readers!
Library Books: Keep a log of all those books you borrow from the library so you never forget to turn them in on time!
Mood Tracker: keep track of mood patterns or any other patterns that you'd like to track all year!
Movies: keep track of movies you watch, movies you want to watch, movies you own or even movies you want to keep track of release dates for!
To be Read: keep track of all those books you want to read in a list/table form!
TV inserts: just like movies, keep track of the tv you watch, the tv shows you want to watch, tv shows you own or tv release dates!
For all of these inserts, you can definitely let your creativity shine and use them for whatever you can think of, but I thought I'd share those ideas that I had while designing!
Here's a look at some of the inserts:
We will also be releasing a selection of heading stickers so if you aren't great at lettering (ahem...like me 😂), you can still have pretty headings! Here's some of the options:
Audiobooks
Audiobooks to Read
Books Owned
Books Read
Books to Read
Favorite Audiobooks
Favorite Podcasts
Monthly Labels (Jan-Dec)
Movies Watched
Podcasts to Follow
TV Shows Watched
If you have any others that you'd like to see, definitely let me know! The best way to get in touch with me is on the fb group or on IG and I can get some more heading options added!
One thing I did want to make sure to mention: all of the pieces of the journal except the heading stickers are limited stock. If they sell out quickly, we will restock them but it may take time due to current shipping delays.
We will also have a couple of other limited stock accessories, including our faux leather covers in a light purple. These will NOT be restocked when they are sold out. If there's more interest after these are sold out, we may do other colors in the future though!
We will also be releasing some of our pastel floating books + star washi tape in our pastel colors that match our shop art!
You'll see me using this washi a lot in various spots in my planner!
You'll also be able to pick up a set of 7 black planner discs but you can also use any other discs from any other brand as long as it uses the mushroom shaped hole punch!
If you'd like to pick up a hole punch for yourself, I personally use this ARC one from amazon, but the happy planner one will work as well! With the happy planner one, I believe you can use the michael's coupon on it as well!
We will also be releasing our Bundle Up Books readathon items on Friday! Stay tuned for a video on our channel sometime on Thursday and a blog post on this website too!