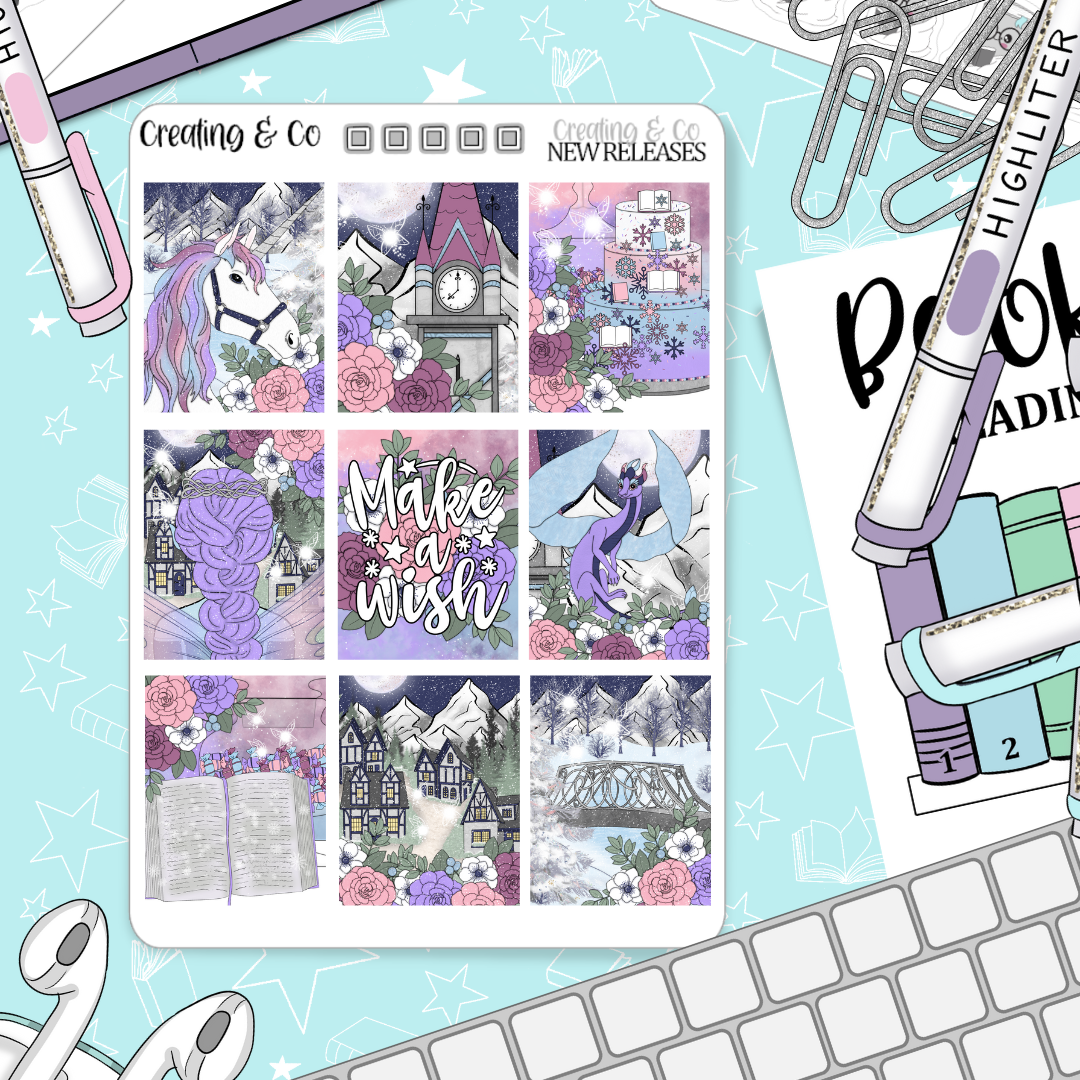 Make A Wish December Readathon
It's time for the last side quest (readathon) of the year! For this readathon, we're heading to fairy valley to make a wish for next year from the sugar plum fairies!
They love cold weather, candy, and all things sweet so be sure to grab your favorite treats and get ready to read!
This readathon is going to be taking place the last week of the year -- December 26th - January 1st and will have 5 prompts!
Everything in the sticker line will be in the shop on Friday 11/11 at 12pmCST! Be sure to pick it up ASAP because the holiday ship times can get long!
For this readathon, we're calling a fairy to the entrance of the fairy town with each book we read so let's go over the prompts:
COTTON CANDY: A cotton candy colored cover! This would be super cute to put together options into a bookstack or take a picture with your stickers!
NEW AUTHOR: An author you haven't read before! This doesn't have to be a brand new author, just one that is unfamiliar to you
TRILOGY: It seems like trilogies are everywhere so let's read a book from a trilogy -- it can be either the first, second or third book!
SWEET READ: This is a guilty pleasure type read or a sweet romance, something that isn't emotionally heavy or dense
GROUP READ: We'll have a thread for group read suggestions in the Creating & Co Book club and we'll be voting soon so make sure you are there! 
As always, you can interpret these prompts however you want. You can also ask for recommendations or suggestions in the facebook group! 
You can use one of our sticker options as a way to brainstorm for this readathon -- our media menus are great for keeping track of the various movies, tv shows, books and podcasts/playlists you want to keep aside for the readathon!
As always, we're releasing a weekly kit, a line of functional items, and the readathon tracking stickers. We try to have as many options as possible so you'll be able to find stickers that work best for your planning style!
You'll be able to choose from multiple weekly kit options. We'll have our three options available -- vertical/standard, creative journaling and a one page "anti-kit" that is perfect to just add a little deco to your week!
Each of our 2022 reading events will have a badge sticker that you can use with our Reading Challenge Tracker to keep track of all the events you participate in this year!
As always, we'll also be stocking a selection of our functional stickers, die cuts, and journal cards so you can get creative with this event! 
Stay tuned to our social media like our Instagram and Youtube Channel because we'll be posting some more videos about this event in the next few weeks!