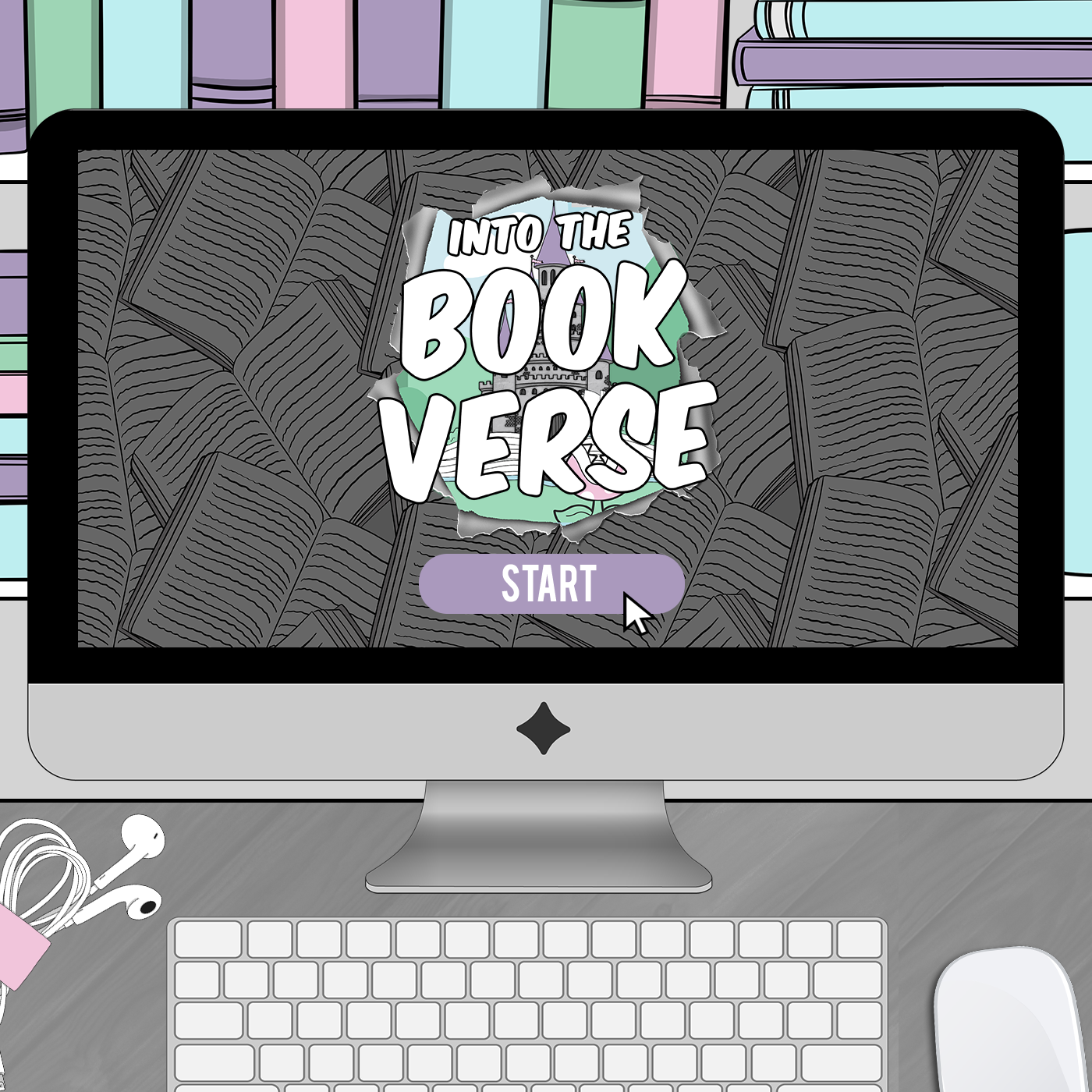 Let's go Into the Bookverse for 2022!
I'm so excited to be gearing up for 2022! This year has flown by, which is good because I've been planning the 2022 reading events since July 😂
We're going on a bit of a virtual trip this year. 
Into the Bookverse is going to be a year long event where we've all pulled a Jumanji and got pulled into a new bookish video game, Into the Bookverse!
All of our reading challenges and readathons will be new "levels" and "side quests" and for each challenge you complete, you're one step closer to Reading Royalty, where we can all hang out with the princess in the castle's library!
I'm so excited to explore the bookverse with you and maybe even revisit some former bookverse destinations
Our first destination is the main level -- I picture this level sort of like that Mario N64 game where you could explore the castle and each room is a different quest -- so yeah, envision that with me
Our first level or challenge for this year is our year long reading challenge! This will have 24 prompts and just like last year, we'll be filling out a bookshelf as we read!
We'll have a few different sizes. Our most popular is shown below--it is a set of 2 5"x7" (well, 4.75" x 6.75") dashboards + book stickers.
 In case this is your first challenge with us, here's how it works:
Each prompt on the challenge has a number that corresponds to it. Let's say for the first book you read, you pick the first prompt of a book with "leaves on cover". 
You can write in the title of the book you read in the challenge table
And then pick a book sticker that looks like the one that has the 1 on it in the empty shelf. Place that book sticker over the greyed out book labeled 1 on the shelf!
Repeat until you fill up your shelf!
Here's the challenge table so you can right click and save the image so you can start planning your books, but the stickers will all be in the shop on Wednesday at 6pm CST so you can start building your carts for the Black Friday sale!
If you're not already, make sure you're signed up for our email list so you can get a head start for the sale on Thursday! Just fill out the bar at the top of the website to make sure you're on it!
This is also a self start challenge, meaning you can start it when you are ready--if you cheat a bit and start it on December 20th, no worries! 
We normally release just one year long challenge, but this year we're changing it up a bit! I thought it would be fun to have a "level up" challenge with an additional 12 prompts if you want to read more than 24 books. For this one, we're feeding bookman before the ghosts gather up all the books!
I wanted a fun way to track your progress too, so I thought it would be fun to have a "tbr jar" type of progress tracker! We'll have a couple of options -- one with 52 star slots so you can track per week and one with 50 star slots so you can track other goals too!
We'll also have an option that has the jar on its own so you can use it track something other than reading entirely if you want!
Other than our year long challenge, we're going to have our seasonal challenges. Each one will have 12 prompts. 
We're also planning on hosting 6 readathons this year or "side quests." More info for these will come throughout the year.
Throughout the year, you can keep track of the events you've completed with our notes page kit! Each event will have a "badge" that you can cover one of the slots with. 
Before I go, I wanted to share the other weekly kits that will be coming to the shop on Black Friday AND share the sale details!
All of these kits will be available in all of our kit formats: vertical/standard, horizontal, half kits, anti-kits and creative journaling kit!
We'll have some matching accessories and add ons for each one as well, so you can use them in any kind of planner or journal!
Now, those sale details and freebies!