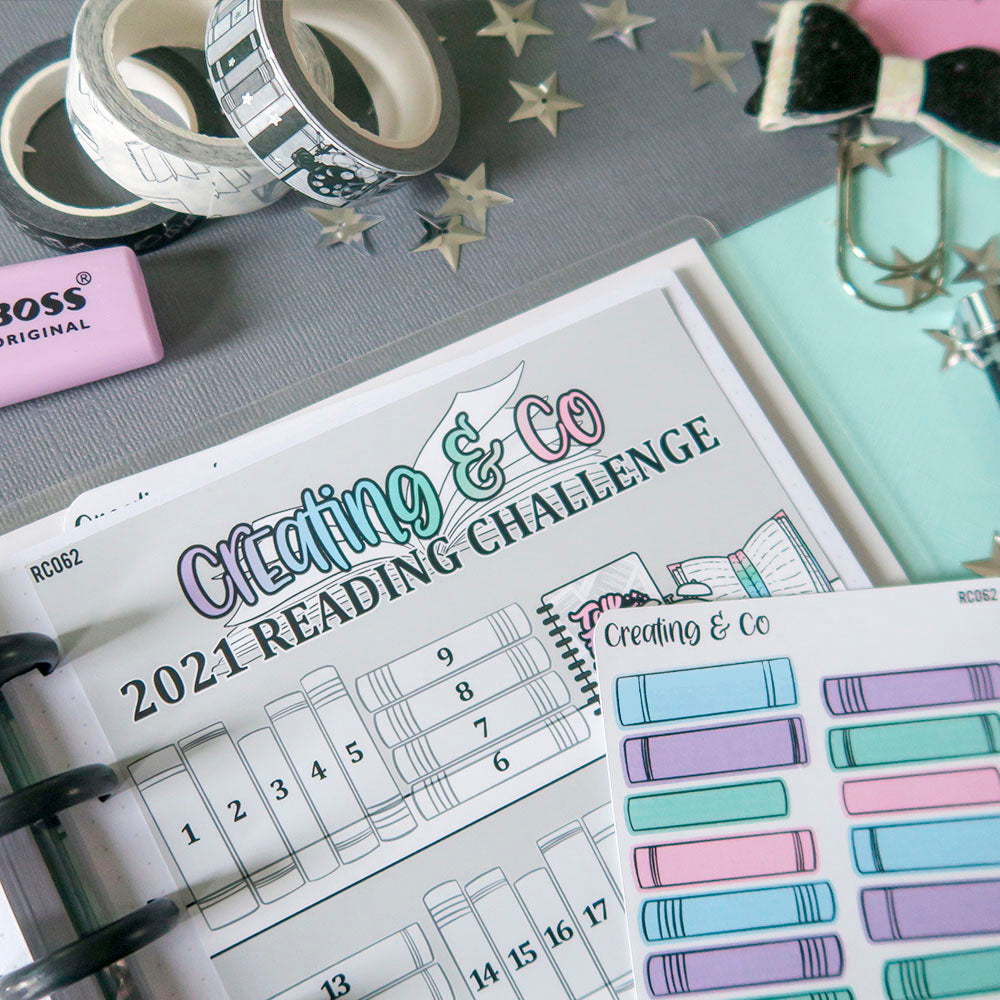 2021 Reading Challenges
It's time for our 2021 reading challenges! I've had a bunch of questions about when they were hitting the shop and I'm happy to say that they will be in the shop for Black Friday!
All of our listings will be live by Thursday, 11/26 at 3pm CST and our Black Friday sale will start at 12:01am CST on Friday. 
There WILL be items in the shop that are limited stock, like our Build Your Own Book Journal system, but the reading challenges will not be limited stock.
I did do a youtube video where I went over our reading challenge prompts and explained any of the ones that were more ambiguous.
As always, here's the challenge table so you can right click and save the image so you can do the challenge at home, but of course, this post is all about the stickers, so you'll be able to pick those up as well on Friday!
As we always do, we'll have a few different sizes. Our most popular is shown below--it is a set of 2 5"x7" (well, 4.75" x 6.75") dashboards + book stickers.
 In case this is your first challenge with us, here's how it works:
Each prompt on the challenge has a number that corresponds to it. Let's say for the first book you read, you pick the first prompt of a book with "leaves on cover". 
You can write in the title of the book you read in the challenge table
And then pick a book sticker that looks like the one that has the 1 on it in the empty shelf. Place that book sticker over the greyed out book labeled 1 on the shelf!
Repeat until you fill up your shelf!
This is also a self start challenge, meaning you can start it when you are ready--if you cheat a bit and start it on December 20th, no worries! 
 We will also be stocking a 7"x9" size and a 3.25"x 6.75" size. The 7x9 size is perfect for recollections, the large yellow paper house spiral planner, the happy planner and Erin Condren along with other similarly sized planners.
The smaller size is perfect for the hobo weeks or personal size planners.
We will also be stocking a matching weekly kit that you can use the kick off the challenge or at any point throughout the year, along with a matching bookmark!
Plus, our challenges match our Build Your Own Book Journal System too!
Don't forget to pick up your Winter Reading Challenges as well if you haven't already! These kind of overlap from 2020-2021 so they are still in the shop! 
Now that you've gotten all the details, we'll see you in the book club group! (A little birdie told me they might get the code for the sale a bit early...)