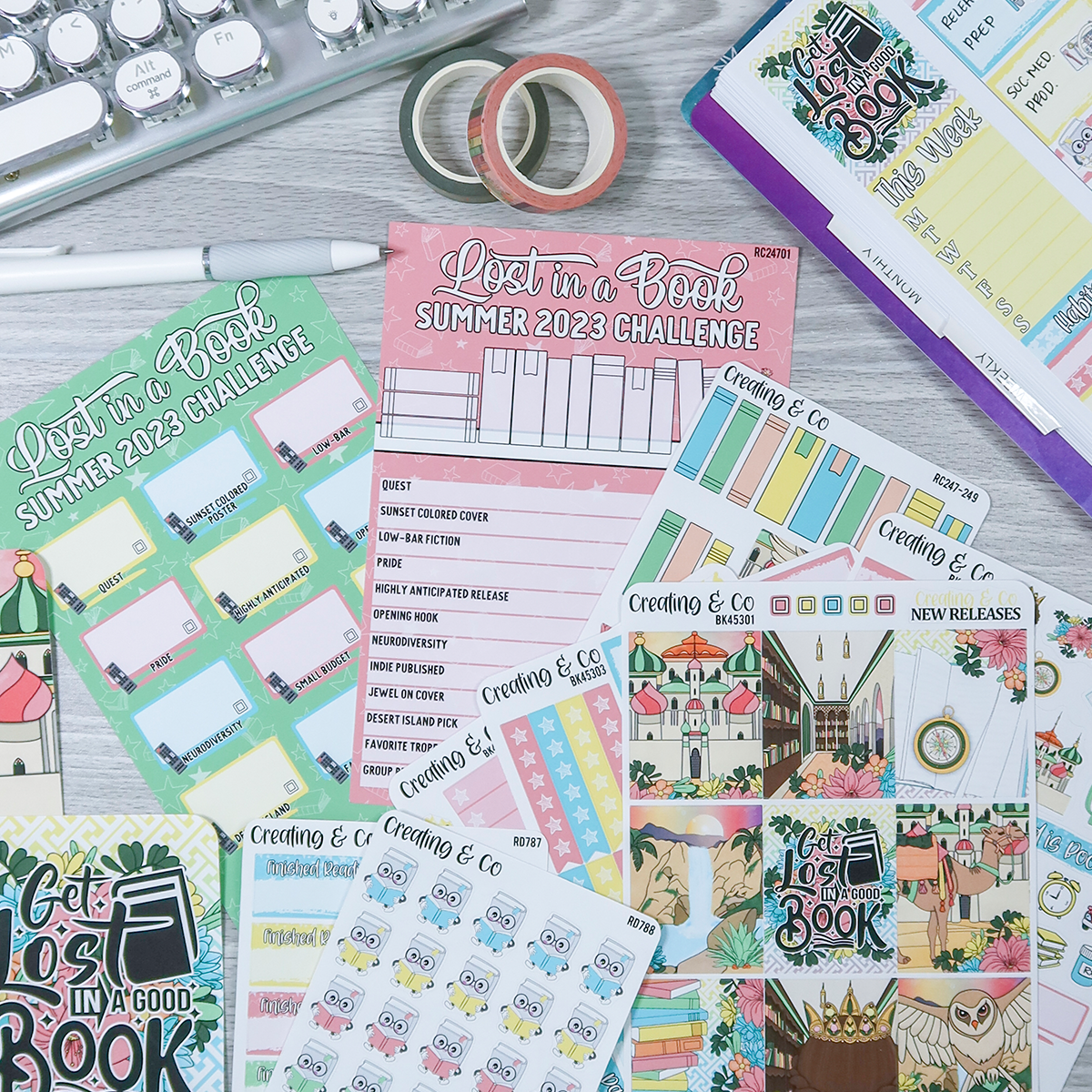 Lost in a Book 2023 Summer Reading Challenges
I was a little worried about summer's reading challenge because I just had no ideas. I mean, there's only so many times I could do a beach reading kit, you know? 
But, no worries, the fact that each season is meant to be a royal court in a different corner of Bookverse worked in my favor and we managed to get a theme that's been requested for a long time!
The summer corner of Bookverse is a hot, arid desert kingdom with lots of books and owls the color of sand that will deliver books to us in the village!
This theme will be in the shop on Friday 4/28 at 12PMcst and officially this challenge will last from June - August!
As always, this is just the official season, but these are designed to be self-start so you can decide when you begin and end the challenge. This way, you can do the summer challenge when it is the most appropriate for you, either by weather or some other reason.
The weekly kit is one that just came together so easily-- I was surprised by how quickly I had a kit version that I loved! The colors seemingly don't go together as well, which admittedly made it hard to make all the functional stuff, but I think they look beautiful together in the kit!
Our weekly kits will come in the three formats -- vertical, journaling and an "anti-kit" that is just for people that want a bit of deco! We will also have a few add ons if you use certain items more than others -- checklist boxes, reading stickers, washi type stickers, etc. 
Our seasonal challenges all have a bunch of stickers that fit the theme released so you can actually use the theme all season if you want!
As for the challenge itself, we will have a group read for it, though if you choose not to read the group read you can count it as a free space. We will start voting on the group read in the Creating & Co Book Club starting the first week of May and we'll have it officially picked a week or so later. 
There will be 11 prompts other than the group read. 
 In case this is your first challenge with us, here's how it works:
Each prompt on the challenge has a number that corresponds to it. Let's say for the first book you read, you pick prompt of a book with "yellow cover". 
You can write in the title of the book you read in the challenge table
And then pick a book sticker that looks like the one that has the 5 on it in the empty shelf. Place that book sticker over the greyed out 5th book on the shelf
Repeat until you fill up your shelf!
Our most common size is our 4.75" x 6.75" dashboard + book stickers -- this is the one shown below! It fits perfectly in our build your own book journal too!
Each of our challenges also have a media challenge so if you love movies and tv shows too, you can do both and work towards the challenge in multiple forms of entertainment!
We will also have a couple of other sizes:
A 7" x 9" version that you can use in most common planners--Erin Condren, Happy Planner, Yellow Paper House, Paper House Productions, etc.
An a5 version that fits in any a5 planner but it also fits in the Always Fully Booked planner
A "separated" version that gives you all of the elements of the dashboard on its own so you can design your own page in your planner or bullet journal. 
A "books only" option that has some book shaped labels and a header so you can arrange them however you'd like in your planner 
You can also feel free to draw your own layout and join the event and chat with us!
Each of our challenges come with a badge sticker that is handy for keeping track of the challenges you've completed through the year. You can make your own layout to keep track or pick up one of our tracking dashboards and fill it in as the year goes on!
For these prompts, I also wanted to explain some of them:
Quest -- What better place to go on an adventure than in the desert? This book features the characters going on a quest of their own (desert not required)
Sunset Colored Cover -- This cover is a color of the sunset -- you pick the hue!
Low-Bar Fiction -- this one is one of those books you know probably won't be very good in literature terms but you're going to love it anyway, a book that's just an easy read that you enjoy
Pride -- show your pride with some LGBTQ+ rep!
Highly Anticipated Release -- a book you've been looking forward to!
Opening Hook -- the opening line or chapter just draws you in immediately and you've got to read it! The best way to pick this one would be to pick a few and read the first chapter of all of them and then make a pick
Neurodiversity -- this one needs some mental health or neurodiverse rep!
Indie Published -- a book that's not traditionally published. You can ask for recs in the facebook group or find them on tiktok/instagram!
Jewel on Cover -- a book with a jewel or jewels on the cover
Desert Island Pick -- a book you would take with you to a deserted island. Maybe it's a reread of a favorite or maybe you read a book and it becomes a new favorite and you count it here
Favorite Trope -- this book features one of your favorite things -- enemies to lovers, lost princess, etc
Group Read/Free Space -- This is TBA
I admit, I already have a book I want to read for this challenge, but we'll see if it becomes the group read! I can't wait to hear your suggestions!
We'll also be having a planning party for the challenge in August. Though this does give you plenty of time to get your hands on the stickers, make sure you grab them as soon as you can so you can make sure they'll be at your house and ready to go!
During the week of the planning party, we'll have threads in the Creating & Co Book Club that will give you a chance to win some shop credit towards other items in the shop! This will also be when we chat about the group read and we may have some other events or threads in the group during that time as well!
Another item in the line up will be a monthly kit matching the theme! This is in our new monthly kit formats but the month is left blank so you can use when you'd like in your planner. We do have monthly heading stickers so you can pick those up if you'd like.
As always with our seasonal challenges, we'll release some of our most popular reading stickers in the fall color scheme as well! This way you can use the colors throughout the season and play up the fall vibes for the entire quarter!
We have recently changed up some designs but all of the faves are still in the line up!
We will also have an adorable bookmark that is just perfect for those spring reads! These are limited stock so make sure you grab them early. 
We'll also have three new vinyl stickers that are limited stock that are perfect for putting on your kindle case or your favorite cup or anywhere else you can think of!
Finally, we'll have a matching bookshelf washi set! This will be perfect to use all season long! These are always really popular so make sure you grab them while you can!
Make sure you're in the Creating & Co Book Club to share some recommendations for each of these prompts and we'll see you here on the website on Friday when its time for everything to go live!