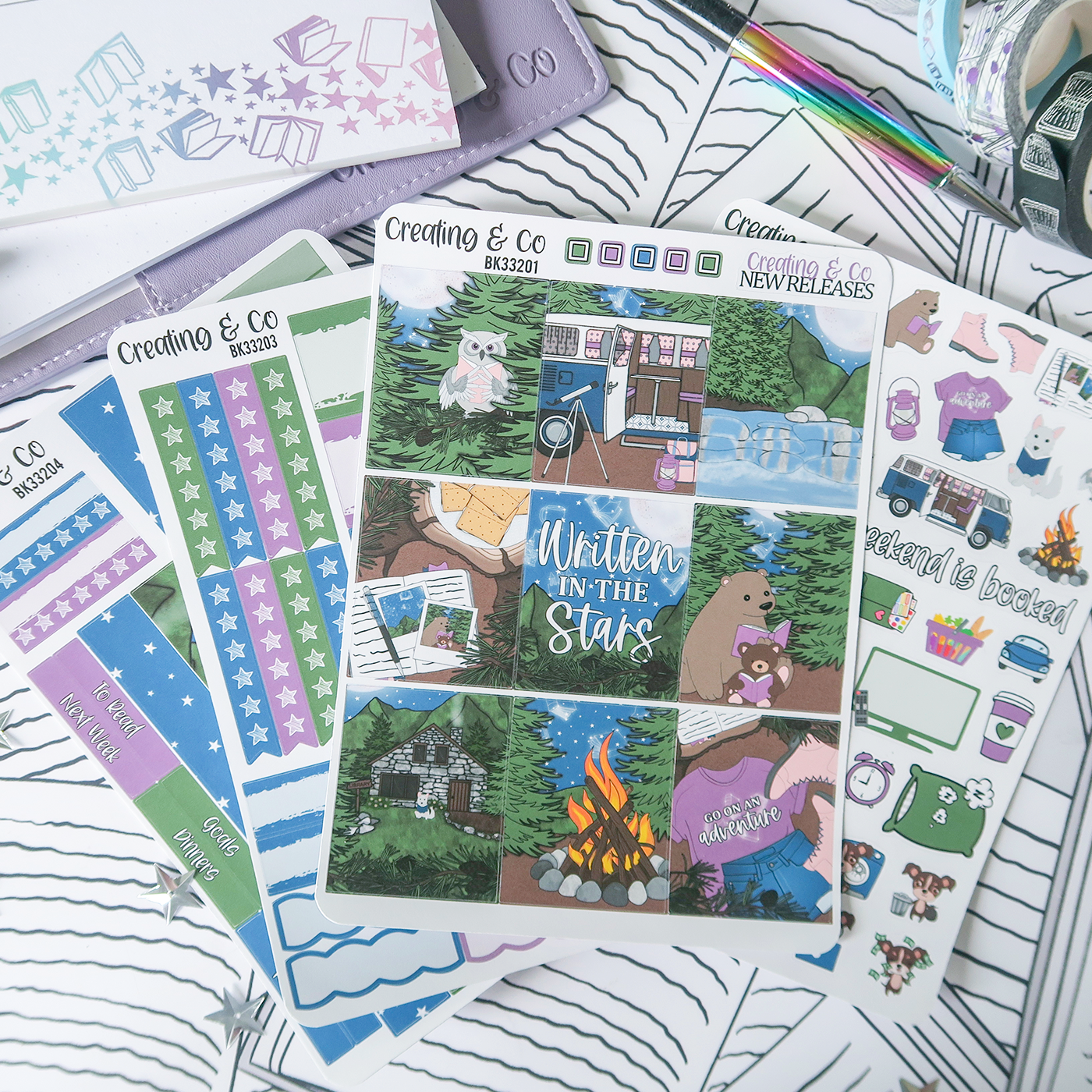 Written in the Stars: September 2021 Readathon
Back when we did the Head in the Clouds readathon, I had the idea to do a night version so instead of clouds, we have star constellations.
And the day is finally here! Our Written in the Stars Readathon takes that idea.
If you want to watch a video with all of the details, you can watch that here:
We're going to be traveling to the Bookish Forest up in the mountains from Sept 6th - Sept 12th because we've always wanted to see the book shaped constellations that you can only see from the library deep in the mountains.
Imagine our surprise that the constellations have disappeared and even though the animals are reading as much as they can, the constellations haven't come back! The librarian tells us to read some books that fit some themes and then the constellations will come back!
So we scour the shelves and come up with a list of books that fit these themes:
1. Group Read -- this is one that we will vote on in the facebook group!
2. Stars on the Cover -- stars are on the dust jacket or underneath the dust jacket
3. Great Outdoors -- the characters spend a lot of time outdoors or the cover features nature
4. Fated -- the characters are following their dreams or finding their soulmate or are actually prophesied to do something
5. "Night" or Star" in the title -- the title contains one of these words in whatever form
We'll be reading and tracking when we meet our challenges in the new Readathon Event Facebook Group!
We decided to do our readathons in this group in order to increase the sense of community during these events! This will let us track how many books we all read together and will also allow us to have more conversations throughout the week.
Of course, you can still do this readathon on your own if you'd like (or pick up the kit just because), but if you want to make some new reading friends, we'd love to have you join the group!
I will be letting people into the group starting on Friday the 23rd. I just need to finish setting up some posts in the group first!
If you'd like facebook to remind you about the event, make sure you're in the main Creating & Co group and click "going" on the event. 
Now, you can grab some books and join the facebook group BUT if you want to really celebrate, of course we're going to be releasing a sticker line so we can show off our festive planners during the week of the readathon!
Everything will go live tomorrow at 12pmCST and we'll be releasing this theme in all of our kit formats. We'll have some dashboard stickers (and a printable!) for laying out the readathon items in your planner or bullet journal.
For this readathon, we've made a special star map that you'll be able to pick up. The ideas is that you read the book and once you have, you can place the star constellation that corresponds with that prompt on your star map and eventually, you'll have a complete star map!
There will also be a bunch of functional reading stickers that you may want to add to your collection!
We'll also have some accessories like die cuts and journal cards if you want to use those for journals!
As always, we're also releasing an enamel pin that you can collect! We release a pin for all of our 2021 reading events so make sure you collect them all! This one is a little bear reading and you can find the past ones that are still available in our enamel pins section. 
Stay tuned to our social media like our Instagram and Youtube Channel because we'll be posting some more videos about this event in the next few weeks!