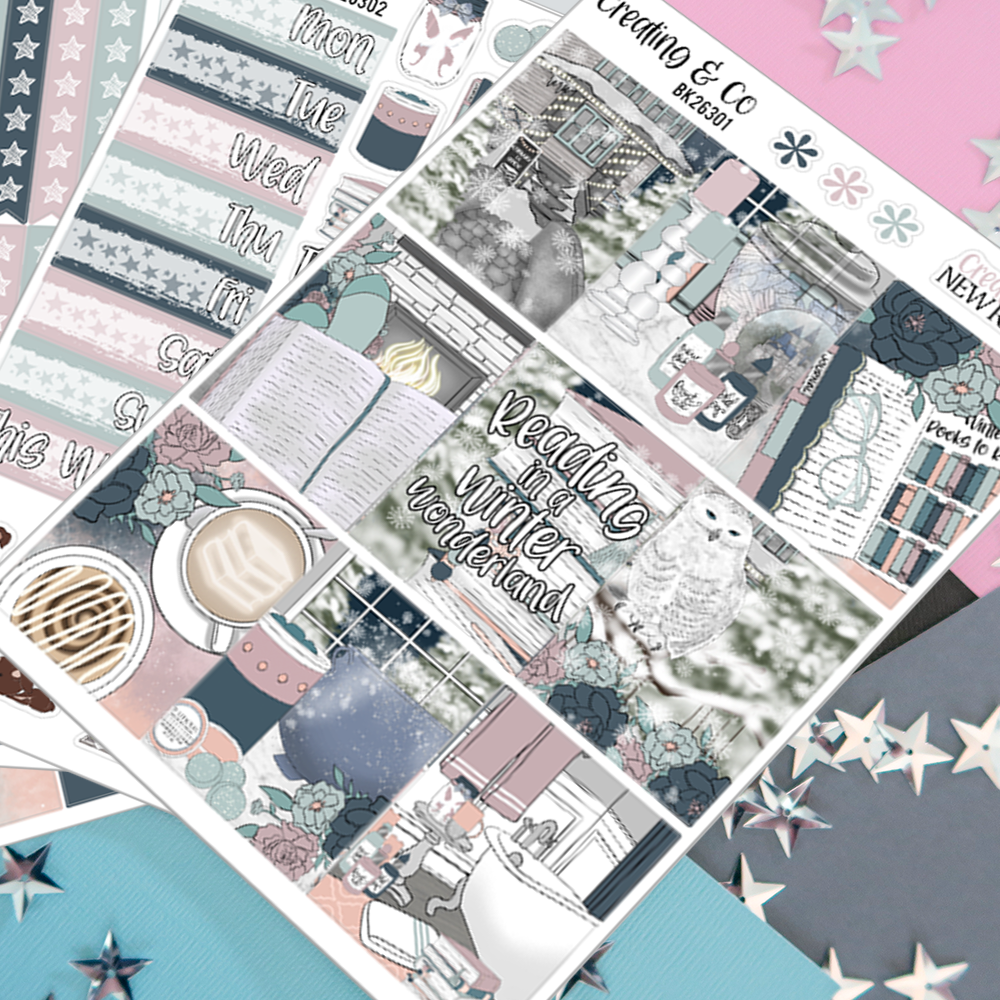 Winter 2020 Reading Challenges
You guys, I loved our past reading challenge kits but this one is definitely my favorite! I just love the color scheme...it's so pretty!
We're releasing this entire theme to the shop on Friday, October 23 at 10am CST.
We started our seasonal reading challenges at the start of 2020, but if you missed any of them, you can find them in our reading challenge section and do them whenever you'd like!
Just like the previous challenges, our winter challenge as a list of 15 book challenges and as you finish each prompt, you'll use a sticker to cover a book on the bookshelf. The idea is that by the end of the season, you'll have a full color bookshelf!
This is largely a self start challenge, but we kind of plan for our Winter Challenge to be the months of Dec, Jan, and Feb. You can start chatting about your plans in the Creating & Co Book Club whenever you're ready!
 In case this is your first challenge with us, here's how it works:
Each prompt on the challenge has a number that corresponds to it. Let's say for the first book you read, you pick the first prompt of a book with "leaves on cover". 
You can write in the title of the book you read in the challenge table
And then pick a book sticker that looks like the one that has the 1 on it in the empty shelf. Place that book sticker over the greyed out book labeled 1 on the shelf!
Repeat until you fill up your shelf!
All of our challenges come in multiple sizes and each will contain a blank bookshelf, a table for the prompts and the book stickers themselves. 
The first one (shown above) is a note page sticker set designed for planners that are approx 7'' wide and 9'' tall. Planners that I know of that will use this size are: Erin Condren, Classic Happy Planner, Recollections. Others may include Yellow Paper House, Plum Paper Planner, etc. 
The next size is a 4.75" x 6.75" set. This one will come with a cut out sticker/dashboard. This is created so that if you'd like, you can just hole punch it and place it in your planner BUT it is made with our sticker paper so you can also peel the backing off to put it in your planner a different way. 
We also have a size that is perfect for the hobonichi weeks or print pression weeks. Other planners that this may fit in are personal size planners. The dashboard stickers themselves are 3.25" wide and 6.75" tall. 
Finally, we have two of our separated version. This version has all of the elements of the challenge dashboard stickers--headers, bookshelf, and the challenge table but they are all separated so that you can arrange them how you like. This format is perfect for bullet journalers or those who would like to display their shelf in their own way.
We have a smaller size that is perfect for mini happy planners, b6 planners, etc with a bookshelf that is about 5'' wide.
We also have a larger size that is perfect for larger planners with a bookshelf that is 6.4" wide. 
Here is a list of all of the challenges. If you'd like, feel free to save this image and print it yourself!
If you'd like, you can right click and save this image so that you can print it yourself. If you'd like to get the tables for the other challenges, head over to our dropbox folder.
One of the best parts of the seasonal reading challenges is that we're able to do a release of our bookshelf washi for each season as well as a release of all of our most popular reading stickers in a seasonal color palette!
Our washi sets HAVE been known to sell out and some sell out rather quickly so make sure you get there right at 10am CST to have your best chance to get it!
We will also be releasing a full weekly kit line including all four of our current kit formats along with the add ons and items that come with our exclusive themes!
We also have a number of functional items that will be released that match this color palette so you can use them all season long.
Now let me show you my favorite part of this release! We've been working on an expansion to our "Anti-kit" format and have come up with a 6 page format designed to be used across an entire month. We're calling it our "Creative Journaling" Format because you can use them in just about anything--planners, journals, bullet journals...the possibilities are endless!
Now, I'm going to show you all of the listing pictures for this so you can get all of the details. 
WHEW I think that's all I've got for you right now! There is no way I shared everything in this blog post, so make sure you set aside some time to browse on Friday and set an alarm for 10am CST so you can make sure to get your hands on everything!
We'll see you in the book club group!