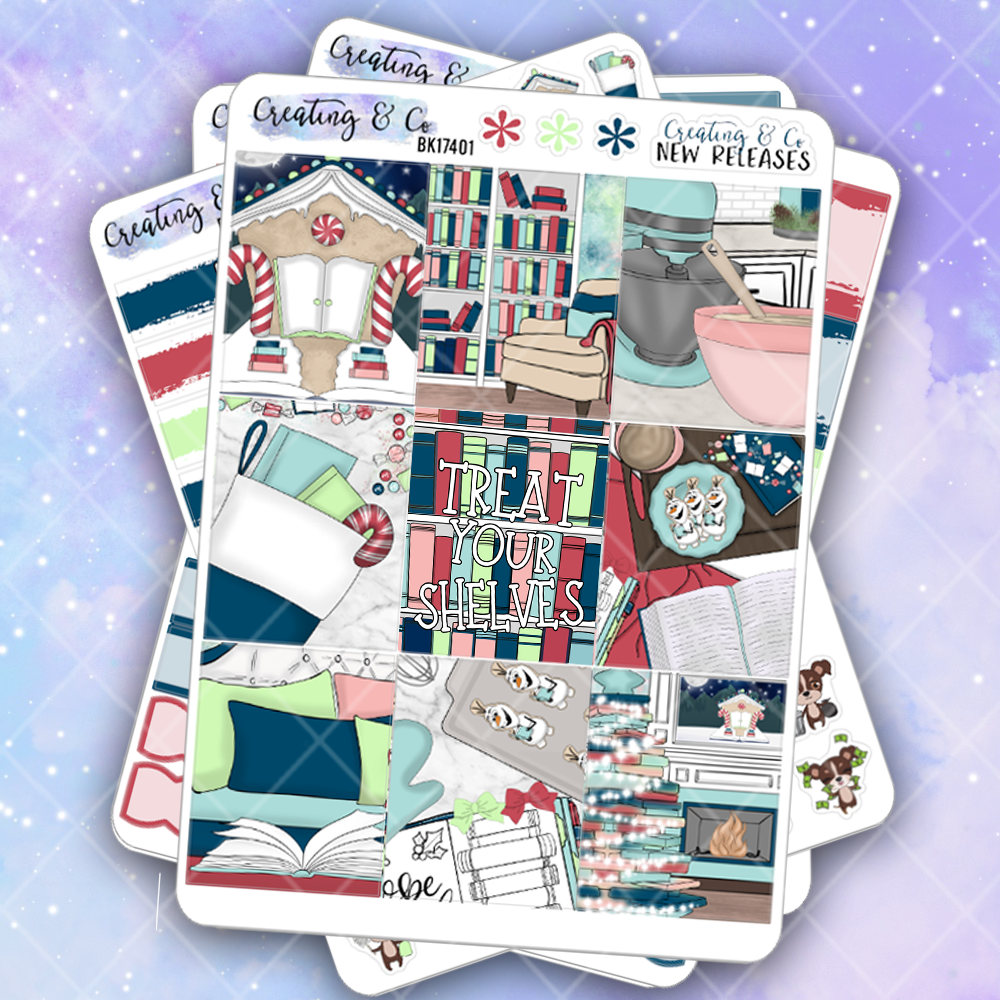 Treat Your Shelves Readathon
It's almost time for our last readathon of the year! Our December readathon has turned into one of my favorites because I LOVE the color palette and theme of these products!
Our
Treat Your Shelves readathon
will take place from
December 16th to December 22nd
! AND all of the things are up now! Head over to 
this page
to pick them up but don't forget to check out the prompts and things below!
 Now, let's go over some things in case you aren't familiar with our readathons yet!
WHAT IS A READATHON?
A readathon is a special event hosted by someone within the book community. For our purposes, it's hosted by the Creating & Co book club group. During the time period of the readathon, we read books according to different challenges and do other fun stuff like reading sprints and photo challenges and even a costume contest!
For this readathon, we will have five book challenges:
Group Read: TBA (Visit our Facebook Group to vote)
Tinsel: A book with a shiny/glitzy cover
Fireside: A book you want to curl up with
Gifted: A book gifted/recommended to you by someone
Carpe Librum: A book you've meant to read but haven't gotten to yet
For these challenges, you can read one book that fits all the challenges or a different book for each challenge or do a little bit of both! It's up to you!
As always, we're leaving it up to you as to what counts for each prompt. These prompts are meant to be a guide so if you can make a book fit, then it works!
WHAT ARE THE PHOTO CHALLENGES?
We mentioned photo challenges because we love to encourage creativity over here at Creating & Co and what better way than to combine our love of reading and planners?! 
We will be posting a thread every other day during the readathon so you can add your photo there! 
We also invite you to share the photos you take on social media! So we can all find each other on IG, use the hashtag #cctreatshelves
Now here they are:
TBR Stack: The books you plan to read

Tis the Season: A seasonal/festive bookish photo

Faves: Favorite Books of the Year

Warm Hug: A bookish photo that features a warm drink
WHAT ARE READING SPRINTS?
A reading sprint is when one of the cohosts post in the facebook group to read for a certain amount of time. Everyone that can reads during that time and then reports back with how much they read. It's a lot of fun and a good way to meet your reading goals AND read with others!
These happen every weekday from late afternoon-late evening and every weekend day from the afternoon-late evening
WHAT OTHER EVENTS WILL THERE BE?
For this readathon, we're considering some fun challenges but we aren't quite ready to reveal what those are yet.
IS BUYING SOMETHING REQUIRED?
Absolutely NOT! To participate in the readathon, it's totally free! You just have to pick a book and read with us! Of course, we will have a bunch of items--like an exclusive planner kit, a matching bookmark, special washi, and a special enamel pin!
If you aren't a weekly kit planner, this readathon will feature our most popular bookish planner stickers redesigned and recolored to match for the holiday season! 
Now, let's check them all out! You can grab all the things here.
If you're interested, we will also be posting a "design with me" on Sunday so you can see how the weekly kit came together! Be sure to subscribe so you don't miss it!
First we've got our weekly kit that comes in SIX different formats so you are definitely sure to find a format that works for you! 
Our six formats are: Standard/ EC Vertical, EC Horizontal, Classic Happy Planner, Hobonichi Weeks, Half Kits (2 page kits), and an "anti-kit" that is perfect for bullet journalers!
We also have some foil stickers that are on glossy clear paper that are made to work as overlays to other stickers! This time, we have two options--one for the kit as a whole and an additional one that is perfect if you use washi in the bottom of your 6x9 planners!
We have some other add ons as well, like a full box add on so you can stretch your readathon kit for two weeks AND a special readathon add on!
Don't forget about all of those functional stickers I mentioned!
There are also some items for you to grab that are designed to help you decorate your planner for the season!
And of course, we have the pin, bookmark, and washi tape!