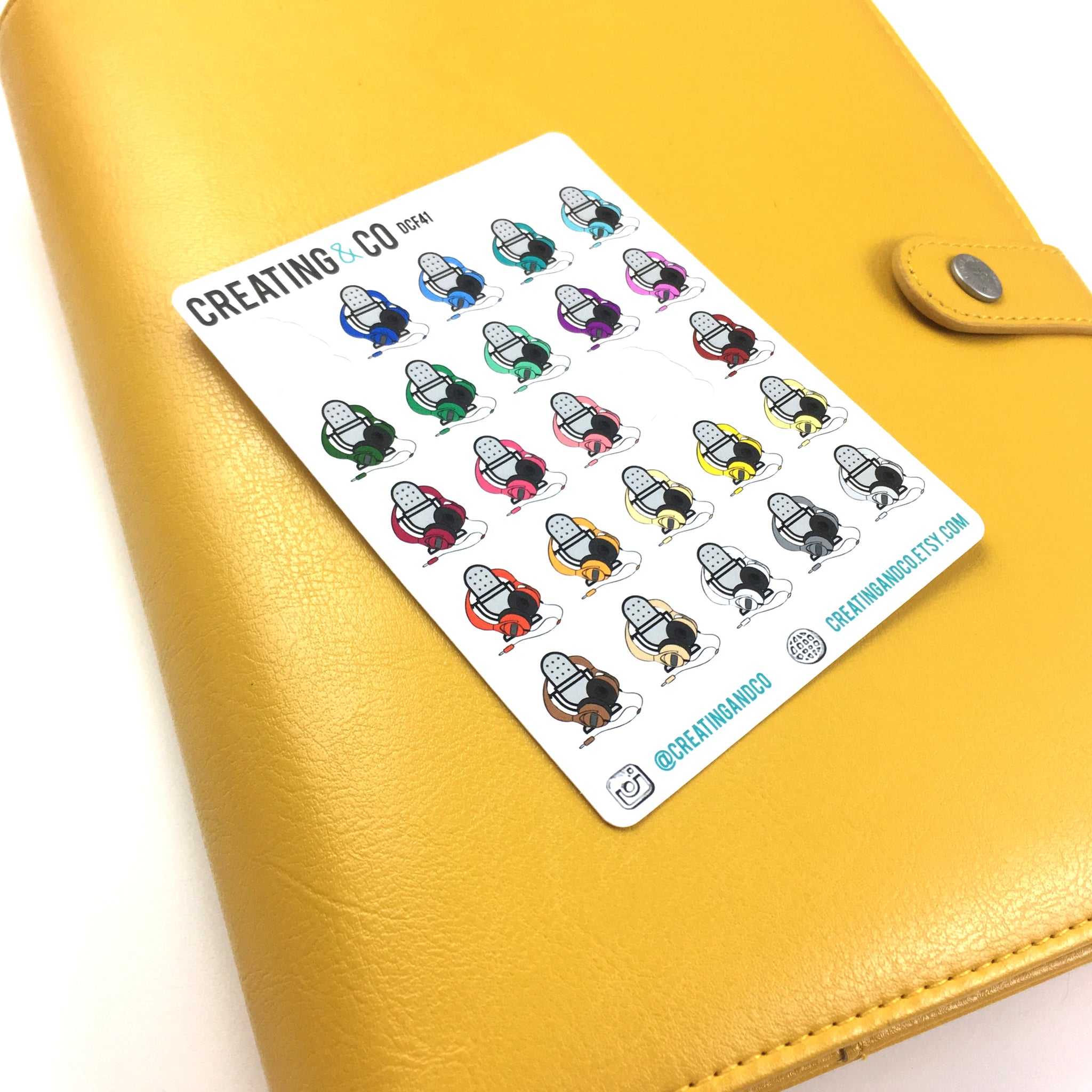 Everything You Need to Know About Podcasts
by Darchelle Vajen (@books_and_planners)
As you may know, I love to read and listen to audiobooks.  But when I'm not listening to an audiobook, my new favorite thing is listening to podcasts!  They seem to be all the rage right now and there is a podcast for almost ANY topic!
Podcast Newbie
I listened to my first podcast sometime last summer.  I had heard of podcasts, but never listened to one.  I am a fan of Busy Philipps and I follow her on Instagram (if you don't you should - she's hilarious and so are her kids)!  I saw via her IG that she was co-hosting a podcast called 'We're No Doctors'.  Being in healthcare myself, this intrigued me!  I listened to the first episode one night at work and was cracking up!  It is two non-medical people talking about their medical journeys and their crazy phobias and google search-induced "illnesses".  
Another cool thing about this podcast is that sometimes they read e-mails from listeners and they actually read MY email on an episode!  I about died!  It was so awesome!  My friend told me she heard Steve start reading about my health condition and with my name being rare, she knew it was me!  The episode I was featured on was "Itchy Lung" and although the title has nothing to do with my story, you can listen to it here.
Branching Out
Another podcast that I love to listen to is one by our very own, Paige Tapley along with Chrissy Antoniotti, from Pretty on Paper Co called Confessions of a Girl Boss!  Although I'm not a girl boss (used to be), I still enjoy listening to these boss babes chat about their business!  This podcast would have been extremely helpful if it was around back when I ran my own photography business.  They focus around sticker shops, since that's their specialty, but any business could benefit from their tips and tricks! 
Where to Listen
If you're new to podcasts, you may be wondering, "Where can I listen to these podcasts?"  One option is Stitcher, which is where the links I posted above go to.  However, my preferred way to listen is through iTunes or the Podcast app on my iPhone!  If you have an iPhone, look for this icon or go to your app store to download the app.  The best part is it's free!
Alternatively, if you have an Android phone, you can find podcasts on Google Play.  Some podcasts may be available on Soundcloud as well, but I don't have any experience listening there.  
Podcasts + Planning
I love keeping track of the podcasts I listen to in my planner.  Creating & Co has these amazing podcast icon stickers that are perfect for this!  Do you listen to podcasts?  If so do you keep track of them?
Another podcast that I've been listening to a lot is The Worst Bestsellers (thanks Paige!) where they discuss popular books that we all have a love-hate relationship with.  It is very funny!  And, if you're looking for another bookish podcast, The Babysitter's Club Club is two men who are re-reading the famous Ann M. Martin book series that debuted in the late 80s.  I grew up reading these books so it is absolutely hilarious to hear these guys read & dissect every book in each episode.  Did anyone else read this series as a kid? I have listened to other podcasts here and there, but those are definitely my favorite. 
What are your favorite podcasts?  Where do you typically listen to podcasts?