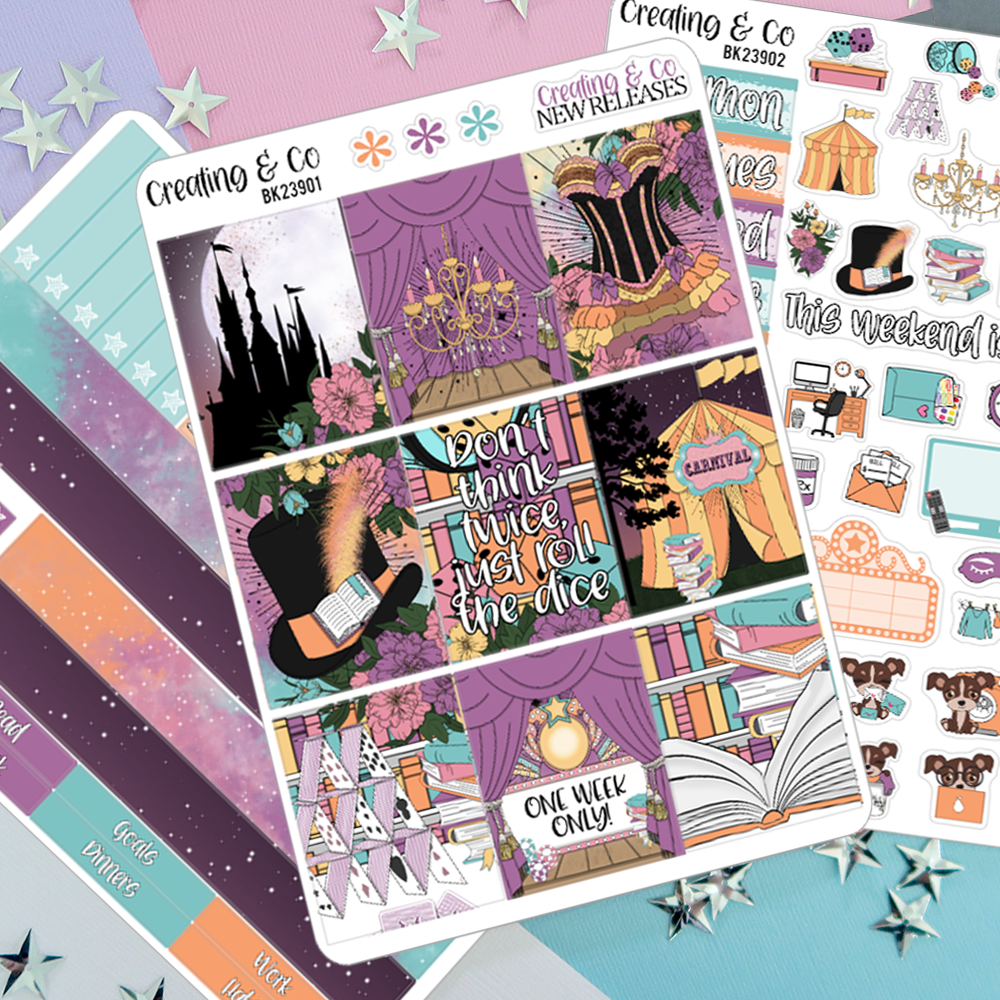 Don't Think Twice, Just Roll the Dice!
It's almost time for another Creating & Co Readathon!! If you haven't heard, we do about six of these a year and if you've never participated, be sure to scroll down to the bottom of this post because I will include an FAQ section.
Now, we usually follow a pretty good formula for our readathons but I've been trying to mix it up a bit. Just to keep it interesting.
This next readathon is going to be our Roll the Dice readathon, which is a theme I've been wanting to do since last year!
It'll take place from August 24th to August 30th! However, as you'll see below, this is an easy one for you to extend on your own!
Like always, we will have a group read but for the other prompts...well it's time to roll the dice! We will vote in the Creating & Co Book Club group for the group read during the week of July 27th.
Now, if you don't have any physical dice, no worries. You can google "Dice roller" and it'll pop up on google. 
The concept is simple, roll the dice and what comes up is your prompt. Just pick a book that fits with your prompt. 
BUT there is a second way you can do this as well but first, let me show you all the prompts:
Read a book with a Purple Cover

Female Author

A Book a Friend Loves

Published this year

Non-Human Characters

Shop Your Shelf

Graphic Novel

Chance of a lifetime

Set in "Vegas"

Recommendation from Booktube or Bookstagram

Start a series

Contains Magic
Now for the second way, look at your bookcase and assign each shelf a number.
Roll the dice once. That gives you which shelf you pick from. If you roll a number higher than the amount of shelves you use, just roll again.
Then roll the dice a second time and count the books until you reach that number. That's your book.
If you use solely e-readers, then you can assign each page in your reader a # and then do the same thing. Roll the dice a second time and count until you get to that number. 
Our weekly kit will come in all of our kit formats, along with our expanded add on line with our "Outside of the Box" stickers and washi strips and large deco so everyone should have the best option for them in decorating their planner for that week!
In addition, we'll have a readathon sheet listed that is perfect for keeping track of your week! We will also have a smaller sheet that is perfect for extending the readathon another week. 
We will also be doing photo challenges throughout the week that will be giveaways for reward points in our shop! To keep the air of mystery, I won't tell you just what those are, but you can expect ones similar to the photos we've shared in the past!
Your Planner Haul
Your TBR Stack
Your Planner Layout Before the Pen
Midweek Planner Layout
End of Week Planner Layout
If you share on social media, use the hashtag #ccrollthedice so I can find and maybe share! We will also be posting story templates in the group to share your progress and reading related things throughout the week!
We will also be sharing some photos you guys share on our own stories and inviting you to share in the Creating & Co Community group!
As always, our readathons are completely free to participate in so if you're ready, just join the book club group and some books and mark it down in your planner!
But if you're like me, you want your readathon weeks to be special in your planner, which is where the stickers above come in! All of our stickers and special things for this readathon will be released on Friday, July 24th at 10am CST!
You can start with the sticker kit shown above, but also keep an eye out for all the functional reading stickers and icons as well as die cuts, journal cards, etc!
Our readathons all have a collectible pin that goes along with the theme so that you can collect them all throughout the year. Like in 2019, if you collect all the pins, we'll be giving reward points for a free sticker sheet!
We also have a few other things like some functional stickers, a bookmark, , a few die cuts etc. 
So that this post isn't super long, I'm going to just share a few more things. Just scroll to underneath the next few images to hit up the FAQ!
Alright, before I go, let me answer a few questions that we get with the readathons:
WHAT IS A READATHON?
A readathon is a special event hosted by someone within the book community. For our purposes, it's hosted by the Creating & Co book club group. During the time period of the readathon, we read books according to different challenges and do other fun stuff like reading sprints and photo challenges and even a costume contest!
WHAT ARE READING SPRINTS?
A reading sprint is when one of the cohosts post in the facebook group to read for a certain amount of time. Everyone that can reads during that time and then reports back with how much they read. It's a lot of fun and a good way to meet your reading goals AND read with others!
These happen every weekday from late afternoon-late evening and every weekend day from the afternoon-late evening
IS BUYING SOMETHING REQUIRED?
Absolutely NOT! To participate in the readathon, it's totally free! You just have to pick a book and read with us! Of course, we will have a bunch of items--like an exclusive planner kit, a matching bookmark, special washi, and a special enamel pin if you're interested!
 Alright, I think that's everything! We can't wait to see you in the book club group!