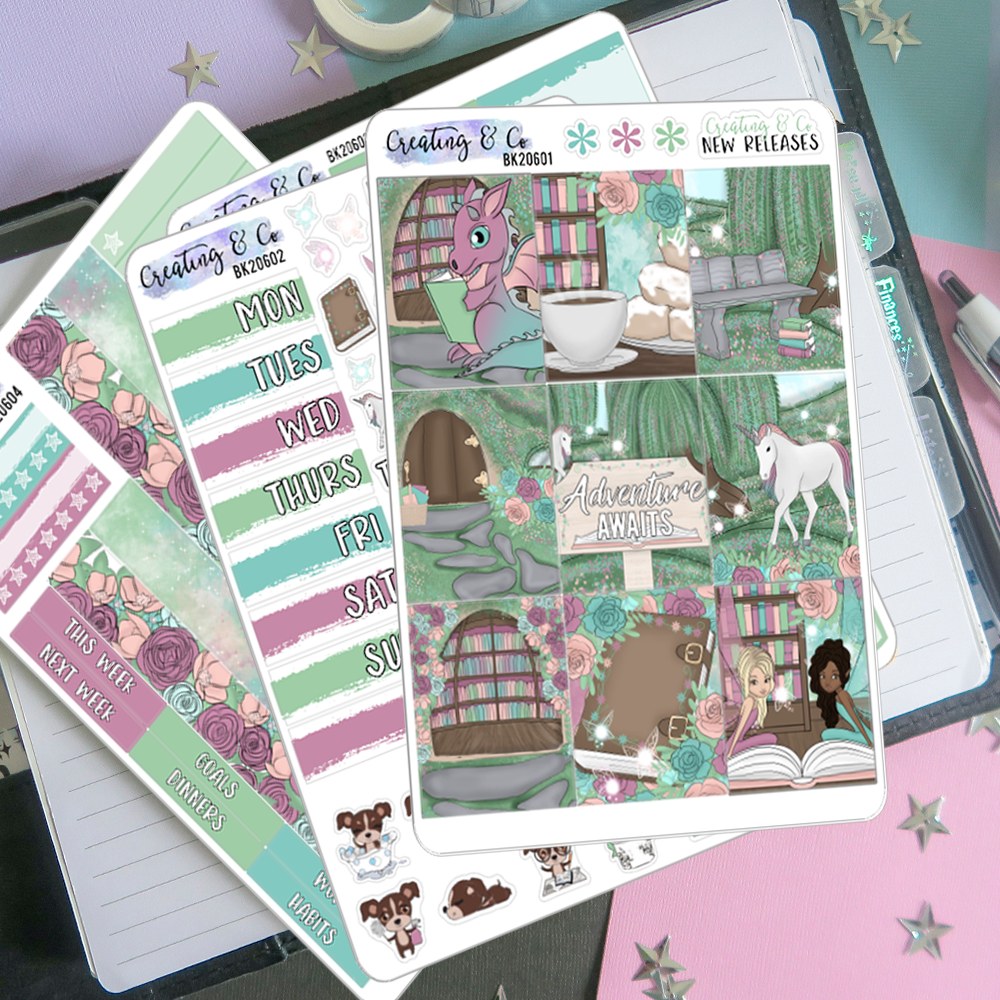 Realm of Reading Readathon Details
It's already time to start prepping for another readathon. Can you believe it? 
I've had this one in my mind for months now so I'm glad I can finally share! Our Realm of Reading readathon is inspired by the idea of "Spring fantasy" and all of the items are available now! Head over the new release section to shop but don't forget to check out all of the prompts below.
The readathon will take place from April 13-19th so make sure you mark your planners!
In case you missed it, we posted a design with me for this kit so if you're into behind the scenes, definitely check it out!
Also, there's a video where I explain the prompts and challenges a bit:
Like our other readathons, this one will have 5 prompts to help pick books that go along with the theme. As always, you do NOT have to read any specific genre and the general rule of thumb is: if you can make a book apply to a prompt, it counts so don't worry about asking if something counts or not.
The readathon prompts are:
Group Read (We will vote in the book club starting today so keep an eye out for the poll!) 
Has a Magical/ Mythological Creature
First
Under 500 Pages
Enter a New Realm
Our readathons normally have photo challenges but we decided to change it up this time and do some planner challenges! If you do share them on IG though, make sure to use #ccrealmread so I can find and share your pics!
Here's the planning challenges:
Planner + Book Pic
Bookish paper/planner craft
Readathon planner set up
Most C&C Stickers
For each of these challenges, I'll post a thread in the group and ask you to share throughout the week!
As I mentioned in the video, our readathons are completely free to participate in so if you're ready, just join the book club group and some books and mark it down in your planner!
But if you're like me, you want your readathon weeks to be sort of special in your planner. That's the whole reason we started hosting readathons in the first place, SO we have a planner line that will be live in the shop tomorrow at 10am CST!
You'll be able to find it all in the new release section.
You saw the kit above--it'll be available in all 5 of our kit formats! All of our kits come in an "anti-kit" for bullet journalers or if you want just a a few stickers of that theme, a half kit that is perfect for smaller planners, a hobonichi weeks kit theme, an EC Horizontal version, a base kit that fits most planners (EC, Recollections, Yellow Paper house, etc), and we also started adding an "outside of the box" sheet that isn't a kit, but perfect for those who daily plan or use a bullet journal!
Each of our readathons have an enamel pin that matches each one so that you can collect them all throughout the year. Like in 2019, if you collect all the pins, we'll be giving reward points for a free sticker sheet!
Unfortunately, due to manufacturer delays, we aren't listing this pin with the kit. We will be listing it with the items for our next readathon, but I wanted to show you how it would look anyway. 
We will also have a selection of functional stickers that are bookish and in this color scheme so you can use them throughout the year! We will be bundling 10 of the most popular sheets so if you purchase the bundle, you'll get a discount, but you'll be able to purchase the sheets separately as well.
We also have a few other things like some functional stickers, a bookmark, , a few die cuts etc. 
So that this post isn't super long, I'm going to just share a few more things.
Alright, before I go, let me answer a few questions that we get with the readathons:
WHAT IS A READATHON?
A readathon is a special event hosted by someone within the book community. For our purposes, it's hosted by the Creating & Co book club group. During the time period of the readathon, we read books according to different challenges and do other fun stuff like reading sprints and photo challenges and even a costume contest!
WHAT ARE READING SPRINTS?
A reading sprint is when one of the cohosts post in the facebook group to read for a certain amount of time. Everyone that can reads during that time and then reports back with how much they read. It's a lot of fun and a good way to meet your reading goals AND read with others!
These happen every weekday from late afternoon-late evening and every weekend day from the afternoon-late evening
WHAT OTHER EVENTS WILL THERE BE?
We try to schedule a discussion of the group read at some point throughout the week. This will either be a fb live event or a thread where we can chat about it. 
IS BUYING SOMETHING REQUIRED?
Absolutely NOT! To participate in the readathon, it's totally free! You just have to pick a book and read with us! Of course, we will have a bunch of items--like an exclusive planner kit, a matching bookmark, special washi, and a special enamel pin if you're interested!
 Alright, I think that's everything!
Remember, head over to the new release section to grab everything that goes along with this readathon!