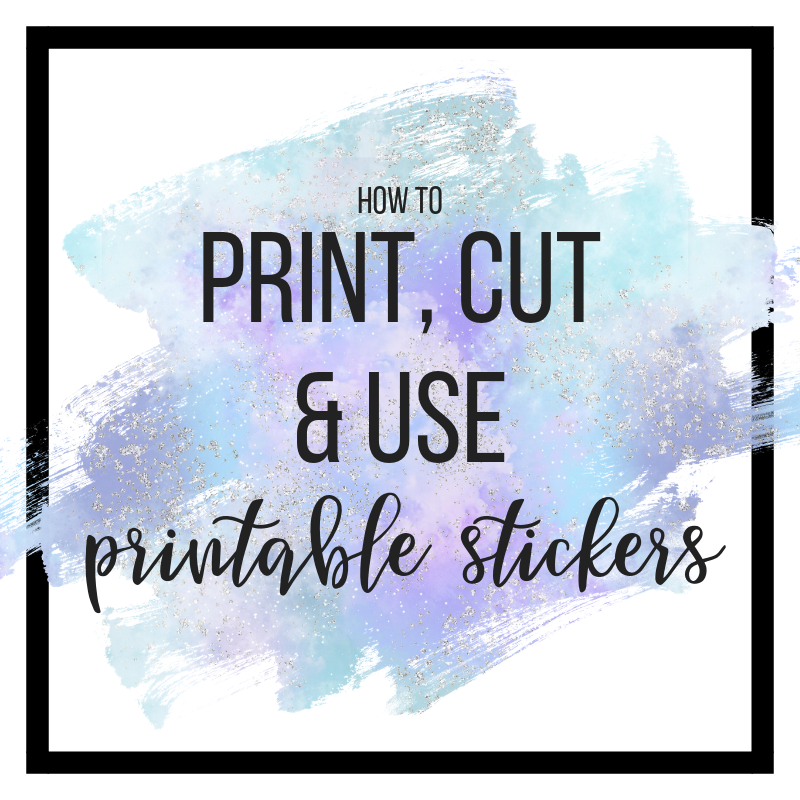 Printable Kit Instructions
We started offering printable stickers recently and you guys are LOVING them! I have gotten a ton of questions about how to print and cut the stickers and also product recommendations so I wanted to go over how to get them print and cut using your own silhouette.
Unfortunately, I've never used a cricut machine, but I recommend checking youtube.com and searching for "print and cut on cricut" videos if you have chosen to use a cricut machine.
If you are brand new to using a silhouette machine, make sure to check youtube for silhouette tutorials as well, because I will not go over machine basics in this post. 
First off, to print and cut stickers, you will need the following items: (these are affiliate links to amazon so if you purchase with my link, I get a small percentage)
sticker paper: This is the paper that I used when we first started our shop!
silhouette portrait (a portrait is perfectly fine for stickers. You only need a silhouette cameo if you want to cut things wider than 8 inches)
Printer + Printer Ink: You do NOT need a super fancy or expensive printer for home use. Just one that prints color nicely like canon.
You can of course just use a paper trimmer or scissors if you do not want to use a silhouette. 
FIRST you will need to print your stickers on sticker paper. 
To cut on your silhouette machine:
Open studio3 files with the Silhouette studio software.
Print onto sticker paper from within the software.

Make sure registration marks are on the page OR turn them on before printing.

Load into your machine
In your software, go to your cut settings and click "advanced"
In our cut files, the grey lines are designed to be the sticker sheet outline. The red line is designed to be the stickers. If you'd like to cut out the sticker sheets so that your sheets will be smaller than the printer paper size, this is how: apply the "white sticker paper" (or whatever your sticker paper settings are) setting to the red line. Apply a setting that has a higher depth to the grey line. We use a depth of 33 and everything else is the same setting as our stickers.
Each machine is different so your cut settings may vary. If this is the first time you are cutting stickers, start out using the "white sticker paper" setting within the software and adjust if needed.
I hope this post has helped you if you're new to our printable sticker kits OR if you're just looking for some help with your printable stickers. 
We release new printable stickers every Tuesday and they are discounted for the first 24 hours so make sure you stop by on Tuesdays!