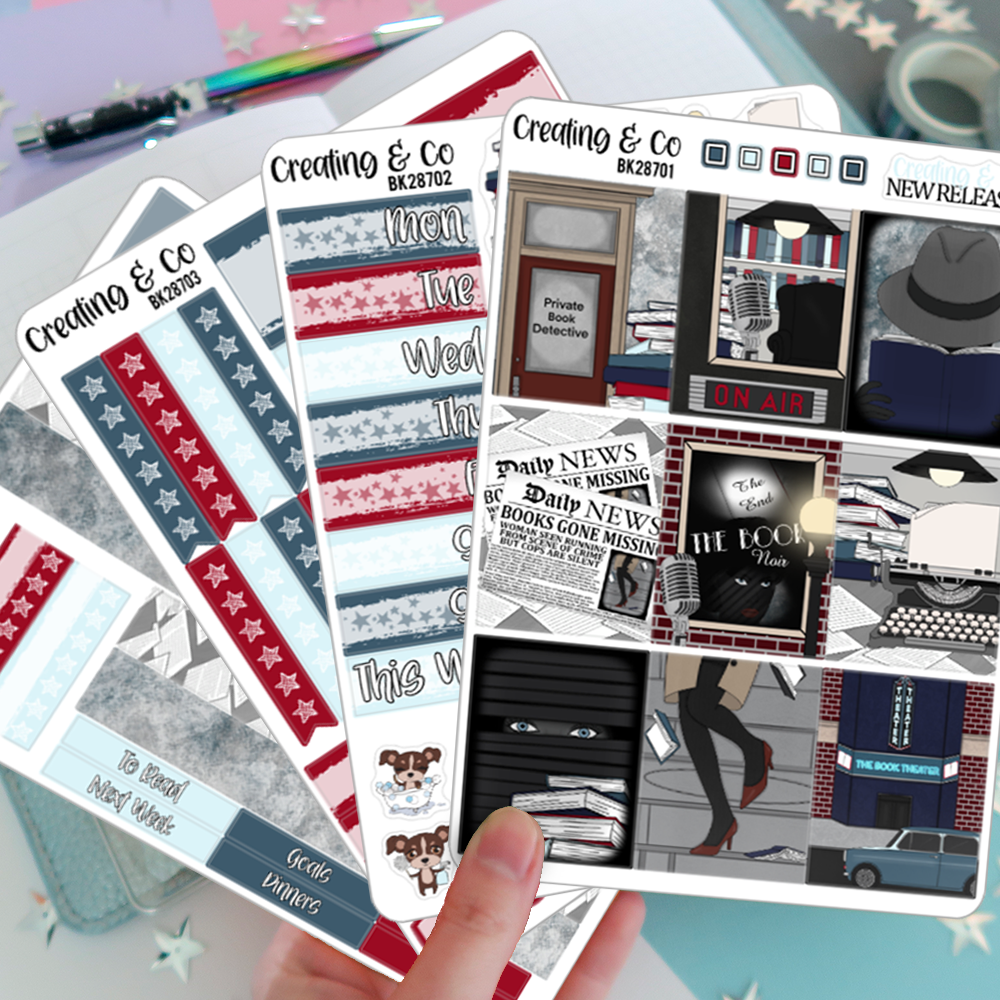 Noir Reads Readathon Details!
It's a new year, which means it's time for a new set of readathons! Our first readathon of the year is a bit different from previous ones we've done. I tend to like fantasy reads, so other genres get a bit neglected but this one takes some cues from true crime, gumshoe detectives, and of course, Noir movies.
In case you aren't familiar, noir is a type of movie that is very dark...it's often mostly black and white with dark filters. I chose to take a cue from the movie and graphic novels Sin City and add some pops of color, specifically red and blue.
As always, our readathons are totally free to participate in...you can check out the rest of this blog post and then set up your planner and get ready to read with us BUT if you like planner stickers and enamel pins, all of the items that go along with this theme will be live tomorrow, 1/15/21 at 12pm CST!
The sticker kit is above--it will come in all of our kit formats--the base/vertical kit, our half kit, horizontal kit, anti-kit and our creative journaling kit. With all of our formats, you will definitely be able to find one that works for you! You can check out all of our weekly kit formats in the weekly kit section. 
Now, let me go ahead and tell you the prompts and then I'll show you the enamel pin and a couple of other things. I will also do a FAQ at the end of this post so if this is your first readathon, you can get a feel for all the terms and things.
What are the reading prompts?
Our first prompt is always a group read. We will vote on the group read starting on Saturday in the Creating & Co Book Club facebook group. We usually try to pick group reads that go along with the other prompts and we will have a discussion thread for the group read in the 2nd half of the readathon week.
Here are our other prompts:
Based on a True Crime: This can be a nonfiction or fiction read, but it must be based on something that really happened
Monochrome + Pop of Color: Like the movie that inspired this readathon, I want to see some black and white covers that have a pop of color, bonus if it's red or blue! (This will be a fun pic to take during the readathon too!)
Set in a Big City: This is pretty self-explanatory. Find a book that is set in the big city! Any big city at any point in time
Book/Movie Adaptation: Since a movie inspired this one, find a book that has a movie adaptation. It's a bonus if you watch the movie that week too!
If you need some ideas for books to read, we've been suggesting books in the Creating & Co book club for each prompt! I will be pinning all of those posts in the announcements of the group to make them easy to find. 
What are some other ways I can celebrate?
Also that week, we will do a watch party. These commonly take place on the Friday or Saturday evening of the readathon week and in the past I used a service called Kast BUT for this one, I think we might try using a Netflix watch party since they have introduced that feature! We will vote on the movie when it is closer to the readathon in the fb group. 
We also invite you to use the #creatingandco to post all the book and planner pics that week! This theme can be a really fun photography theme as well so I can't wait to see what pictures you take!
We will post threads in the group for you to share your pictures as well. Here's some ideas:
A planner layout pic--you can show it off before you've written in it or after!
A cosplay post--throw on a trench coat and some moody makeup and share a pic with a book or your planner! Bonus if you edit this one to show off your eyes or red lips!
A TBR Stack or Completed Stack--show off the books you plan to read OR the books you read!
I'm not gonna lie, I'm kind of bad about looking on instagram but I will be sure to share as many pics as I can that week!
Let's Take a Look at the Rest of the Planner Stuff!
Alright, let me show you a few other things! We will have an enamel pin for each of our reading events this year! The idea is that they kind of act like the swag for the event--you can collect them all and by the end of the year you have a representation of all the reading events you participated in! I think of these in comparison to those virtual races where you get a medal for participating.
Our pins are limited stock so make sure you grab them earlier rather than later!
Finally, we're also doing a new dashboard sticker that is designed to fit inside our Build Your Own Book Journal line! These will fit in other planners as well!
The sticker is 4.75" wide and 6.75" tall and you can either peel off the backing and stick it in your planner or just clip it in and fill out the books you read as you complete them!
There is also a special add on for this readathon that you can use in the sidebar or other parts of your weekly layout:
We will also do a selection of our most popular functional reading stickers in this color scheme! That way you can really find the stickers that will best work for you to celebrate this week! 
Now, this readathon is coming up on us fast so make sure you grab the items starting tomorrow and here's a countdown so you can keep track of how long you have before it starts!
Finally, let's go over the FAQ!
DO I HAVE TO READ FIVE BOOKS?
For these challenges, you can read one book that fits all the challenges or a different book for each challenge or do a little bit of both! It's up to you!
As always, we're leaving it up to you as to what counts for each prompt. These prompts are meant to be a guide so if you can make a book fit, then it works!
WHAT ARE READING SPRINTS?
A reading sprint is when one of the cohosts post in the facebook group to read for a certain amount of time. Everyone that can reads during that time and then reports back with how much they read. It's a lot of fun and a good way to meet your reading goals AND read with others!
IS BUYING SOMETHING REQUIRED?
Absolutely NOT! To participate in the readathon, it's totally free! You just have to pick a book and read with us! Of course, like I shared earlier in this post, we will have a bunch of stuff available to purchase so you can celebrate the week the way you want to!