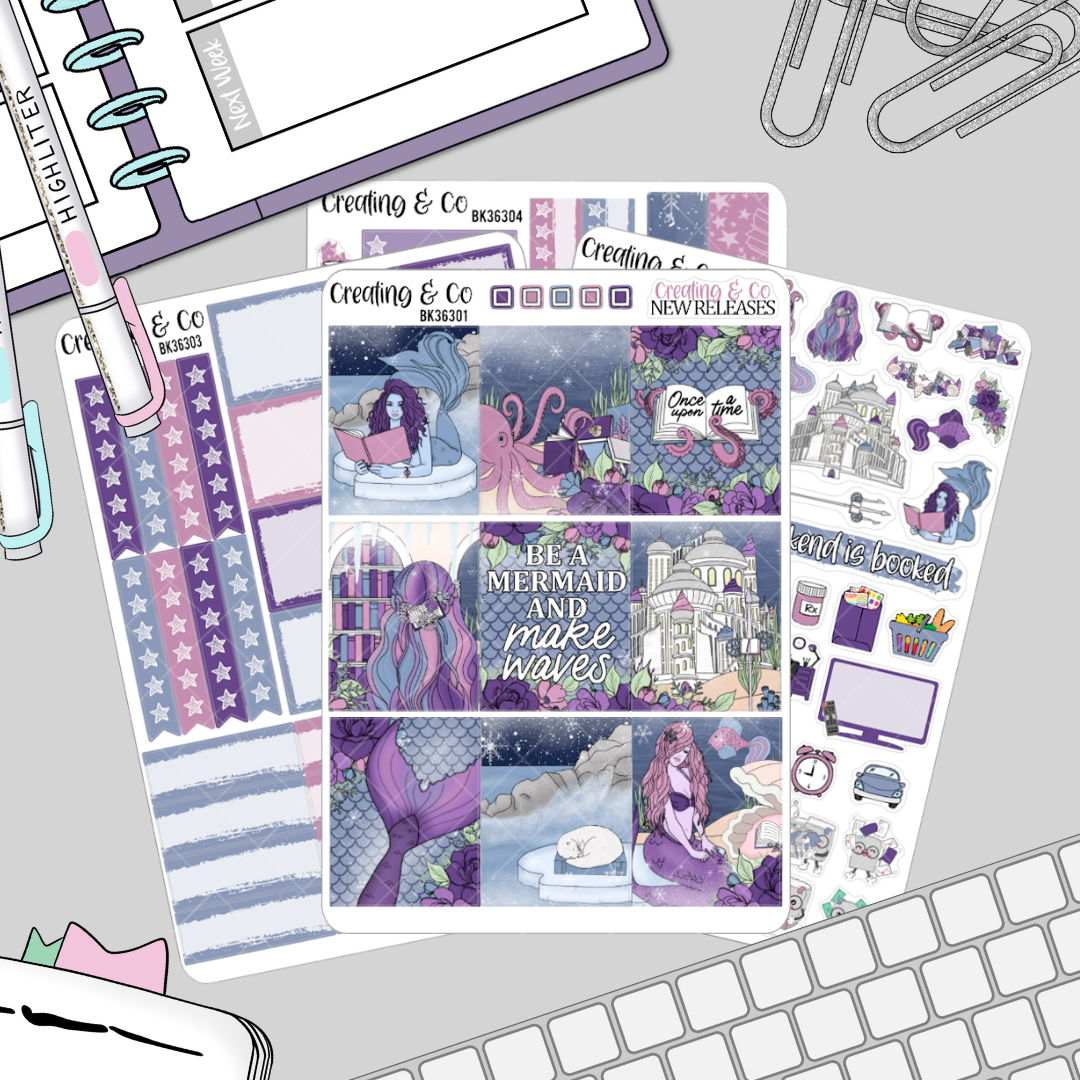 February 2022 Readathon: Make Waves in the Page Sea
Are you ready for another adventure into the Bookverse?! We're heading underwater for our first side quest of the year. We'll be visiting the Page Sea because a terrible curse has taken over the kingdom! The queen was able to get one message in a bottle out to me, asking for us to come and read some books that will help break the curse!
Our expedition will take place February 21st - February 27th but first, we need to suit up our planners with everything we'll need for the quest!
All of the gear will be available in the shop on Thursday, 1/6/22 at 8pm CST so you can start building your carts! There will be a sale this weekend, so you can save 25% off your order starting on Friday 1/7 at 9amCST!
I'll be posting a video on youtube later this week to go over everything, but for now, I thought I'd show you some of the essentials and share all of the prompts!
Our readathon will be taking place in the C&C Readathon Event Group, because it's already outfitted with everything a submarine will need to get underneath the Page Sea!
Since we don't have any overlap for the December event to the February event, I'm going to remove everyone from this group before Friday (1/7) and if you want to do the mermaid readathon, you will have to re-request to join.
If you don't want to wait, you can go ahead and leave the group yourself and then request to join (just answer the "what readathon are you here for?" question)
For this readathon, we're going to be reading books that fit 5 prompts to allow each of the creatures to unfreeze and get back to their happy, reading lives!
Here's all 5:
Beautiful
Water
Love
Cursed
Group Read
For all of these prompts, you can interpret them how you want! Make sure to head over to the Creating & Co Book Club to start brainstorming books!
For each prompt, you will have a creature sticker and you can place each creature on top of their faded out counterpart on the dashboard until you've saved all the creatures!
Once you've completed one prompt, you repeat the same process until you've completed the amount of prompts you want to complete.
We will be picking a group read starting the second or third week in January in the Readathon Event Group.
As always, we're releasing a weekly kit, a line of functional items, and the readathon tracking stickers. We try to have as many options as possible so you'll be able to find stickers that work best for your planning style!
You'll be able to choose from multiple weekly kit options. I'm switching over to the Creative Journaling format this year, but we'll have our vertical, horizontal, half, and anti-kits available as well!
Each of our 2021 reading events will have a badge sticker that you can use with our Reading Challenge Tracker to keep track of all the events you participate in this year!
As always, we'll also be stocking a selection of our functional stickers, die cuts, and journal cards so you can get creative with this event!
Stay tuned to our social media like our Instagram and Youtube Channel because we'll be posting some more videos about this event in the next few weeks!
As a quick aside, we're also going to be releasing a new reading challenge -- genre tetris! This is a fun one where you can use the genres you read most often to fill in a tetris board throughout the year!
We will also be releasing a "Sweet Dreams" kit that will match our freebies for the sale weekend! It will be available in our Standard/Vertical kit, our Anti-Kit and our Creative Journaling format and have some optional add ons too!
Creating & Co will be taking part in the Ultimate Planner Sale and we'll be 25% off and have some tiered, stackable freebies! Make sure you're a member of the group so you can see what other shops are participating!