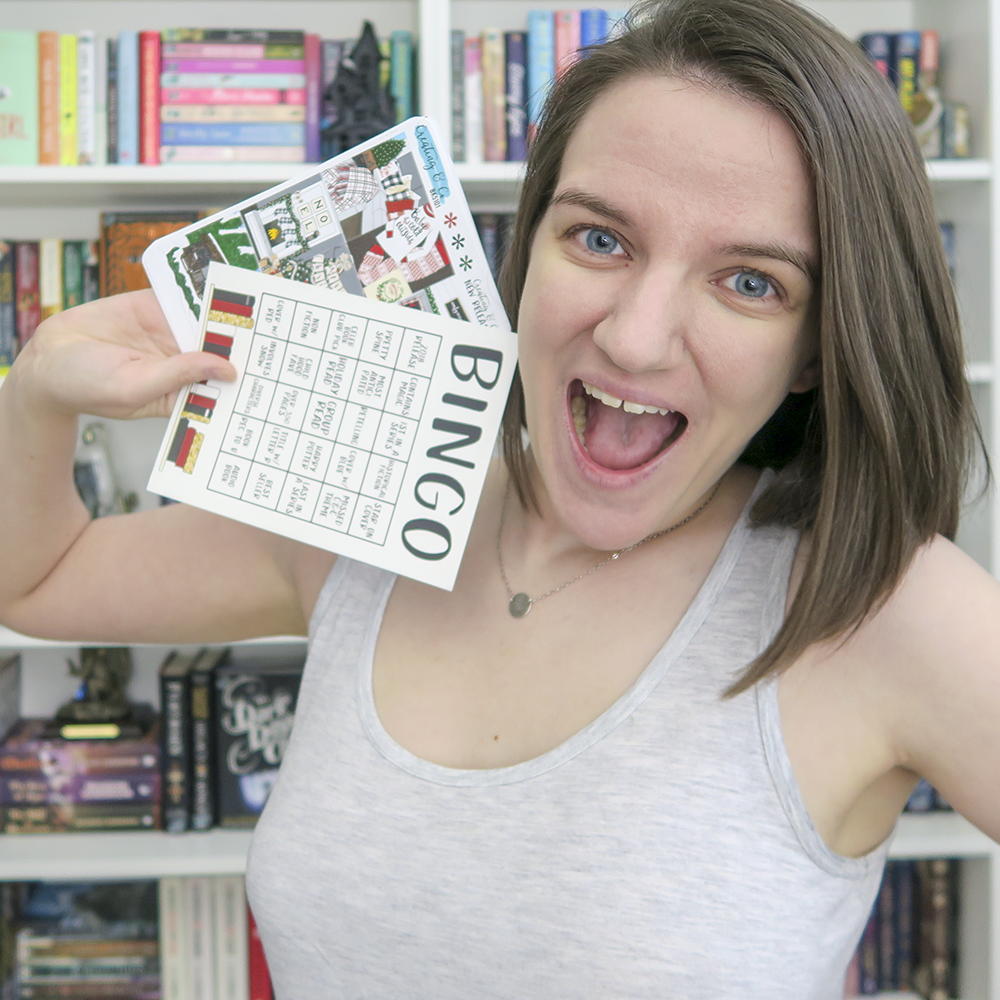 Our Book Bingo Event!
We like to party it up over in the Creating & Co Book Club facebook group and this December is no exception--to celebrate the holidays we're playing our first round of Book Bingo. 
This readathon will take place from Monday, December 3rd-Sunday December 9th and is totally free to take part in. All you have to do is join the Facebook Group and read one book but because I know you like to party when it comes to books (aka huddled under a blanket by yourself with the internet close by), we'll be having a bunch of other fun things going on too. So, buckle up friend and let's get started. 
Here's the video from youtube if you'd like to hear me explain as you read:
READING PROMPTS
We have twenty five prompts total on our Bingo Card. Your first objective? To get bingo on the bingo board of course! If you get bingo in any way--vertical, horizontal or diagonal, you'll be entered to win some fun surprises involving, what else? Books and planners and goodies of course!
GROUP READ:
The first one is the group read. We'll be selecting the group read in the Facebook group in November. Until then, it's TBA but I'll update this post when we pick one!
We will definitely be having a Facebook live session to discuss the group book on the weekend of the readathon--this will be TBA until I know my schedule and hopefully a cohost's schedule but it'll definitely be either the 8th or the 9th.
OTHER PROMPTS:
2018 Release 
Contains Magic
1st in a Series
Historical Fiction
Star on the Cover
Pretty Spine
Most Anticipated - the most anticipated book you haven't read yet this year
Retelling- a fairytale or classic retelling
Cover with Blue
Missed C&C Theme - one of the prompts from this image
Celeb Book Pick 
Holiday Read
Harry Potter
Last in a Series
Nonfiction
Childhood Fave
Over 350 Pages
Title w/ Letter R
Best Seller
Cover W/ Red
Involves Snow
Diverse Characters - has characters that are different in some way to you
Book Recommended to You
Audio Book
For each prompt, you must have a different book. 1 prompt=1 book. You can read anything published that you want to qualify--a regular book, ebook, audiobook, anthology, short story, graphic novel, etc. I'm not policing your bingo card--if you can justify it for the prompt, it works. No need to ask :) 
BOOKSTAGRAM CHALLENGE
We'll also have some fun templates/survey photos to share on your IG stories so we can all get to know each other a bit better PLUS we'll be doing a bookstagram challenge from the 1st-24th to countdown until Christmas.
Be sure you use the hashtag #ccbookbingo when sharing your photos so we can see them! We'll also post a thread everyday in the group so you can share it there! It's the best place to find fellow book lovers in other places!
Here's all your prompts:
SHOP THE MERCH
Now, for the bingo card. First off, you can pick up the card along with some matching stickers in the shop if you'd like. We also have a matching weekly kit and some merch. 
We'll be using the weekly kit from December 3rd-December 9th. You DO have the option of continuing your challenge all month long to try to get a black out bingo (a full card) if you want to be an overachiever! If you do fill your card, you'll earn some shop credit for yourself! 
FREE BINGO CARD DOWNLOAD
If you'd like to download your own, you can pick up the free download here. You will still have to go through the checkout process but no money is actually exchanged for this. The file will be emailed to you. 
PLANNING PARTY
As the readathon is going on in the Book Club group, we'll be having a planning party in the planning group! A planning party is when we all use the same weekly kit and share our layouts. We'll have a few threads to post your layouts and challenges like posting a #plannerselfie and counting how many C&C stickers you used that week!
READING SPRINTS
We will also be running reading sprints and having chit chats and all kinds of fun stuff in the facebook group so be sure you turn on notifications to keep yourself motivated! I can't wait to celebrate the holidays with you!
If you have any questions, be sure to leave a comment below or ask in the group and I'll get back with you ASAP! (I don't think it emails you when I reply to a comment, so make sure to check back within a day or two to see an answer!)