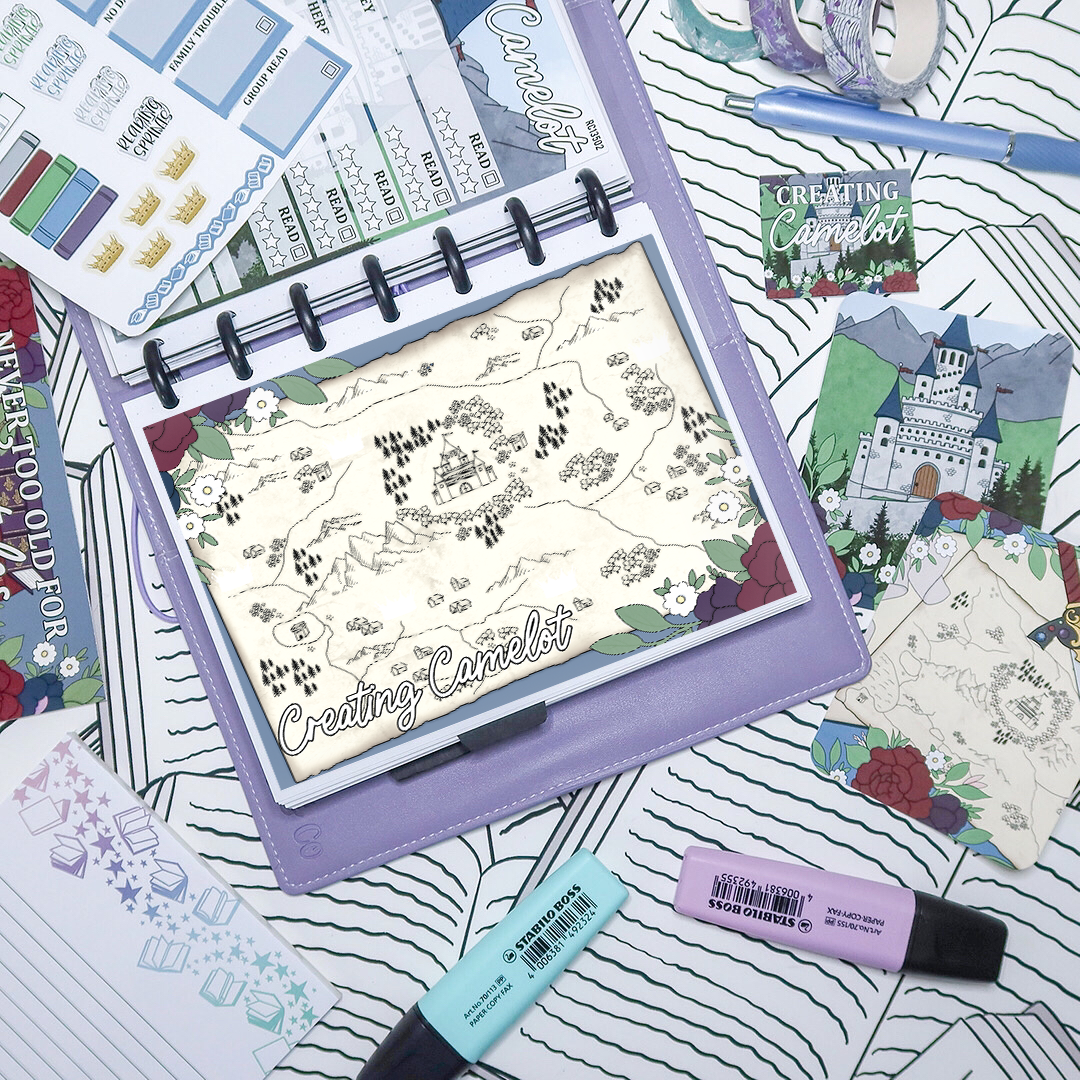 Creating Camelot April Readathon Details
It's time for another trip into the Bookverse! We're heading to the newly establish kingdom of Camelot to help King Arthur travel on a summer progress trip to tell people all about his new land! Each book we read will help describe Camelot and each book will help attract one new resident to the great kingdom.
Our trip will take place from April 25th to May 1st, but we do need to get our planners dressed and ready to impress for the trip!
Everything will be live in the shop on Friday 3/11 at 12pmCST!
I'll be posting a video on youtube later this week (or early next week) to go over everything, but for now, I thought I'd show you some of the essentials and share all of the prompts!
Our readathon will be taking place in the C&C Readathon Event Group, because it will be the perfect carriage to take us to each trip stop! You can already request to join but I will be approving members starting on 3/14. Remember, you HAVE to answer the welcome questions in order to join. 
For this readathon, we're going to be reading books that fit 5 prompts and each book is a stop on our trip. 
Lost Royalty
Hero's Journey
No Damsel Here
Family Troubles
Group Read
As always, you can interpret these prompts however you want. Make sure to head over to the Creating & Co Book Club to find threads with book suggestions or wait until we're all in the readathon group to ask for recommendations!
For each prompt, we'll place a crown on the map of the surrounding kingdoms to keep track of which areas we have visited. 
Once you've completed one prompt, you repeat the same process until you've completed the amount of prompts you want to complete.
We will be picking the group read in the Readathon Event Group starting the week of 3/14!
As always, we're releasing a weekly kit, a line of functional items, and the readathon tracking stickers. We try to have as many options as possible so you'll be able to find stickers that work best for your planning style!
You'll be able to choose from multiple weekly kit options. I'm switching over to the Creative Journaling format this year, but we'll have our vertical, horizontal, half, and anti-kits available as well!
Each of our 2021 reading events will have a badge sticker that you can use with our Reading Challenge Tracker to keep track of all the events you participate in this year!
As always, we'll also be stocking a selection of our functional stickers, die cuts, and journal cards so you can get creative with this event!
We'll also have a vinyl sticker that you can use anywhere you like! Most of our die cuts are in our regular matte paper. This makes them great for your planner or on paper crafts, but a vinyl sticker can be used anywhere you like -- including on a cup/tumbler or your laptop or kindle!
Stay tuned to our social media like our Instagram and Youtube Channel because we'll be posting some more videos about this event in the next few weeks!