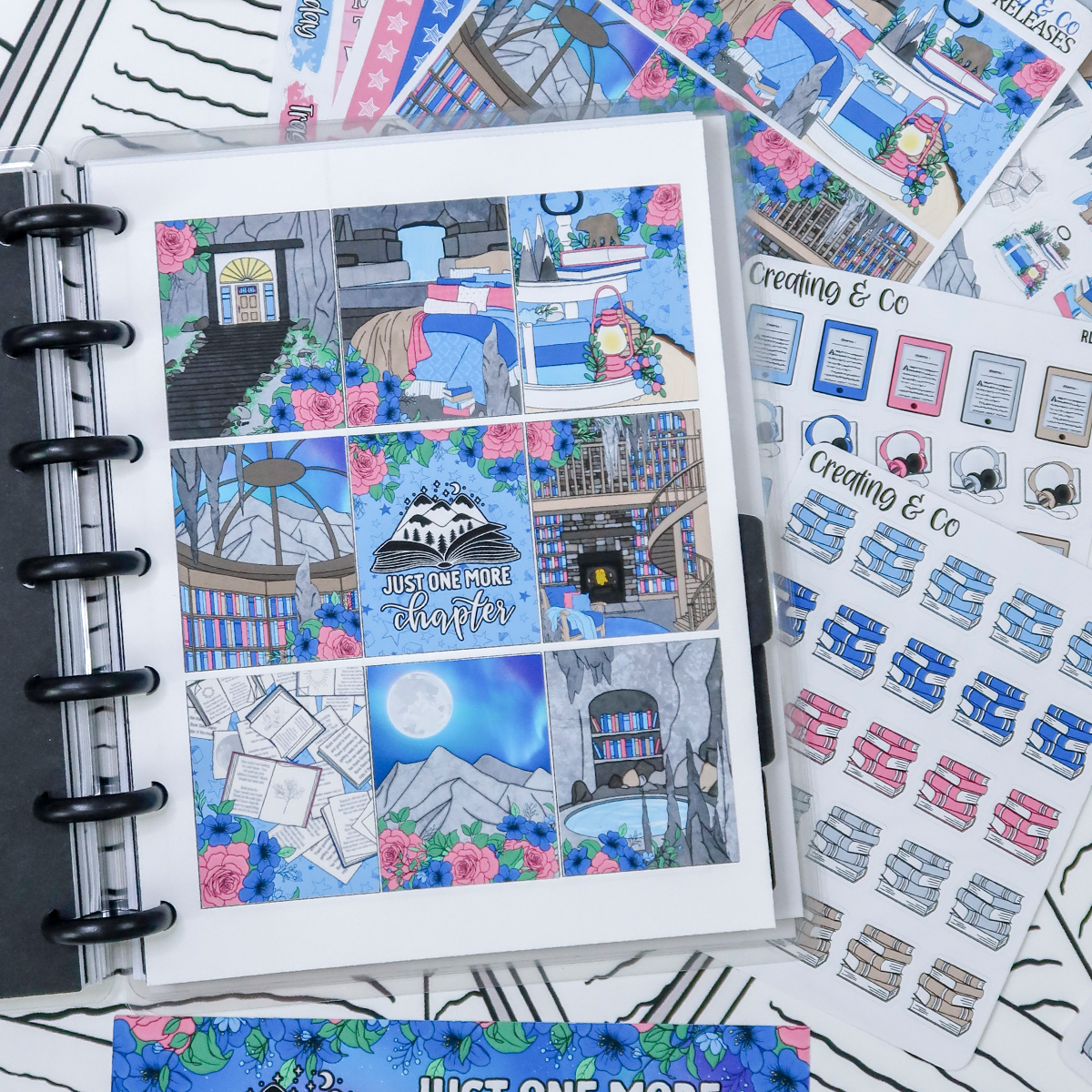 Cozy Cavern 2022 Winter Reading Challenges
I have been looking forward to this theme since I started dreaming it up -- mostly because I could find NOTHING on Pinterest that illustrated what I was imagining and so the kit was the first time that I really saw it come together and I love how it turned out!
For this challenge, we're heading to the mountains at the edge of the bookverse to visit the luxurious caverns that have huge libraries, cozy beds, and waterfalls to get some reading in! I'm sure we'll be warm and cozy while any storms rage outside.
This theme will be in the shop on Friday 10/14 at 12PMcst and officially this challenge will last from Dec - Feb!
As always, this is just the official season, but these are designed to be self-start so you can decide when you begin and end the challenge. This way, you can do the winter challenge when it is the most appropriate for you, either by weather or some other reason.
Since this seasonal challenge does go across two years, I did want to mention that sometimes, we've had readers that will keep the challenge out of their planners for December and place it in the new year's planner since most of the challenge would be part of the new year. 
As always, our weekly kits will come in the three formats -- vertical, journaling and an "anti-kit" that is just for people that want a bit of deco! We will also have a few add ons if you use certain items more than others -- checklist boxes, reading stickers, washi type stickers, etc. 
As for the challenge itself, we will have a group read for it, though if you choose not to read the group read you can count it as a free space. We will start voting on the group read in the Creating & Co Book Club starting the first week of November.
There will be 11 prompts other than the group read. 
 In case this is your first challenge with us, here's how it works:
Each prompt on the challenge has a number that corresponds to it. Let's say for the first book you read, you pick the first prompt of a book with "yellow cover". 
You can write in the title of the book you read in the challenge table
And then pick a book sticker that looks like the one that has the 5 on it in the empty shelf. Place that book sticker over the greyed out book labeled 5 on the shelf!
Repeat until you fill up your shelf!
Our most common size is our 4.75" x 6.75" dashboard + book stickers -- this is the one shown below! It fits perfectly in our build your own book journal too!
We will also have a couple of other sizes:
A 7" x 9" version that you can use in most common planners--Erin Condren, Happy Planner, Yellow Paper House, Paper House Productions, etc.
A "separated" version that gives you all of the elements of the dashboard on its own so you can design your own page in your planner or bullet journal. 
A "books only" option that has some book shaped labels and a header so you can arrange them however you'd like in your planner 
You may be able to see the prompts above, but just in case, we do have this table you can download if you'd like and it gives you a better view of all the challenge prompts. 
For these prompts, I also wanted to explain some of them:
Published in Dec/Jan/Feb -- these can be released in any year, but in these months 
Defrost -- the characters have to warm up to each other 
Snowed In -- the characters don't have to be snowed in, but do have to be trapped somewhere together
Hibernation -- this is a coming of age or transformation story, but the characters do not have to actually hibernate
Blue Cover -- it can be any shade of blue
Winter Word in Title -- Frost, Winter, Snow, etc etc
Re-Read a Favorite
Fairytale or Retelling -- we haven't had this one in awhile and it was a request. It can be a fairytale from any culture
Snow Day -- this does NOT have to be a snow day for you or the characters, just a book you read in one day
New Release -- you can choose the parameters for how new is a new release -- in the last year, last six months, three months, etc
Winter Getaway -- this does NOT have to be a winter trip for the characters but the characters do have to go somewhere
Group Read -- as I said, we will pick a group read in November or it can be a free space
With our last readathon, I also introduced a "watchathon" sticker dashboard that I decided to make for our seasonal challenge as well! If you guys like it, we'll do the same thing for our seasonal challenges next year too. For this one, the dashboard will be 4.75" x 6.75" and you just fill in titles on the dashboard.
The matching Booksy watching tv stickers will be available separately if you want to use them as I did here -- I marked the ones I've already seen to make it kind of a progress tracker.
Instead of having a group movie, I left it as a free space but we may do group movies next year.
We will also be having a planning party for the challenge in February. Though this does give you plenty of time to get your hands on the stickers, make sure you grab them as soon as you can so you can make sure they'll be at your house and ready to go!
During the week of the planning party, we'll have threads in the Creating & Co Book Club that will give you a chance to win some shop credit towards other items in the shop! This will also be when we chat about the group read and we may have some other events or threads in the group during that time as well!
Another new item in the line up will be a monthly kit matching the theme! This is in our new monthly kit formats but the month is left blank so you can use when you'd like in your planner. We do have monthly heading stickers so you can pick those up if you'd like.
For our new monthly formats, we also have two dashboards -- a monthly wrap up and a media menu. I thought these would be great for a seasonal challenge because if you want, you could do a media menu for Dec - Feb or one for each month and the same for the wrap ups -- you would just need to pick up 3 of that dashboard to make it work!
As always with our seasonal challenges, we'll release some of our most popular reading stickers in the fall color scheme as well! This way you can use the colors throughout the season and play up the fall vibes for the entire quarter!
We have recently changed up some designs but all of the faves are still in the line up!
For 2022, each of our challenges have a special "badge" sticker that you can put on a page with the others to see how many challenges you complete throughout the year! This is just a fun way to get some bragging rights for all the amazing books you've read!
We will also have an adorable bookmark that is just perfect for those spring reads! These are limited stock so make sure you grab them early. 
This year, I decided that it might be fun to have some journal prompts for our seasonal challenges as well. I personally want to journal more this year so if that's also one of your goals, maybe we can do it together!
There are 6 prompts -- designed to be just 2 per month so it's not a huge undertaking and I think it's going to be fun to use the journal kit and the prompts to create some pretty layouts!
Make sure you're in the Creating & Co Book Club to share some recommendations for each of these prompts and we'll see you here on the website on Friday when its time for everything to go live!