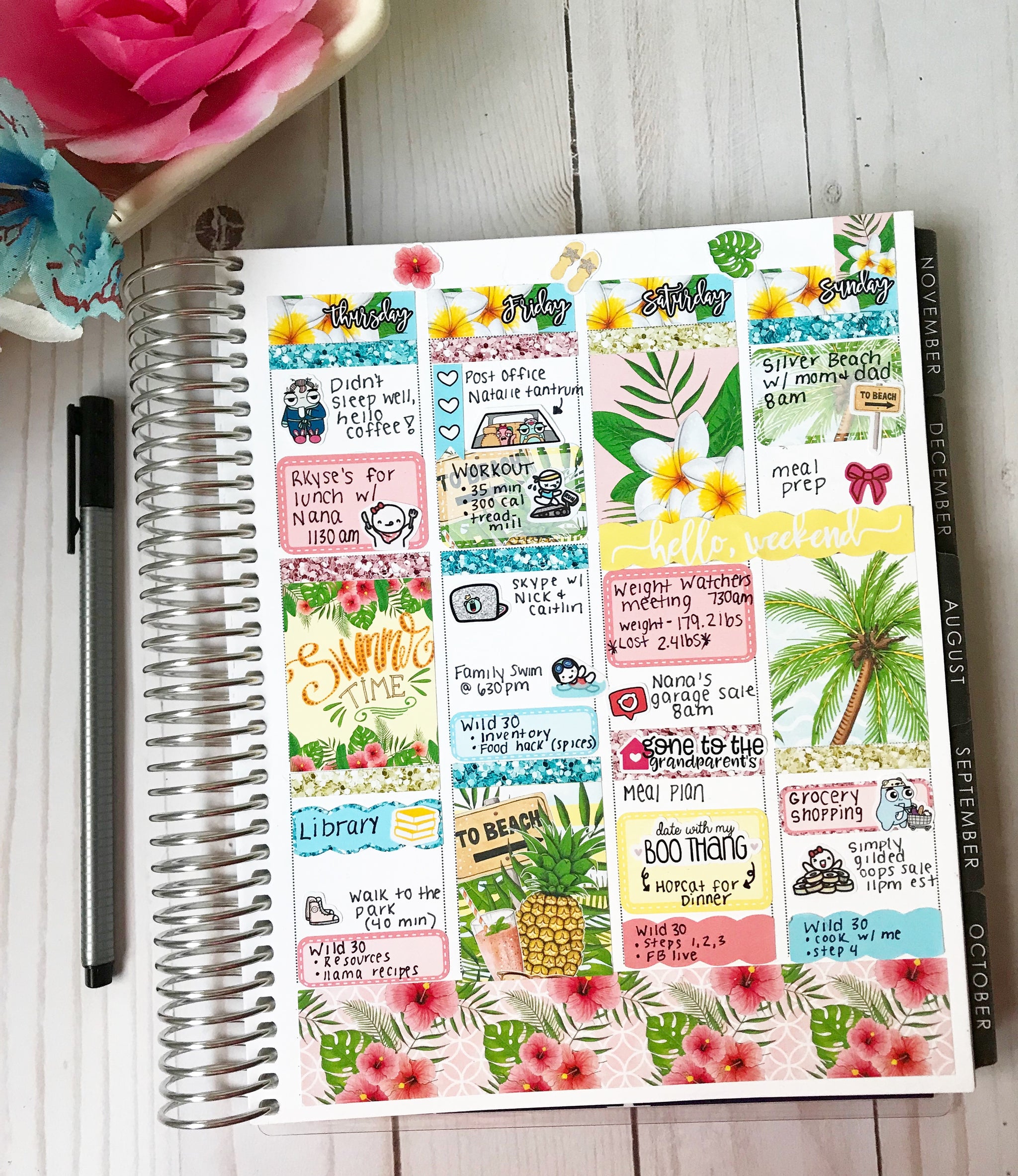 How to Use Your Planner to Get Healthy
By: Danielle Brito (@plannermomx2)
I have officially been a part of the online planner community since April 2017 but I started using a planner in high school about 12 years ago. I started out using my planner as a little more than an involved notepad with lots of "to do" lists and random appointments. My planner use has evolved as I've grown older and now I utilize decorative planning with functionality mixed in. I currently use an Erin Condren Vertical Neutral as my main planner and I just received my first TN in pocket size that I'm going to use as a mini planner and wallet combined for my purse.
Recently I've started using my planner as a tool to help me get healthy. I have two girls, ages 5 and 2.5, and as some who have kids know, I put on extra weight and put my health on the back burner. I honestly put everything that has to do with me last in line, including self care and physical health.
Working Out
As a planner, I started trying to find ways to help hold myself accountable to put myself first sometimes. To be honest, the first thing I did was buy some workout stickers because stickers are life. The next thing I did was join the YMCA and start getting in the gym on a regular basis. For me, that meant going to the gym 3-4 days a week to walk 35 minutes on the treadmill uphill. When I put my planner layout down in the beginning of the week, I would write in my workouts ahead of time to help push me to go. 
Eating Healthy
The next step on my list was to start eating healthier and stop the tri-weekly visits of fast food that I had gotten accustomed to. I decided to join Weight Watchers and chose to attend weekly meetings where I would have to weigh in at a physical location. Weight Watchers is a point based system that helps create healthy eating habits.
For me to succeed with this, I needed to plan out what I was going to eat so I didn't revert to old habits because it was easier. I made a trip to Michaels and picked up a $5 dot grid journal and decided that I would put my creativity to use and bullet journal my meal plan. Having this plan in place, I found myself eating healthier and even saving money at the grocery store due to not throwing random things in the cart and not eating out. I've lost 7lbs in 3 weeks so far and I'm not stopping. Helping plan out what I'm going to eat has helped tremendously!
Self-Care
The last step on my list to better overall health was to start taking care of my mental health a little more. I realized that I had let myself be put last behind taking care of my household and my kids. My girls are very important to me but I needed to start feeling better about myself so I sat down and thought about what I'd like to do for myself every day.
I created a "self care" tracker in the monthly notes section of my Erin Condren to help me track which tasks I completed for myself that day. Some of these included getting proper sleep, putting on and taking off my makeup, and taking time to read every day which is something that makes me very happy. I found myself trying to plan out my day where I could make sure I could accomplish everything on my list. I found myself to have more energy, be more positive and I was looking forward to the next day more than before which is how I want to be going through life. 
Everyone's health journey will be different but I have found that incorporating my journey into my planner has increased my motivation and given me an extra incentive to keep going. I love that I'll be able to look back in my planner and see my weight loss journey and how much happier I've been. I'm always open to new ideas on how you record your journey.
What do you do to show you progress or keep track of health habits?