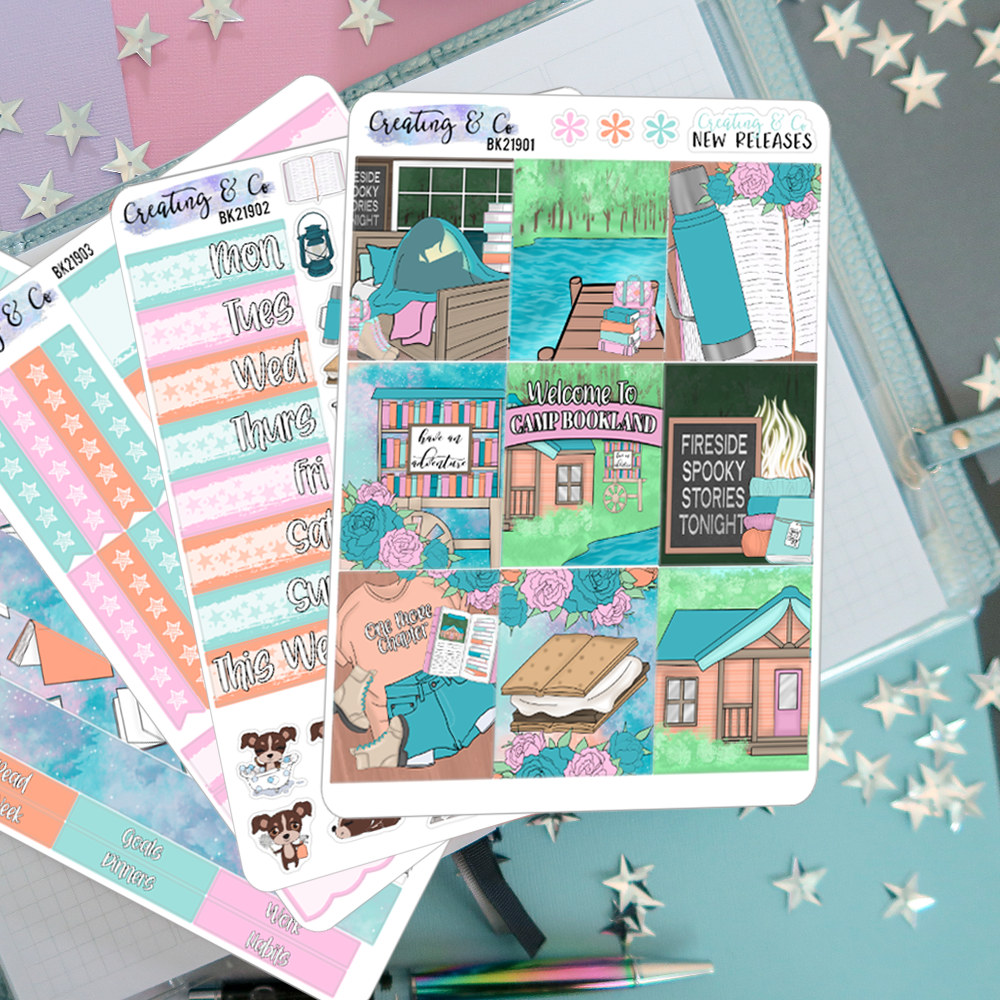 Are you ready for camp?! Camp Bookland is next month!
We normally do a beach theme for our June readathon, but we decided to mix it up this year...since we aren't traveling right now, we've decided to create a virtual book camp!
Camp Bookland is going to be a bit different from our other readathons, so make sure you check out all the details for the prompts below!
Camp Bookland's items will go on sale in the shop on Friday 5/15 at 10am CST while the virtual camp itself will take place from June 22-28. All of the items will be live in our Bookland section. 
Many of the discussions and things surrounding the event will be taking place in the Creating & Co Book Club!
Be sure to add the event to your google calendar: 
<p
Usually, our readathons have five prompts BUT since we're going to camp...we're mixing it up a bit! We will have "cabins" and each cabin is centered around a certain genre.
Each cabin will have its own group read, along with two other prompts. You CAN do more than one cabin's prompts if you'd like, but as always, our events are meant to be fun and not stressful so don't push yourself!
For explanations of each prompt, be sure to watch the video shown above
Here are our three cabins:
MAGICSEEKERS:
Group Read: TBA
A Hidden World
Nobility
LOVEBIRDS:
Group Read: TBA
Illustrated Cover
Indie Author
SUPERSLEUTHS:
Group Read: TBA
Disappearance Starts it Off
Twist Ending
We will be posting threads to vote for our group reads today in the book club group--if you can see this blog post, the polls are likely up!
Each of our "cabins" will be created as an event in the Book Club group when the readathon is closer. Since Facebook limits the amount of days that we can run an event, expect to see the cabins pop up in the group the week before the readathon starts. 
As always, we invite you to share pics and things throughout the readathon using the #cccampbook. Here's some ideas on what to share!
Your Planner Haul
Your TBR Stack
Your Planner Layout Before the Pen
Midweek Planner Layout
End of Week Planner Layout
We will also be sharing some photos you guys share on our own stories and inviting you to share in the Creating & Co Community group!
As always, our readathons are completely free to participate in so if you're ready, just join the book club group and some books and mark it down in your planner!
But if you're like me, you want your readathon weeks to be sort of special in your planner. That's the whole reason we started hosting readathons in the first place, SO we have a planner line that will be live in the shopon 5/15 at 10am CST!
You can start with the weekly kit shown above, but we will also have a ton of functional stickers and icons available as well as some stickers available for each cabin!
These stickers come with three "badges" that you can lay down as you complete the prompts throughout the week, along with some spots to write in your book titles and some reading sprints stickers! (More on reading sprints below!)
You can start with the sticker kit shown above, but also keep an eye out for all the functional reading stickers and icons as well as die cuts, journal cards, etc!
Our readathons all have a collectible pin that goes along with the theme so that you can collect them all throughout the year. Like in 2019, if you collect all the pins, we'll be giving reward points for a free sticker sheet!
We also have a few other things like some functional stickers, a bookmark, , a few die cuts etc. 
So that this post isn't super long, I'm going to just share a few more things.
Alright, before I go, let me answer a few questions that we get with the readathons:
WHAT IS A READATHON?
A readathon is a special event hosted by someone within the book community. For our purposes, it's hosted by the Creating & Co book club group. During the time period of the readathon, we read books according to different challenges and do other fun stuff like reading sprints and photo challenges and even a costume contest!
WHAT ARE READING SPRINTS?
A reading sprint is when one of the cohosts post in the facebook group to read for a certain amount of time. Everyone that can reads during that time and then reports back with how much they read. It's a lot of fun and a good way to meet your reading goals AND read with others!
These happen every weekday from late afternoon-late evening and every weekend day from the afternoon-late evening
IS BUYING SOMETHING REQUIRED?
Absolutely NOT! To participate in the readathon, it's totally free! You just have to pick a book and read with us! Of course, we will have a bunch of items--like an exclusive planner kit, a matching bookmark, special washi, and a special enamel pin if you're interested!
 Alright, I think that's everything! We can't wait to see you in the book club group!