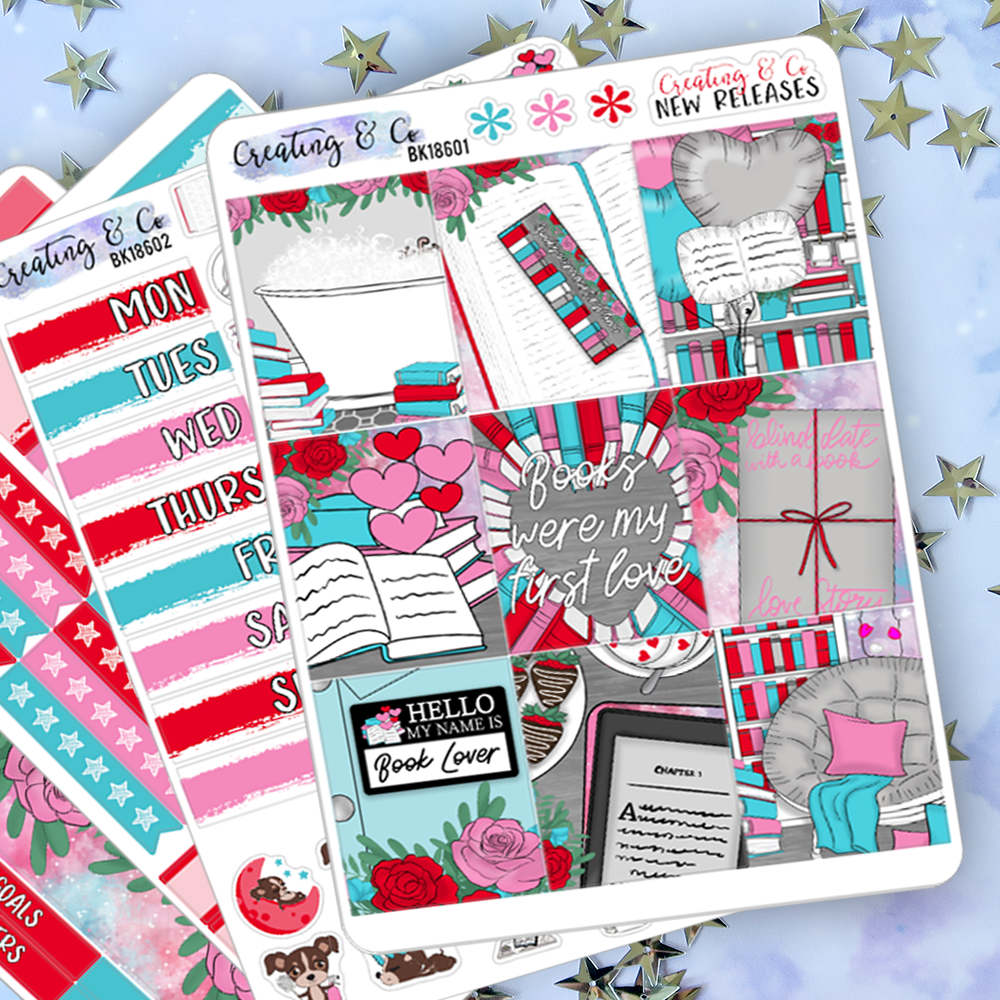 Book Lover Readathon Details
The Creating & Co Book Club hosted six readathons throughout the year of 2019 and we plan to do the same for 2020! That means that it's already time to prep for the first one!
Our Book Lover Readathon will take place from February 3rd-February 9th and it's all about our book loves! Today I wanted to share all of the details so that you can be ready to pick up the items tomorrow at 10am CST!
We posted a design with me on our youtube channel, where you can hear all of the details as you see the kit come together but we'll go over a few things in this post as well. 
So first, let me share the details and some pics of the things going live tomorrow but if you have questions, definitely scroll to the bottom of this post because we'll do our best to answer them in a FAQ.
Each of our readathons has 5 prompts to help pick books that go along the theme. You do NOT have to read any specific genre and the general rule of thumb is: if you can make a book apply to a prompt, it counts. So don't worry about asking if something counts or not.
This readathon's prompts are:
Group Read (we will vote on this in the book club starting the first week of the new year!)
Reminds you of your love of reading
Reread a favorite
Contains a romance
Matches the Kit
For these challenges, you can read one book that fits all the challenges or a different book for each challenge or do a little bit of both! It's up to you!
Each of our readathons also has photo challenges to get us in the spirit! We will post a thread in the group every other day during the readathon so you can add your photo there!
We also love to see your photos on social media! So we can find them, make sure to use #ccbooklover so we can all check them out easily!
Now here they are:
Red
Sweet Treat
Pamper
First Love
As I mentioned in the video, our readathons are completely free to participate in so if you're ready, just join the book club group and some books and mark it down in your planner!
But if you're like me, you want your readathon weeks to be sort of special in your planner. That's the whole reason we started hosting readathons in the first place, SO we have a planner line that will be live in the shop tomorrow at 10am CST!
You'll be able to find it all in the new release section.
You saw the kit above--it'll be available in all 6 of our kit formats! All of our kits come in an "anti-kit" for bullet journalers or if you want just a a few stickers of that theme, a half kit that is perfect for smaller planners, a hobonichi weeks kit theme, an EC Horizontal version, a base kit that fits most planners (EC, Recollections, Yellow Paper house, etc), and a classic happy planner version!
Each of our readathons have an enamel pin that matches each one so that you can collect them all throughout the year. This one ended up having two because I had two ideas.
We also have a few other things like some functional stickers, a bookmark, some washi, a few die cuts etc. 
So that this post isn't super long, I'm going to just share a few more things.
Alright, before I go, let me answer a few questions that we get with the readathons:
WHAT IS A READATHON?
A readathon is a special event hosted by someone within the book community. For our purposes, it's hosted by the Creating & Co book club group. During the time period of the readathon, we read books according to different challenges and do other fun stuff like reading sprints and photo challenges and even a costume contest!
WHAT ARE READING SPRINTS?
A reading sprint is when one of the cohosts post in the facebook group to read for a certain amount of time. Everyone that can reads during that time and then reports back with how much they read. It's a lot of fun and a good way to meet your reading goals AND read with others!
These happen every weekday from late afternoon-late evening and every weekend day from the afternoon-late evening
WHAT OTHER EVENTS WILL THERE BE?
We try to schedule a discussion of the group read at some point throughout the week. This will either be a fb live event or a thread where we can chat about it. 
IS BUYING SOMETHING REQUIRED?
Absolutely NOT! To participate in the readathon, it's totally free! You just have to pick a book and read with us! Of course, we will have a bunch of items--like an exclusive planner kit, a matching bookmark, special washi, and a special enamel pin if you're interested!
 Alright, I think that's everything!
Remember, come back to the shop and the new release section to pick up everything tomorrow at 10am CST!