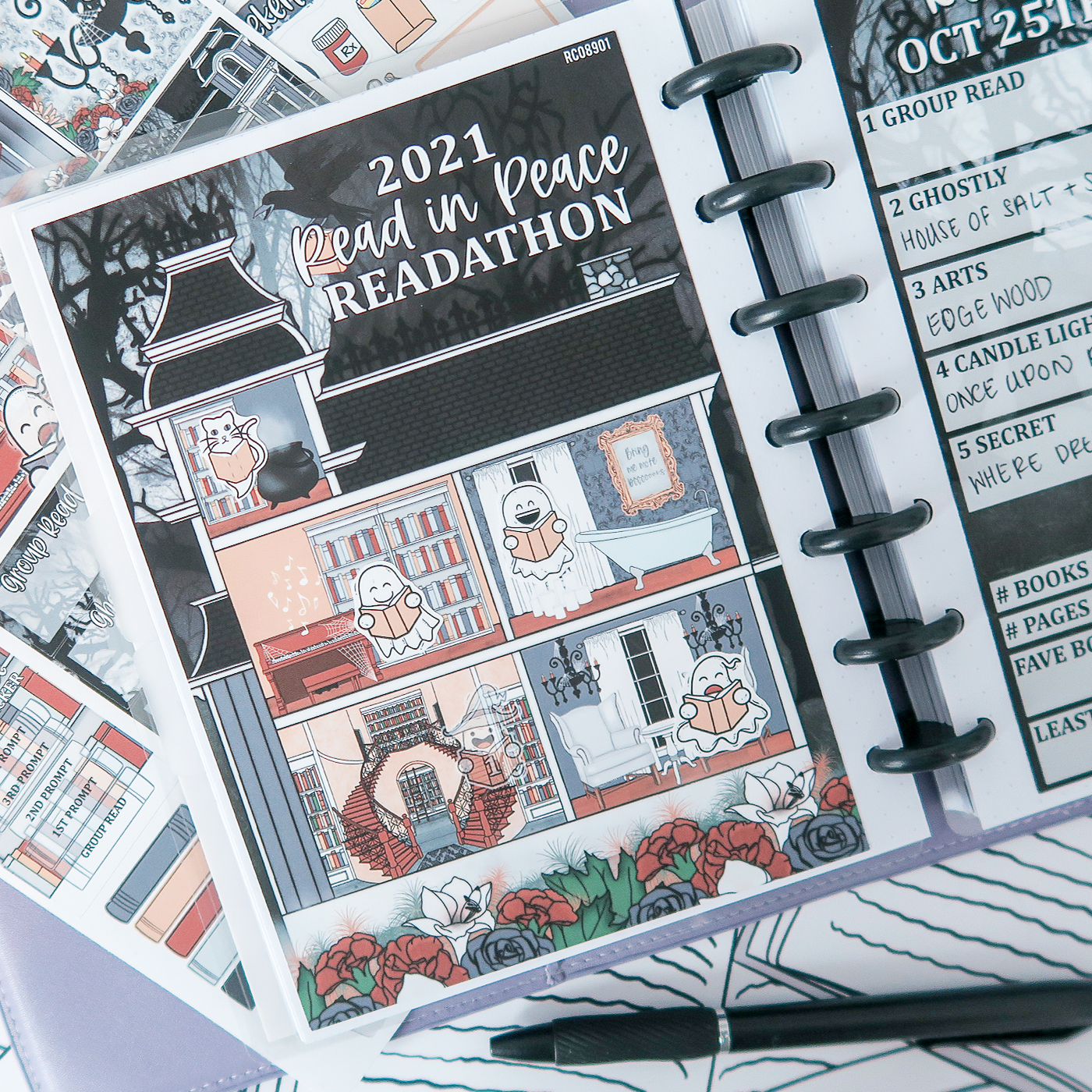 5th Annual Read in Peace Readathon!!
Can we just take a second to revel in the fact that we have been doing readathons for FIVE years?! We've all read so many books together!
Our October readathon is always my favorite because it was the first ever readathon we did but Halloween is also my favorite holiday, so obviously combining reading + Halloween is one of my fave things.
Based on popular vote, we'll be doing this year's readathon over Halloween week, which means it'll be from Oct 25th - Oct 31st!
Everything that is shown in this blog post will go live on 8/27 at 12pmCST. We'll be hosting the event in the new readathon event group. 
This year, we stumbled across a haunted house with friendly ghosts! We're excited, because we loved Casper as a kid and this house has an amazing library...multiple libraries even! There's calming and haunting music playing automatically from a piano in the music room and we suspect there's a ghost cat in the attic, but we haven't found the key to open the door.
After helping one of our ghosts get their book back from the crow that tried to steal it, we're ready to settle in the parlor with a stack of books!
To pick your books, use these prompts as a guideline:
1. Group Read -- we'll vote on this in the readathon event group when it is closer to the event!
2. Ghostly -- we had to find some books featuring some ghosts to celebrate our new friends!
3. Arts -- the piano inspired us to read books based on the arts -- writing, painting, music, ballet, etc 
4. Cande light -- this is a victorian house, which means the electrical wiring is wildly out of date and not even in all of the rooms, so we have to light a bunch of candles so we can read!
5. Secret -- it's clear the attic contains some secrets, which inspired us to find some books that has characters with secrets of their own!
Like I said already, you must be a member of the readathon event group. This is where we will be tracking our progress and chatting about our books! The Written in the Stars readathon is happening in September, so we will be doing that event first. Feel free to turn off notifications for the event group until Sept 13th.
Of course, you can still do this readathon on your own if you'd like (or pick up the kit just because), but if you want to make some new reading friends, we'd love to have you join the group!
We decided to put a haunted house in our planner to track our reading over the days ahead. For each book, we have some ghost stickers that represent our new friends!
There's also a page dedicated to tracking the books we read and the statistics involved. I've filled it out with some books that I've already read -- none of these are scary, but some do have spooky vibes while others are just dark or fairy tale inspired!
There will also be plenty of reading related functional stickers that fit the theme!
As always, we're also releasing an enamel pin that you can collect! We release a pin for all of our 2021 reading events so make sure you collect them all! This one is a little cat ghost reading and you can find the past ones that are still available in our enamel pins section. 
There will also be new washi that you do not want to miss!
We are also going to have a few other kits that are released
And finally, if you order during the weekend of 8/27 - 8/29, you will be receiving some freebies!
Stay tuned to our social media like our Instagram and Youtube Channel because we'll be posting some more videos about this event in the next few weeks!