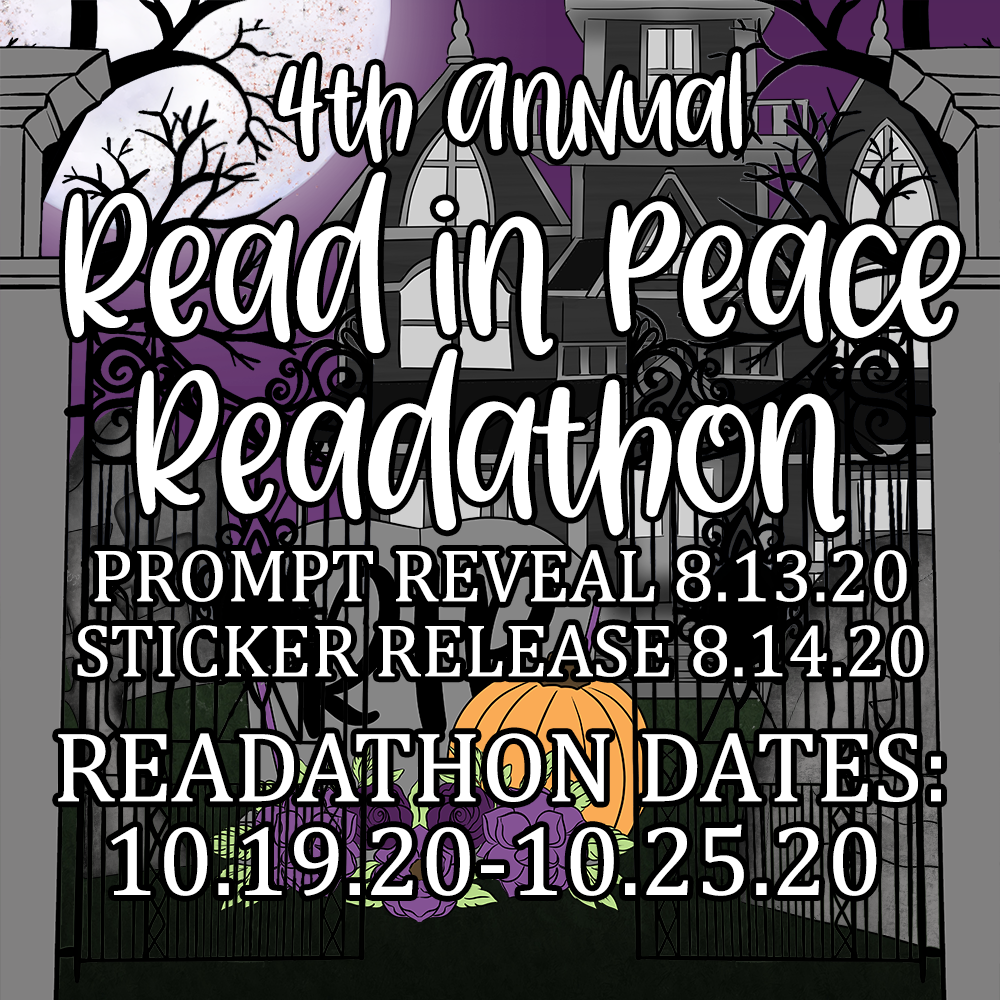 4th Annual Read in Peace Readathon!
It's finally time for my favorite readathon of the year! The "Read in Peace" readathon was the one that started it all back in 2017! I had no idea at the time that we would be running regular readathons in the
book club fb group
.
This is my favorite way to celebrate Halloween so I hope you will join in!
We're releasing all of the planner accessories tomorrow, 8/14/20 at 10am CST. You'll be able to find it all
here
.
You can sign up for our email list if you aren't already at the top of the page or follow us on
Instagram
to add alerts for our release countdowns (found in our stories) OR join the
planner facebook group
! We try to give as many options for getting alerts as possible. 
The readathon itself will be taking place Oct 19th - Oct 25th
My Countdown
Now, let me show you a peek of the weekly kit we're releasing before I tell you this year's prompts. This kit will be available in all of our kit formats along with some matching functional stuff!
WHAT IS A READATHON?
A readathon is a special event hosted by someone within the book community. For our purposes, it's hosted by the Creating & Co book club group. During the time period of the readathon, we read books according to different challenges and do other fun stuff like reading sprints and photo challenges!
For this readathon, we will have five book challenges:
Group Read: TBA (visit our FB group to vote for the group read!)

Matches the Kit: A book that uses colors you find in the kit. It does not have to have all the colors, just complements it.

Paranormal Vibes: Ghosts, witches, vampires, werewolves. The possibilities are endless!

Creature Feature: Admittedly, similar to the previous challenge but this one just needs some kind of animal or mythical creature!

Guilty Pleasure: This one is a book you read purely for the pleasure of it.
DO I HAVE TO READ FIVE BOOKS?
For these challenges, you can read one book that fits all the challenges or a different book for each challenge or do a little bit of both! It's up to you!
As always, we're leaving it up to you as to what counts for each prompt. These prompts are meant to be a guide so if you can make a book fit, then it works!
WHAT ARE THE PHOTO CHALLENGES?
We mentioned photo challenges because we love to encourage creativity over here at Creating & Co and what better way than to combine our love of reading and planners?! 
We will post threads throughout the week to share your photos and I can't wait to see them! If you share them on social media, make sure you use the hashtag #ccreadinpeace so I can maybe share your photo on my IG!
With that in mind, we invite you to share the photos as you take them or all at once in the book club group AND if you share on social media use the hashtag #ccreadinpeace
Now here they are:
TBR (To be read) Stack
Completed Planner Layout
Spooky Vibes
WHAT ARE READING SPRINTS?
A reading sprint is when one of the cohosts post in the facebook group to read for a certain amount of time. Everyone that can reads during that time and then reports back with how much they read. It's a lot of fun and a good way to meet your reading goals AND read with others!
WHAT OTHER EVENTS WILL THERE BE?
We will have some discussion threads throughout the week for the group read but we also just changed our book club to a "media and book club" and so we may also have a watch-a-long for a Halloween classic!
IS BUYING SOMETHING REQUIRED?
Absolutely NOT! To participate in the readathon, it's totally free! You just have to pick a book and read with us! Of course, we will have a bunch of items--like an exclusive planner kit, a matching bookmark, special washi, and a special enamel pin!
Don't forget, we'll be doing SIX readathons this year and each one will have a coordinating pin so make sure you collect them all! 
This readathon is probably the one that has the MOST planner goodies--there's two bookmarks, a pin, a weekly kit, a journal card pack, some die cuts...
We will also have a freebie for this weekend! If you order this weekend, you'll receive this cute little ghost die cut sticker!
Now, let me show you some of the other things!