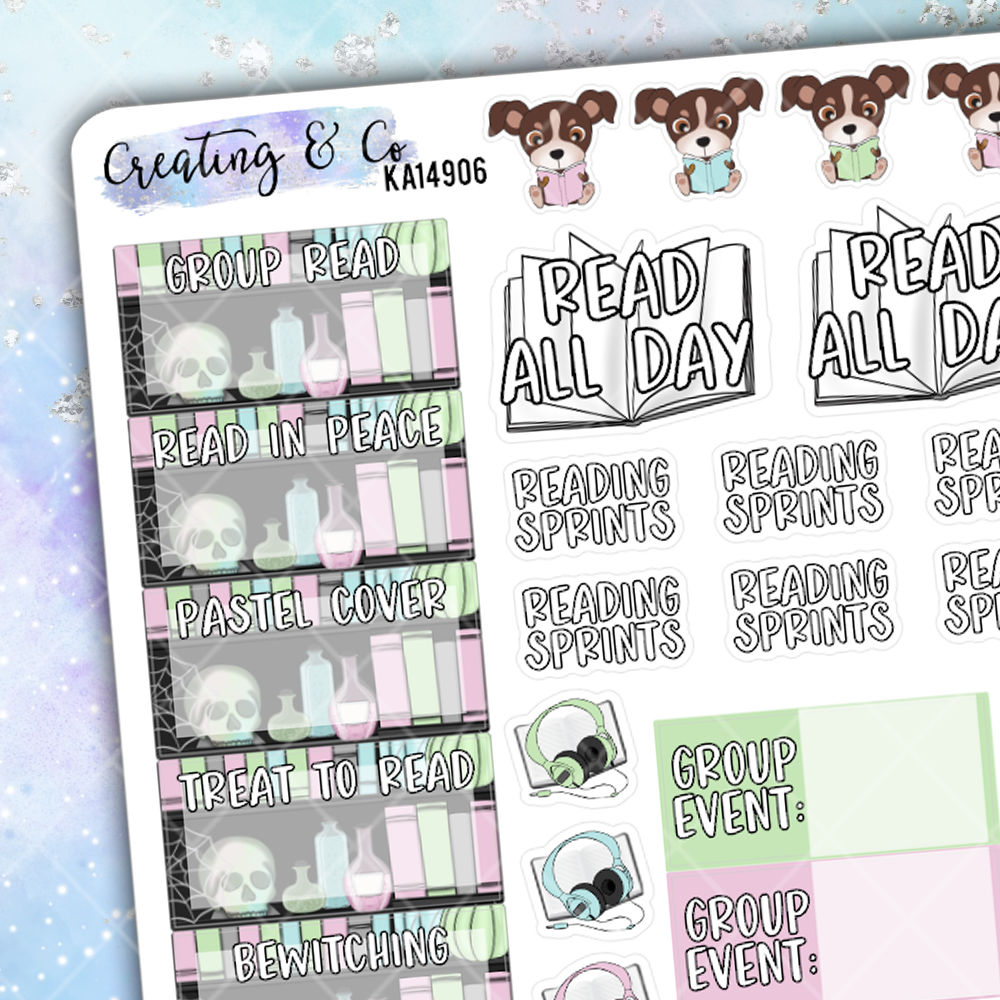 3rd Annual Read in Peace Readathon
It's the readathon that started it all! The Read in Peace readathon was started in 2017 for the spooky season.
This one is probably my favorite because I LOVE Halloween planner supplies and the whole season and it's just wonderful. Plus, since I usually only celebrate Halloween by watching movies and eating candy on my couch, this readathon gives me a great way to celebrate! 
So obviously, we're doing it again. It'll take place from Monday, October 7th - Sunday, October 13th.
All of the planner items for the readathon will be live on Thursday 8/22/19 at 9am CST! 
They'll all be located
here
 and some are sneaked throughout this post!
Now, let's go over some reading prompts!
But first: If you'd like to see how the sticker kit came together, head over to our
Design with Me video on youtube
! I share some behind the scenes stuff and show the process from blank screen to finished kit! 
WHAT IS A READATHON?
A readathon is a special event hosted by someone within the book community. For our purposes, it's hosted by the Creating & Co book club group. During the time period of the readathon, we read books according to different challenges and do other fun stuff like reading sprints and photo challenges and even a costume contest!
For this readathon, we will have five book challenges:
Group Read: TBA (visit our FB group to vote for the group read!)

Read in Peace: A book you want to read by yourself, with no one to interrupt 

Pastel on the Cover: A book with something pastel on the cover

A Treat to Read: a book that would be a treat, either a guilty pleasure or one you've been looking forward to, however you want to do.
Bewitching: Something that has witches or spooky things OR just a book that you think will put you under a spell or charm you.
For these challenges, you can read one book that fits all the challenges or a different book for each challenge or do a little bit of both! It's up to you!
As always, we're leaving it up to you as to what counts for each prompt. These prompts are meant to be a guide so if you can make a book fit, then it works!
WHAT ARE THE PHOTO CHALLENGES?
We mentioned photo challenges because we love to encourage creativity over here at Creating & Co and what better way than to combine our love of reading and planners?! 
With that in mind, we invite you to share the photos as you take them or all at once in the book club group AND if you share on social media use the hashtag #ccreadinpeace
Now here they are:
TBR (To be read) Stack
Spooky vibes
Cozy
Plans and Reads
WHAT ARE READING SPRINTS?
A reading sprint is when one of the cohosts post in the facebook group to read for a certain amount of time. Everyone that can reads during that time and then reports back with how much they read. It's a lot of fun and a good way to meet your reading goals AND read with others!
WHAT OTHER EVENTS WILL THERE BE?
For this readathon, we will be doing a live show during the weekend of the readathon (likely on Oct 13th in the evening) for the group read! Make sure to check the group to find out when that will happen. We'll discuss the book--spoilers and all!
Stay tuned to the facebook group because I'm planning something else too!
IS BUYING SOMETHING REQUIRED?
Absolutely NOT! To participate in the readathon, it's totally free! You just have to pick a book and read with us! Of course, we will have a bunch of items--like an exclusive planner kit, a matching bookmark, special washi, and a special enamel pin!
Don't forget, we'll be doing SIX readathons this year and each one will have a coordinating pin so make sure you collect them all! 
This readathon is probably the one that has the MOST planner goodies--there's two bookmarks, a pin, a weekly kit, a journal card pack, some die cuts...
AND
A FOILED KIT SHEET! Yes! We're bringing back foil and this will be the first kit that has an accompanying overlay sheet.
This will be a clear gloss paper with foil that you can choose (though I recommend silver), and is sized to overlay over the full boxes of the kit!
The quotes are sized to fit exactly over the quotes in the boxes, but of course, you can use them wherever you'd like!
Now, let's roll these readathon items!