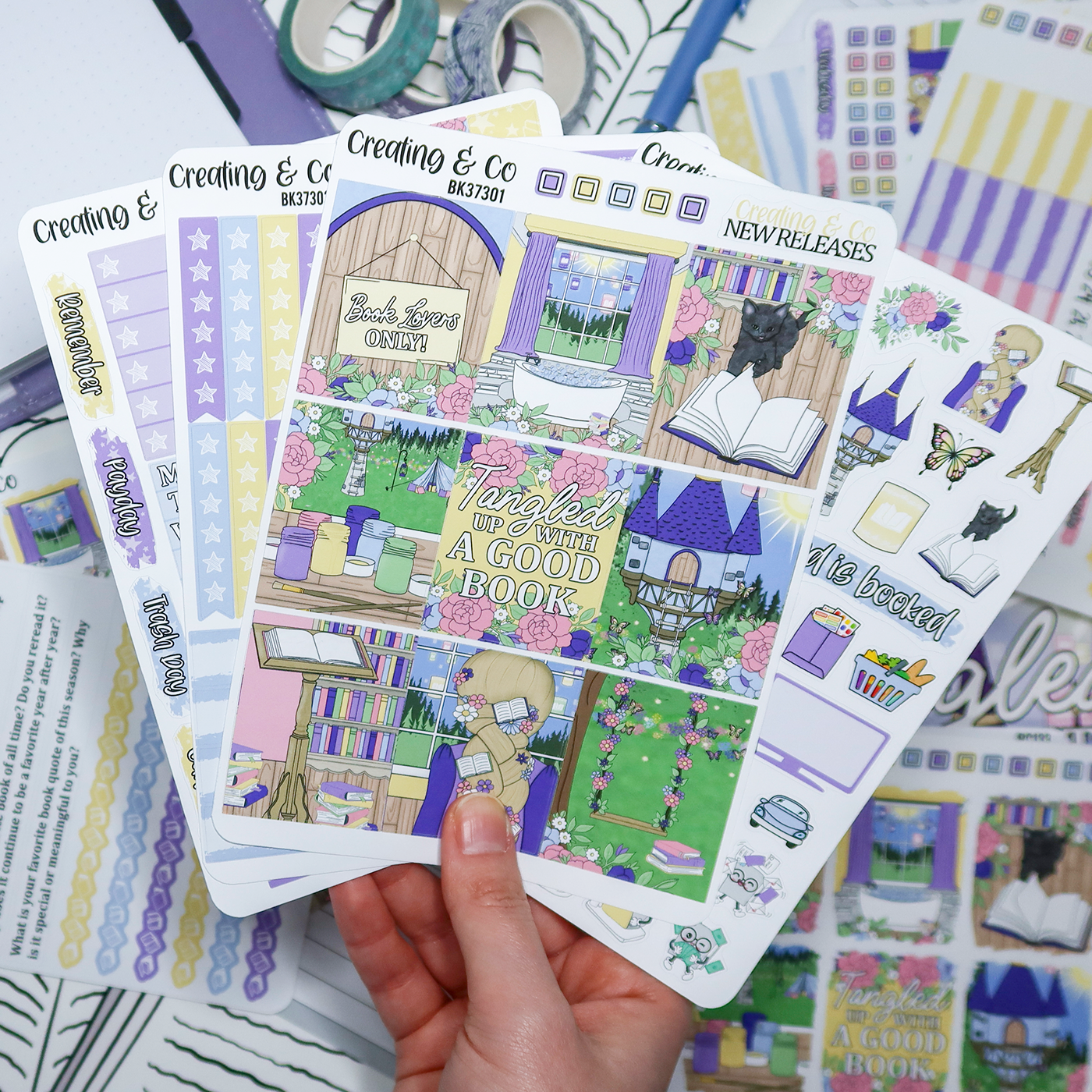 2022 Spring Reading Challenges
It's almost time for spring!! I can't wait for more sunshine and bright colors and weather that doesn't yoyo between 30 and 70 and that also means that it's time to prep for our Spring Reading Challenges!
For this challenge, we're heading to a meadow beside a little village and we found the ultimate bookish secret club house!
We climb the tower and we're astonished by the view of the pretty lanterns floating in the sky and definitely plan to climb into that bathtub with a great view immediately.
So, let's figure out what we're reading this season. 
These items are all coming to the shop on Friday Feb 25th at 12pmCST! 
Our seasonal reading challenges are a self start challenge which means you can start when you're ready but "officially" the challenge is from March to May. 
As always, our weekly kits come in a few formats -- vertical, horizontal, an "anti" kit for bullet journals, and a creative journaling kit! No matter your planning style, you're sure to find one that works for you!
Back to the challenge itself, we will have a group read for it! We will start voting on the group read in the Creating & Co Book Club starting the first week of March. There will be 11 prompts other than the group read. 
 In case this is your first challenge with us, here's how it works:
Each prompt on the challenge has a number that corresponds to it. Let's say for the first book you read, you pick the first prompt of a book with "yellow cover". 
You can write in the title of the book you read in the challenge table
And then pick a book sticker that looks like the one that has the 5 on it in the empty shelf. Place that book sticker over the greyed out book labeled 5 on the shelf!
Repeat until you fill up your shelf!
Our most common size is our 4.75" x 6.75" dashboard + book stickers -- this is the one shown below! It fits perfectly in our build your own book journal too!
We will also have a couple of other sizes:
A 7" x 9" version that you can use in most common planners--Erin Condren, Happy Planner, Yellow Paper House, Paper House Productions, etc.
A "separated" version that gives you all of the elements of the dashboard on its own so you can design your own page in your planner or bullet journal. 
You may be able to see the prompts above, but just in case, we do have this table you can download if you'd like and it gives you a better view of all the challenge prompts. 
We WILL have a planning party for our seasonal reading challenges but the dates are TBA. This is a week where we all use the stickers from the theme or the colors from the kit in the book club group! 
I'm thinking we'll be doing the planning party in the middle of May, but I'll keep you posted. Just make sure you're in the Creating & Co Book Club to stay up to date!
We also have some other functional items that are handy to have throughout the season -- this way you can build your own pack of sticker sheets that will fit your planning style perfectly!
There are almost 20 options, so I can't show them all here. I did pick four of my favorites to show you! I use these every season.
I also wanted to show you a new sheet that will come with our seasonal releases -- some "date dots" for marking the days of the week in your kits using these cute bookish stickers!
For 2022, each of our challenges have a special "badge" sticker that you can put on a page with the others to see how many challenges you complete throughout the year! This is just a fun way to get some bragging rights for all the amazing books you've read!
We will also have an adorable bookmark that is just perfect for those spring reads! These are limited stock so make sure you grab them early. 
This year, I decided that it might be fun to have some journal prompts for our seasonal challenges as well. I personally want to journal more this year so if that's also one of your goals, maybe we can do it together!
There are 6 prompts -- designed to be just 2 per month so it's not a huge undertaking and I think it's going to be fun to use the journal kit and the prompts to create some pretty layouts!
Make sure you're in the Creating & Co Book Club to share some recommendations for each of these prompts and we'll see you here on the website tomorrow when its time for everything to go live!