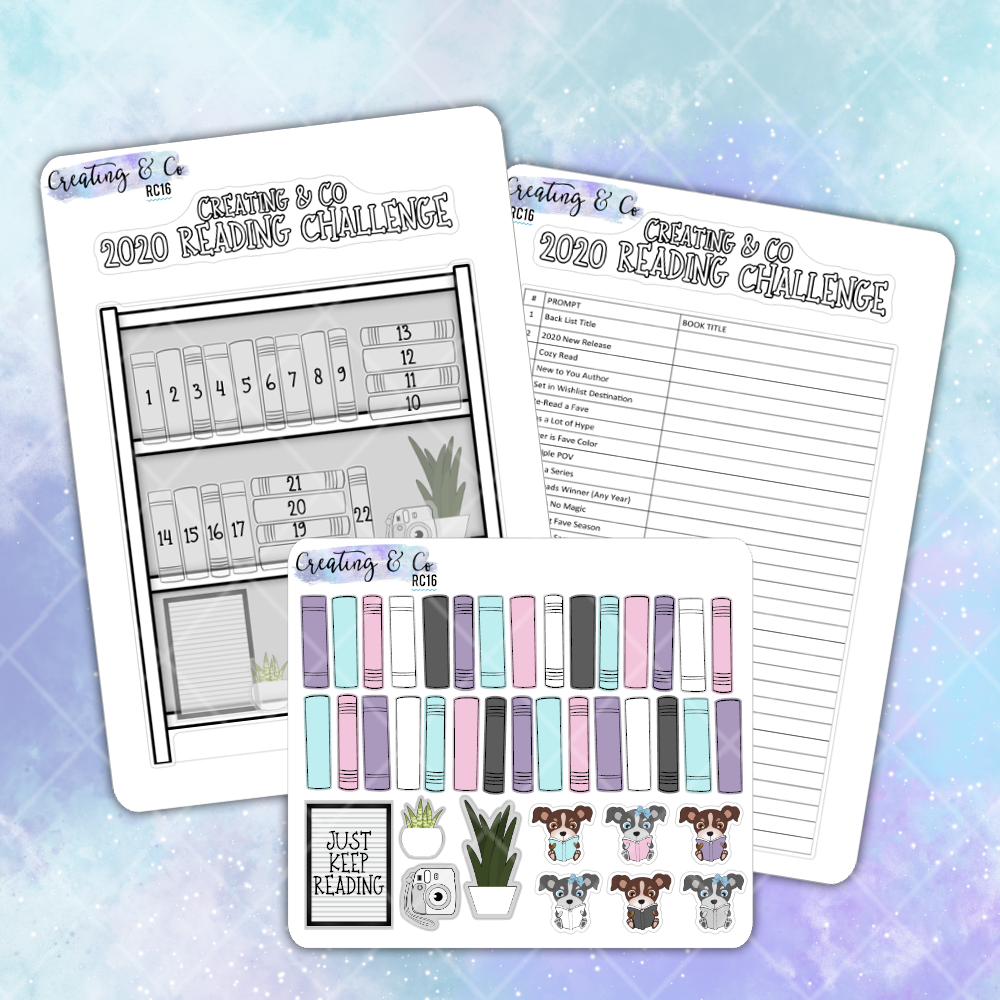 2020 Creating & Co Reading Challenges
Have you been making your reading plans for 2020?! We have definitely been thinking about what we're going to do for awhile and I'm so glad that I can finally share what I've been working on!
ALL of these items will be live in the new release section on Friday 12/13 at 10am CST
If you have been a member of the Creating & Co book club, you may know that we did a book map reading challenge last year. This year, I wanted to change it up a bit!
For 2020, we're doing a list of 30 prompts and as you finish each prompt, you will be able to fill in a bookshelf. By the end of the year, you will have a full color bookshelf!
Here's how this will work:
Each prompt on the challenge has a number that corresponds to it. Let's say for your first book, you decide to read a back list title (which happens to be prompt #1)
You can write in the title of the book you read in the challenge table
And then pick a book sticker that looks like the one that has the 1 on it in the empty shelf. Place that book sticker over the greyed out book labeled 1 on the shelf!
Repeat until you fill up your shelf!
I think the best part about this is that the challenge will come in multiple sizes! Each one will contain a blank bookshelf, a table for the prompts (and a place to write your title), and the book stickers themselves.
The first one (shown above) is a note page sticker set designed for planners that are approx 7'' wide and 9'' tall. Planners that I know of that will use this size are: Erin Condren, Classic Happy Planner, Recollections. Others may include Yellow Paper House, Plum Paper Planner, etc. 
The next size is a 4.75" x 6.75" set. This one will come with a cut out sticker/dashboard. This is created so that if you'd like, you can just hole punch it and place it in your planner BUT it is made with our sticker paper so you can also peel the backing off to put it in your planner a different way. 
The next size is our small size. This one comes with two dashboard style stickers as well but these are sized to fit in a hobonichi weeks or print pression weeks. Other planners that this may fit in are personal size planners. The dashboard stickers themselves are 3.25" wide and 6.75" tall. 
The final size is the one that I will personally be using. It is a separated version of the elements that are in the challenge. So you will receive stickers of a bookshelf, a table of the prompts and the books themselves, along with a couple of header stickers. This format is perfect for bullet journalers or those who would like to display their shelf in their own way. The bookshelf and prompt table stickers for this are 3.8" wide. 
We will also have label stickers so that you can place in the weekly/monthly areas of your planner when you complete a prompt!
Now, let me show you these prompts. If you'd like, you can right click and save this image so that you can print it yourself. 
ALL of the reading challenge stickers will be live in the shop on Friday at 10am CST! Better get those TBR's ready!
Before you go though, I did want to show you a few other things that are going in the shop that you might want to get your hands on...
One of the most exciting functional items are the readathon/to be read stickers that are coming to the shop! These follow the same concept of our 2020 challenge stickers, but on a smaller scale. We are releasing these with a blank so you can write in what you are reading for. Basically, once you finish a book, you can add in the colored book sticker on top until you have a completed book!
These will come in multiple formats: a sidebar style sticker, a large dashboard, a wider bookshelf sticker for the hobo weeks, and a "free standing" shelf that is perfect for bullet journalers!
Each of these sizes will have a 5 prompt option and a 7 prompt option. Please note that you will NOT need these stickers for the Creating & Co readathons. ;)
One of the functional reading stickers I'm most excited for are our bookish footnotes! We will be releasing these in a few options--some review type ones, some to denote what type of edition you have of a book, and some blank ones.
These are designed to be used when space is limited in your planner. So you might put one of the little asterisks next to a book you finished because you want to denote it as a new favorite. Then you can place the "new favorite!" footnote somewhere else where there is room!
We are releasing the signed, first edition, and special edition footnotes in three different colors--a black, a light blue and a light grey. I picture these being used in your planner when you buy new books or on an inventory sheet. You can simply place the asterisks where you need them and then put the "signed" etc at the bottom of the page. These are in three colors so you can use multiple types on the same page. 
AND as if that wasn't enough, we are introducing a new little character to our shop! This is a female version of our Exo character named Ellie and she's doing all kinds of reading and planning tasks this week! If you guys like her, we'll release her doing other activities!
Another sticker I'm excited for are these book progress stickers! These are a redesign of an old sticker that we had but I've made them a bit more versatile! These will come with a label attached so you can write in the book title or as progress bars on their own so you can use them however you like! Each of the ten squares are 10% to add up to 100% for your ongoing project!
Finally, there's a couple of other things:
All of these items and more will be in the shop on Friday at 10am CST! Make sure you are signed up for our email list so you will receive an email when these and any of our other new releases go live!