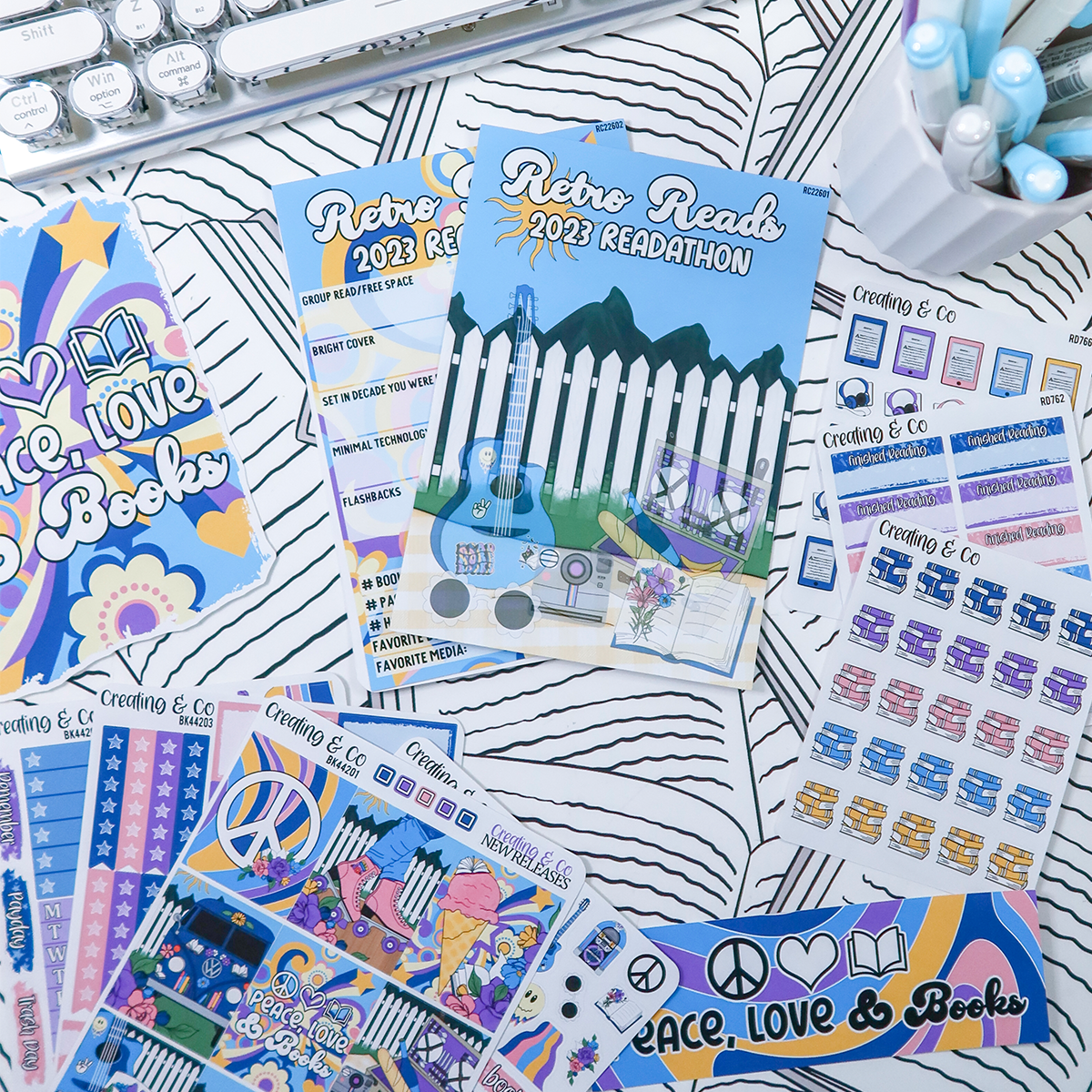 Retro Reads March 2023 Readathon
Winter is coming to an end (finally!) which means it's time to start prepping for our next readathon! For March, we're going to the valley of Bookverse to have a retro picnic with some bookish friends and I can't wait for this theme!
It's not my usual style, but I've been wanting to branch out with this type of theme for awhile but I knew Spring would be the perfect time.
We're going to be releasing this theme to the shop on February 3rd at 12pmCST and this blog post is going to go over all of the info you need plus answer some frequently asked questions that I get about our readathons all the time!
Jump to the questions or keep reading to see all the details.
QUICK FACTS:
Estimated last day to order items: Feb 27th (Due to possible delays, this is not an exact date)
Readathon Dates: Monday, March 20th - Sunday, March 26th
Location: Creating & Co Book Club (or you can follow along on Instagram and do it on your own) 
# of Prompts: 5 challenge prompts
Giveaway Info: There will be at least 2 chances to win shop credit in the Facebook group throughout the week
Group Read: TBA, will vote in the book club group 
Like I said, for this readathon we're getting ready to attend a retro picnic in the Bookverse valley! With this in mind, we're going to have 5 reading prompts and each one will correspond with an item on our picnic blanket. 
Group Read/Free Space (open book): we'll be voting on this in the C&C Book Club FB group starting the week of 2/6
Bright Cover (Guitar): pick up a book that has a cover in your favorite bright color! 
Set in Decade You Were Born (picnic basket): Grab a book that's set in the decade you were born
Minimal Technology (flower sunglasses): This is a book that has no technology or minimal technology, at least in terms of the current level of technology we have in the present day 
Flashbacks (polaroid camera): This book has multiple timelines or a character is having flashbacks or it's set in a prior time. 
If you have another way to interpreting the prompts, you can change it up! I won't police your book picks so feel free to make them work for you! You can also ask for recommendations or suggestions in the facebook group! 
I also included a way to track media if you decide you want to read a book for a prompt and watch something that covers it too! If you don't want to do the watchathon part, feel free to leave that part blank or even cover it with deco stickers or our add on that features some of the theme art. 
As always, we're releasing a weekly kit, a line of functional items, and the readathon tracking stickers. We try to have as many options as possible so you'll be able to find stickers that work best for your planning style!
You'll be able to choose from multiple weekly kit options. We'll have our three options available -- vertical/standard, creative journaling and a one page "anti-kit" that is perfect to just add a little deco to your week!
Each of our 2023 reading challenges and events will have a badge sticker that you can use with our Reading Challenge Tracker (in 3 sizes) to keep track of all the events you participate in this year!
It's so much fun to see the sheets fill up as the year goes on and helps you feel accomplished as you complete each one!
You can also pick up a stock of our selection of functional stickers, journal cards and other items so you can get creative and deck out your planner and journal to really celebrate the event!
FREQUENTLY ASKED QUESTIONS:
Do you have to buy stickers to participate in the readathon? No, our events are all free to participate in but having the stickers make them a lot more fun!
Do you have to read 5 books in one week? Absolutely not! You can read 1 book that covers all 5 prompts if you want or you can read 1 book for each prompt or any other number of books and have them cover as many prompts as you like. 
Do you have to read a certain genre? Not at all! I like to try to pick books that fit the theme but sometimes I'm just not in the mood for that genre or vibe so I'll pick another type of book that I am in the mood for and let the kit theme be just for fun. 
Stay tuned to our social media like our Instagram and Youtube Channel because we'll be posting some more videos about this event in the next few weeks!