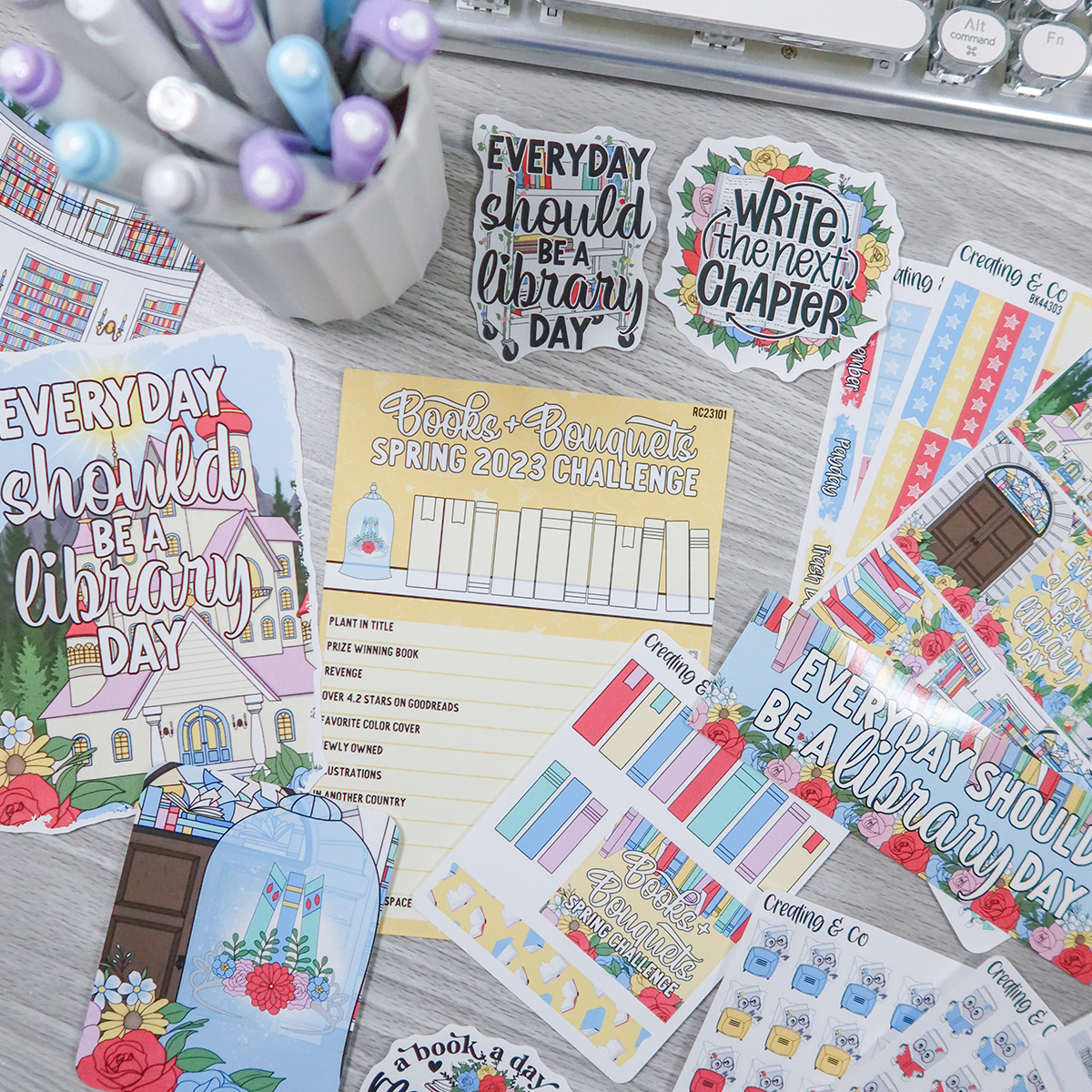 Books & Bouquets Spring 2023 Reading Challenge
I'm not sure I can tell you guys how excited I am for spring. This winter has been rough to say the least and releasing our reading challenge has become one of my first signs that the current season is almost over.
We're visiting a different royal court of the Bookverse and for spring, I wanted to do a bright, floral library and I was a little wary of the colors I picked at first but by the time I finished the kit, I had fallen in love with it! 
Last year, our spring reading challenge had a few nods to Rapunzel so this year, I decided that the kit has to have a few nods to another fairytale...one of my favorites growing up in fact. 
Beauty and the Beast! Plus, Belle would 100% hang out in this library so I felt like it fits. 
This theme will be in the shop on Friday 2/24 at 12PMcst and officially this challenge will last from Mar-May!
As always, this is just the official season, but these are designed to be self-start so you can decide when you begin and end the challenge. This way, you can do the spring challenge when it is the most appropriate for you, either by weather or some other reason.
Our weekly kits will come in the three formats -- vertical, journaling and an "anti-kit" that is just for people that want a bit of deco! We will also have a few add ons if you use certain items more than others -- checklist boxes, reading stickers, washi type stickers, etc. 
As for the challenge itself, we will have a group read for it, though if you choose not to read the group read you can count it as a free space. We will start voting on the group read in the Creating & Co Book Club starting the first week of March and we'll have it officially picked a week or so later. 
There will be 11 prompts other than the group read. 
 In case this is your first challenge with us, here's how it works:
Each prompt on the challenge has a number that corresponds to it. Let's say for the first book you read, you pick the first prompt of a book with "yellow cover". 
You can write in the title of the book you read in the challenge table
And then pick a book sticker that looks like the one that has the 5 on it in the empty shelf. Place that book sticker over the greyed out book labeled 5 on the shelf!
Repeat until you fill up your shelf!
Our most common size is our 4.75" x 6.75" dashboard + book stickers -- this is the one shown below! It fits perfectly in our build your own book journal too!
We will also have a couple of other sizes:
A 7" x 9" version that you can use in most common planners--Erin Condren, Happy Planner, Yellow Paper House, Paper House Productions, etc.
An a5 version that fits in any a5 planner but it also fits in the Always Fully Booked planner
A "separated" version that gives you all of the elements of the dashboard on its own so you can design your own page in your planner or bullet journal. 
A "books only" option that has some book shaped labels and a header so you can arrange them however you'd like in your planner 
You can also feel free to draw your own layout and join the event and chat with us!
Each of our challenges come with a badge sticker that is handy for keeping track of the challenges you've completed through the year. You can make your own layout to keep track or pick up one of our tracking dashboards and fill it in as the year goes on!
For these prompts, I also wanted to explain some of them:
Plant in Title -- this one just has to have a plant of some kind in the title
Prize Winning Book -- This is a book that has won an award. It can be any award that you want. 
Revenge -- The characters in this one are focused on revenge, whether they get it or not is up to the plot
Over 4.2 Stars on Goodreads -- Find one of those highly rated books on goodreads. A good way to do this is to go to your "want to read" shelf and sort by average rating
Favorite Color Cover -- Pick a favorite color and read a book that has a cover that matches!
Newly Owned -- This is a book you've recently bought or been given as a gift. I know we always tend to buy a new book and not get to it right away so let's not do that just this once
Illustrations -- This book has illustrations somewhere in it. It doesn't have to be a graphic novel, just have illustrations. An example would be a book that has little chapter illustrations at the top of each chapter or a book that has some character art included with it.
In Another Country -- This book takes place in a land that is not the one you live in
3 Word Title -- This book title has exactly three words
Forced Proximity -- In this book, the characters are forced to be together for some reason. It doesn't have to be a romance, but this is a common romance trope
Adaptation -- This book has a movie or tv show adaptation
Group Read -- This is TBA
We're also doing a "media challenge" for this theme, which is designed for you to watch a movie or tv show instead of reading books. This is a fun way to bring the seasonal challenge to multiple formats!
Instead of having a group movie, I left it as a free space for now. 
We will also be having a planning party for the challenge in May. Though this does give you plenty of time to get your hands on the stickers, make sure you grab them as soon as you can so you can make sure they'll be at your house and ready to go!
During the week of the planning party, we'll have threads in the Creating & Co Book Club that will give you a chance to win some shop credit towards other items in the shop! This will also be when we chat about the group read and we may have some other events or threads in the group during that time as well!
Another item in the line up will be a monthly kit matching the theme! This is in our new monthly kit formats but the month is left blank so you can use when you'd like in your planner. We do have monthly heading stickers so you can pick those up if you'd like.
As always with our seasonal challenges, we'll release some of our most popular reading stickers in the fall color scheme as well! This way you can use the colors throughout the season and play up the fall vibes for the entire quarter!
We have recently changed up some designs but all of the faves are still in the line up!
We will also have an adorable bookmark that is just perfect for those spring reads! These are limited stock so make sure you grab them early. 
We'll also have three new vinyl stickers that are limited stock that are perfect for putting on your kindle case or your favorite cup or anywhere else you can think of!
We'll also have these quotes featured on t-shirts so make sure you don't miss those as well!
Make sure you're in the Creating & Co Book Club to share some recommendations for each of these prompts and we'll see you here on the website on Friday when its time for everything to go live!