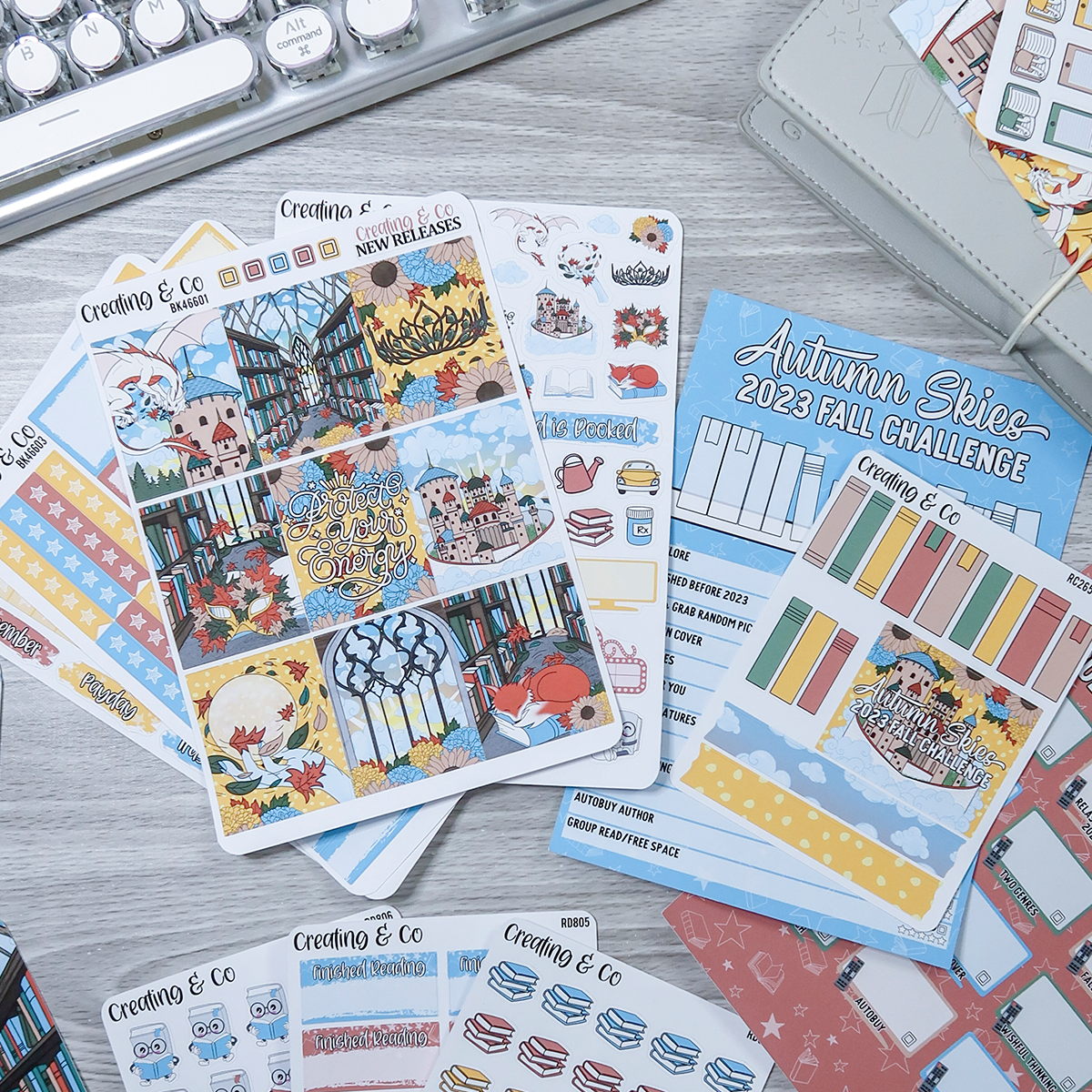 Autumn Skies: Fall 2023 Reading Challenges
I've been planning this theme in my head for the last couple of years and I have to admit, it turned out way differently than I was expecting but I also kind of like it?
Like for spring and summer, we're visiting another royal court and for this one, we're taking to the skies! The fall court is nestled in the cloudy fall skies with leaves swirling through the air and dragons circling above.
This theme will be in the shop on Friday 7/21 at 12PMcst and officially this challenge will last from September - November!
As always, this is just the official season, but these are designed to be self-start so you can decide when you begin and end the challenge. This way, you can do the fall challenge when it is the most appropriate for you, either by weather or some other reason.
Like I said, this kit ended up being something totally different from what I originally pictured. I won't share too much of my original vision, in case I use the theme in the future, but let's just say I ended up with far warmer colors than I originally imagined. 
I do like this one though. I was trying to pack in some references to various books, like Fourth Wing with the dragon (and the castle wall) and A Court of Thorns and Roses with the masquerade mask. These books scream fall to me, so I had to include them. 
You'll have the vertical option shown above and our new journaling format, which is perfect for a weekly layout or for spacing out in a regular or book journal. We will also have a few add ons if you use certain items more than others -- checklist boxes, reading stickers, washi type stickers, etc. 
As for the challenge itself, we will have a group read for it, though if you choose not to read the group read you can count it as a free space. We will start voting on the group read in the Creating & Co Book Club starting the first week of May and we'll have it officially picked a week or so later. 
There will be 11 prompts other than the group read. 
 In case this is your first challenge with us, here's how it works:
Each prompt on the challenge has a number that corresponds to it. Let's say for the first book you read, you pick prompt of a book with "yellow cover". 
You can write in the title of the book you read in the challenge table
And then pick a book sticker that looks like the one that has the 5 on it in the empty shelf. Place that book sticker over the greyed out 5th book on the shelf
Repeat until you fill up your shelf!
Our most common size is our 4.75" x 6.75" dashboard + book stickers -- this is the one shown below! It fits perfectly in our build your own book journal too!
Each of our challenges also have a media challenge so if you love movies and tv shows too, you can do both and work towards the challenge in multiple forms of entertainment!
We will also have a couple of other sizes:
A 7" x 9" version that you can use in most common planners--Erin Condren, Happy Planner, Yellow Paper House, Paper House Productions, etc.
An a5 version that fits in any a5 planner but it also fits in the Always Fully Booked planner
A "separated" version that gives you all of the elements of the dashboard on its own so you can design your own page in your planner or bullet journal. 
A "books only" option that has some book shaped labels and a header so you can arrange them however you'd like in your planner 
You can also feel free to draw your own layout and join the event and chat with us!
Each of our challenges come with a badge sticker that is handy for keeping track of the challenges you've completed through the year. You can make your own layout to keep track or pick up one of our tracking dashboards and fill it in as the year goes on!
For these prompts, I also wanted to explain some of them:
Folklore - 

I feel like there's so much folklore that perfectly fits in with the fall season. You can choose books based on folklore (fairies, nymphs, etc) or pick a book that has folklore of its own (like a legend that plays into the plot)

Published Before 2023 - I feel like we do new releases or highly anticipated fairly often but it's been awhile since I've looked for books that aren't new so I thought it was time.

Point & Grab / Random Pick -  When I made this one, I was specifically thinking about closing my eyes and reading the first unread book I grab/point to but since a lot of us read on various devices or select books from an app, I figured I'd make it a random pick. If you do have a device, I had the thought of opening a screen with a wide selection of books (if possible) and just randomly pointing at a spot in the screen. OR you could number a selection of books 1-X and pick a random number!

Leaves on Cover - I feel like this one should be a good one for looking for beautiful covers -- We're looking for leaves on covers! For spring, we did floral so I had to do the fall counterpart.

Two genres - (mostly because I couldn't think of another way to word it) -- but essentially I mean a book that has two main genres. Maybe it's a fantasy and a romance or a romance and a suspense/mystery. Admittedly, most of the thoughts I have jump to romance because it's one of my fave genres but maybe it's a mystery and a horror or a historical mystery. 

Falling for You - You guessed it, a romance plot or subplot. I already mentioned that romance is one of my favorite genres but in my defense, this prompt was suggested by a friend when I was brainstorming and of course, I couldn't help but use "falling for you" since it's a play on words for fall.
Magical Creatures - 

Since dragons and

foxes appear in the kit, I thought it was time to do a "magical creatures" challenge since I also tend to think of fall as when magical things are a bit more evident. Plus, October = Spooky season.

Foil

on Cover - because we haven't had it in awhile and I love a book with some gorgeous foil accents! 

Wishful Thinking - I was thinking it was a book that you wish was a movie/tv show. Like, you read it and you wish so badly you could see it in another medium. OR you could do a book that you wish had a sequel OR a book that has a trope or plot piece that you've been wishing for!

Cozy Read - Either because you're cozy while reading it or because it just has some cozy elements (like a cozy mystery or fantasy like Legends & Lattes)

Autobuy Author - maybe you don't necessarily buy their books right away but it's at least an author that you don't have to think much about...you know their stuff is good. 

Group Read/Free Space -- This is TBA
I've been really stressed lately and I think it came out while I was planning this reading challenge because I mostly went for prompts that would be easy to fill out but maybe that's a good thing -- it might be nice to take a low key season!
Like I said, Fourth Wing helped inspire a couple of things in the kit, so if you haven't picked it up already, this would be the PERFECT time as it fits a few of the challenges. Visit the Creating & Co Book Club to see threads on each of the prompts to see other suggestions
We'll also be having a planning party for the challenge in early November (before the US holidays). Though this does give you plenty of time to get your hands on the stickers, make sure you grab them as soon as you can so you can make sure they'll be at your house and ready to go!
During the week of the planning party, we'll have threads in the Creating & Co Book Club that will give you a chance to win some shop credit towards other items in the shop! This will also be when we chat about the group read and we may have some other events or threads in the group during that time as well!
Another item in the line up will be a monthly kit matching the theme! Since it fit so well, I made this our theme for the month of September. 
As always with our seasonal challenges, we'll release some of our most popular reading stickers in the fall color scheme as well! This way you can use the colors throughout the season and play up the fall vibes for the entire quarter!
We have recently changed up some designs but all of the faves are still in the line up!
We will also have an adorable bookmark that is just perfect for those spring reads! These are limited stock so make sure you grab them early. 
We'll also have four new vinyl stickers that are limited stock that are perfect for putting on your kindle case or your favorite cup or anywhere else you can think of!
Finally, we'll have a matching bookshelf washi set! This will be perfect to use all season long! These are always really popular so make sure you grab them while you can!
Make sure you're in the Creating & Co Book Club to share some recommendations for each of these prompts and we'll see you here on the website on Friday when its time for everything to go live!