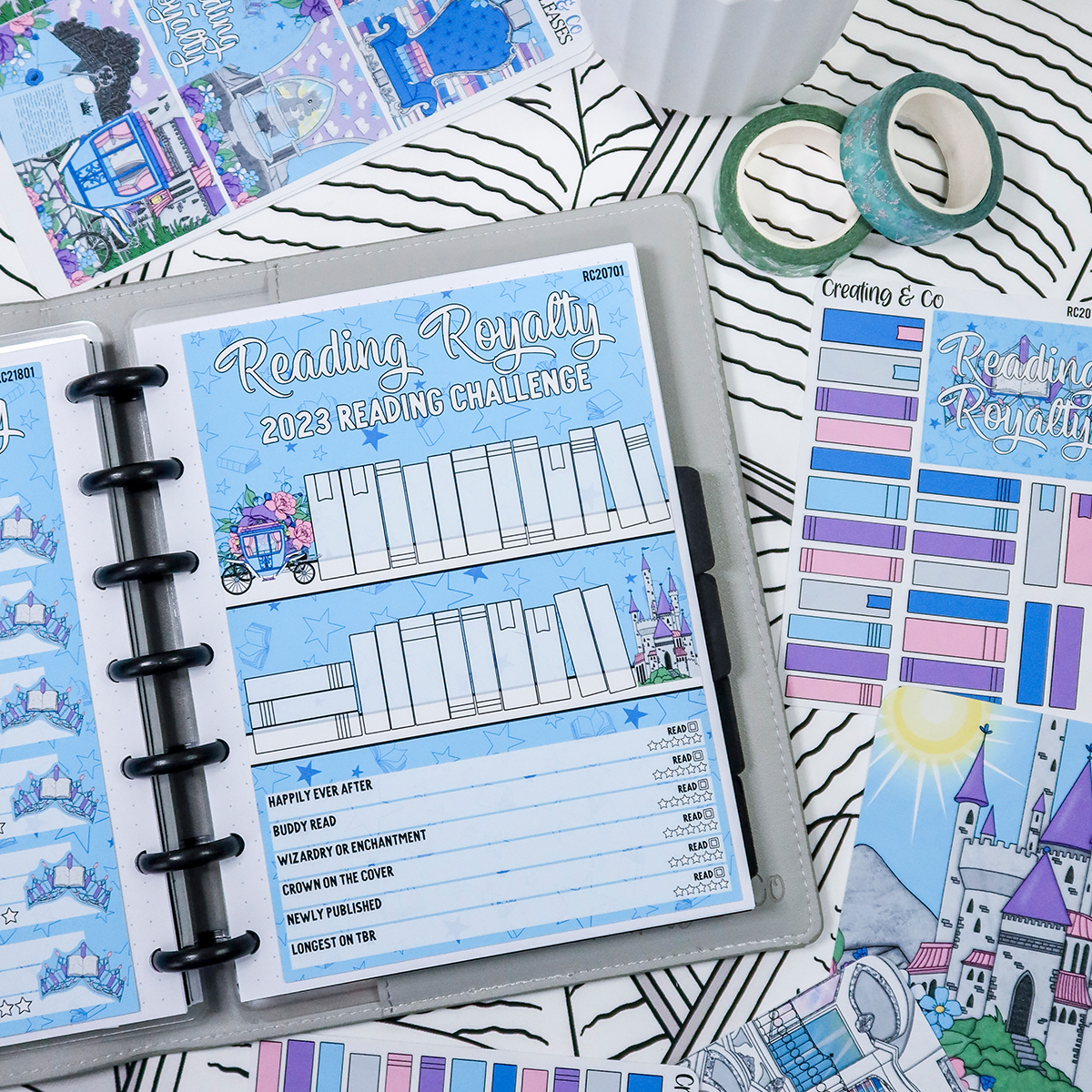 2023 Reading Royalty Adventure
Are you ready to become the reading queen (or king or monarch!) in 2023?! Every year, we do a variety of reading events designed to help you hit your reading goals, add some variety to your reading, or just have fun while you tackle that TBR list and for 2023, we're traveling all over the Bookverse kingdoms to visit the royals and find read our way to our own kingdom!
(me, crowing myself after reading all the books in 2023)
Last year, we first visited the Bookverse, which is a fantastical land where reading and books and libraries are the main priority and I'm excited to explore the idea a bit more.
We've released our main challenges for 2023 for this week and throughout the year, we'll release the others. For now, here's a list of our challenges that you can expect:
2023 Reading Royalty Year - Long Challenge
2023 Spring Reading Challenge
2023 Summer Reading Challenge
2023 Fall Reading Challenge
2023 Winter Reading Challenge
March Readathon
June Readathon
September Readathon
December Readathon
Each of these events can be done on your own, but we chat about them in the Creating & Co Book Club, where we chat about what we're reading, what we want to read and share our planners. 
Now, as I said, those are the scheduled events, but throughout the year, I've been known to release other challenges that you can pick up on your own so make sure you stay tuned to our email list to hear about the other scheduled events and any unscheduled ones. 
Our most popular size is shown above, which is perfect for b6 size planners -- 5x7! This set will come with 2 dashboard stickers and a set of the books to show your progress to a completed challenge.
 In case this is your first challenge with us, here's how it works:
Each prompt on the challenge has a number that corresponds to it. Let's say for the first book you read, you pick the first prompt of a book with "leaves on cover". 
You can write in the title of the book you read in the challenge table
And then pick a book sticker that looks like the one that has the 1 on it in the empty shelf. Place that book sticker over the greyed out book labeled 1 on the shelf!
Repeat until you fill up your shelf!
Here's our other sizes:
As you can see, we have lots of options so you'll be able to easily find one that fits your planner! We also have a version of this challenge with the same prompts but instead of reading books, you watch a tv show or movie so you can join the fun if you like reading OR watching stuff!
Each of the reading challenges also come with a badge sticker. This is a fun way to keep track of what challenges you take part in. We also have a "tracking dashboard" that you can pick up for showing the badge stickers as you complete each challenge.
Here's what my 2022 badge tracker looks like so you can get an idea. These are past challenges, so don't worry, you haven't missed any 2023 releases yet!
It's kind of hard to see all of the prompts for the reading challenge in the listing pics, so here's a list of all 24 prompts:
Happily Ever After
Buddy Read
Wizardry or Enchantment
Crown on the Cover
Newly Published
Longest on TBR
Good v Evil
Diverse Representation
Two POVs
Found on Social Media
Reluctant Hero
Magical Creatures
Espionage or secrets
Fantasy Word in Title
Meant to Read in 2022
Borrowed or Lent
Arranged or Fake Dating
Second Chance
Inspired by a True Story
Classic or Inspired by a Classic
Part of a Series
White or Black Cover
Set in a Place You've Been
Multiple Authors
For the reading challenge, you can also pick up a weekly kit, a monthly kit and a variety of other stickers so you can use this theme in other parts of your planner.
We have also released a few vinyl stickers and bookmarks for this theme!
Along with our Reading Royalty Challenge, we've released some other items for your 2023 book planner or journal so you can keep track of your reading in other ways!
One of the new fun things I'm looking forward to are the book awards. I thought this would be a fun way to kind of "crown" the best and worst books of the year so you can keep track. Since I just had the idea, I also went ahead and released one for 2022 also in case you want to retroactively give some books some awards.
sSome of our most popular items for 2022 were our goal progress jars. For these, you read a book and cover one of the stars in the jar with a star sticker to fill the jar up. We have a few options -- a 52 goal dashboard or die cut sticker and 50 goal dashboard or die cut sticker set. We did 52 for one book a week and 50 because that's an easier number to divide.
for example, if you want to read 100 books in 2022, you would cover a star for every 2 books you read or if you want to read 25 books over the year, you'd cover a star for every half a book you read.
While I have you here, I wanted to go ahead and share that we released a few other items too.
First off, we have a few items for our Book Journal line! This is our "build your own" book journal which you can mix and match inserts and items to make your perfect reading journal/planner! This is designed to be used year after year so we have a bunch of items already released, but we had to release our 2023 overview.
We also released a new laminated cover featuring a bright purple cover with "read more books" on the front.
Finally, we have a brand new faux leather cover in a light grey that will be perfect for keeping your notebook safe all year!
Before I let you go shop, I also wanted to show you the two other exclusive themes we released for the black Friday sale. These are kits you won't see anywhere else!
First, we have a Dungeons & Dragons kit that has been in the works for over a year! I love this theme because I love all things fantasy and I got to play with colors I don't get to use often.
The other one is a "Hero" theme that is technically for Valentine's Day but I think it'll be great for any time of the year -- I love using a comic, pop-art style theme and it had been too long since I've been able to fit one into the schedule!
We're also doing a trial this weekend for a new item for the shop -- t-shirts! We used to have t-shirts in the shop but at the time, we had to manually code in the shipping prices and that created a lot of issues each release so we had to get rid of them. Since then, our backend service has done some updates so I wanted to bring back the shirts! We released a total of 7 designs and I hope we can release more!
Alright, that's all I've got for you for now! You can shop all of our Black Friday releases here and make sure you're on the email list to get the sale early!
We'll be sending the codes as they go live all weekend or you can follow along in the fb group or on instagram to get the codes!
I'll see you on social media all weekend!